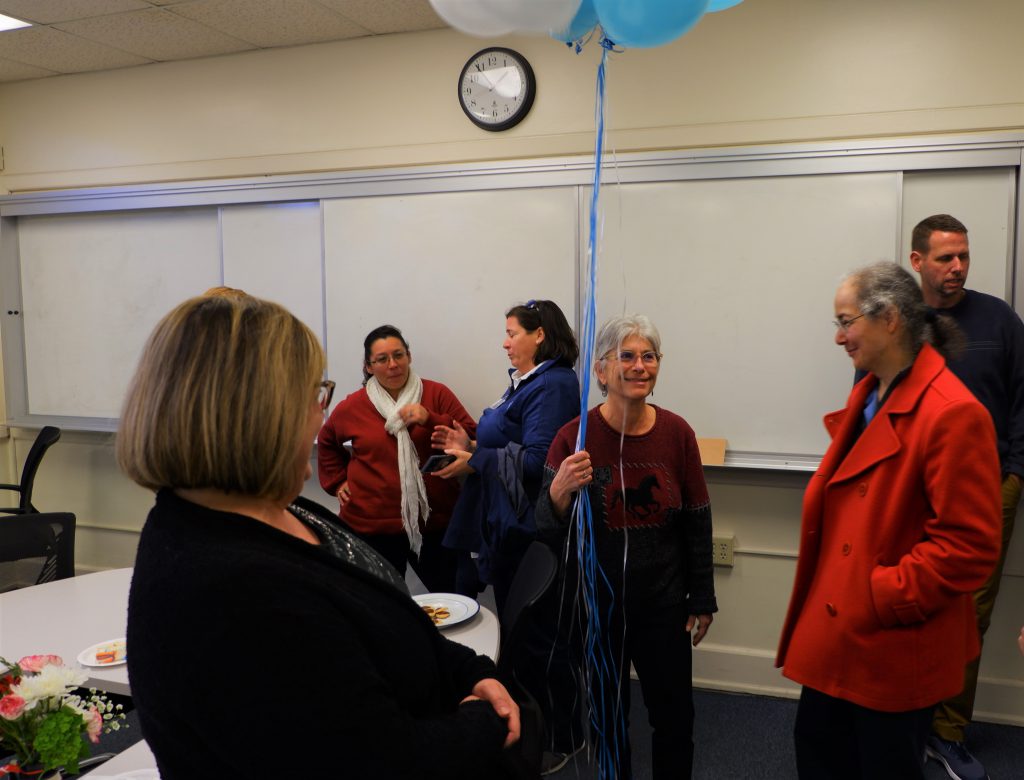 Photo above: Citadel faculty and staff wish Dr. Julie Lipovsky a fond farewell at a retirement gathering Dec. 19
She was teaching psychology as a professor at The Citadel before there were women in the South Carolina Corps of Cadets.
Now, 26 years later, Julie Lipovsky, Ph.D. ABPP, retires with a legacy that includes developing a Clinical-Counseling graduate program, having successfully founded programs and support for women cadets, faculty and staff, and having led the way for formalized LGBTQ support services. Additionally, Lipovsky served as the co-chair of the college's Diversity Equity and Inclusion Council, and established and directed a National Coalition Building Institute (NCBI) chapter at the college. NCBI teaching hundreds of cadets, faculty, staff and alumni leadership skills to work successfully with diverse populations by creating more inclusive environments. She also initiated the annual celebration of Women's History Month at The Citadel.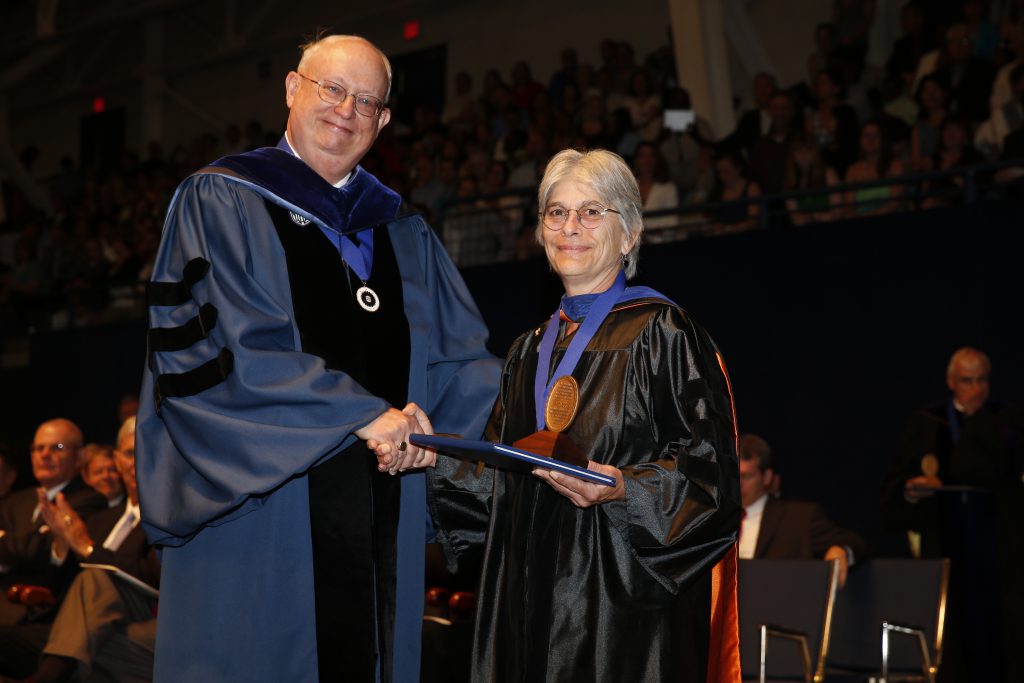 Lipovsky has served more than 40 times as chair, co-chair or member on campus, community and professional committees and boards since joining The Citadel. She's published dozens of papers and given more than 100 presentations related to her research into the treatment of child victims of abuse and post traumatic stress disorder for victims of violent crimes.
Some of Lipovsky's leadership outside of The Citadel includes serving as co-founder of Lowcountry Equine-Assisted Psychotherapy (LEAP), a non-profit organization providing equine-assisted psychotherapy to children, youth, adults, and families in the Lowcountry.
During her years at The Citadel Lipovsky was recognized with numerous honors and awards from the college and the community, some of which included the Black History Month Intercollegiate Consortium's MLK award, the Alliance for Full Acceptance Award, the Algernon Sydney Sullivan Award recognizing high thought and noble effort, and the James C. Self Award for Excellence in Graduate Teaching.
The Department of Psychology, in which Lipovsky has served as faculty since joining The Citadel, issued this proclamation honoring her upon her retirement:
Honoring the Contributions of Dr. Julie A. Lipovsky
Whereas, Dr. Julie Lipovsky began her relationship with The Citadel Psychology Department as a faculty member in 1993; and

Whereas, Dr. Julie Lipovsky was instrumental in the development of the Clinical-Counseling Master's Program in Psychology and previously served as program director from 1993 to 2003; and

Whereas, Dr. Lipovsky has served as Assistant Provost of Diversity Initiatives (2013-2018) and Director of The Citadel National Coalition Building Institute Team (2012-2019); and

Whereas, Dr. Lipovsky has since 1993 served The Citadel with professionalism, integrity, courtesy, candor, insight, respect and passion; and

Whereas, Dr. Lipovsky has been and is widely regarded by The Citadel Psychology Department as a champion of its students, faculty and staff; be it therefore

Resolved, that on this 5th day of December, 2019, The Citadel Psychology Department expresses its sincere gratitude to Dr. Lipovsky for her distinguished service to the department and The Citadel; and be it further

Resolved, that The Citadel Psychology Department wishes for Dr. Lipovsky happiness and prosperity in future endeavors, both professional and personal.

Lloyd "Chip" Taylor, Ph.D., Department Head, Psychology