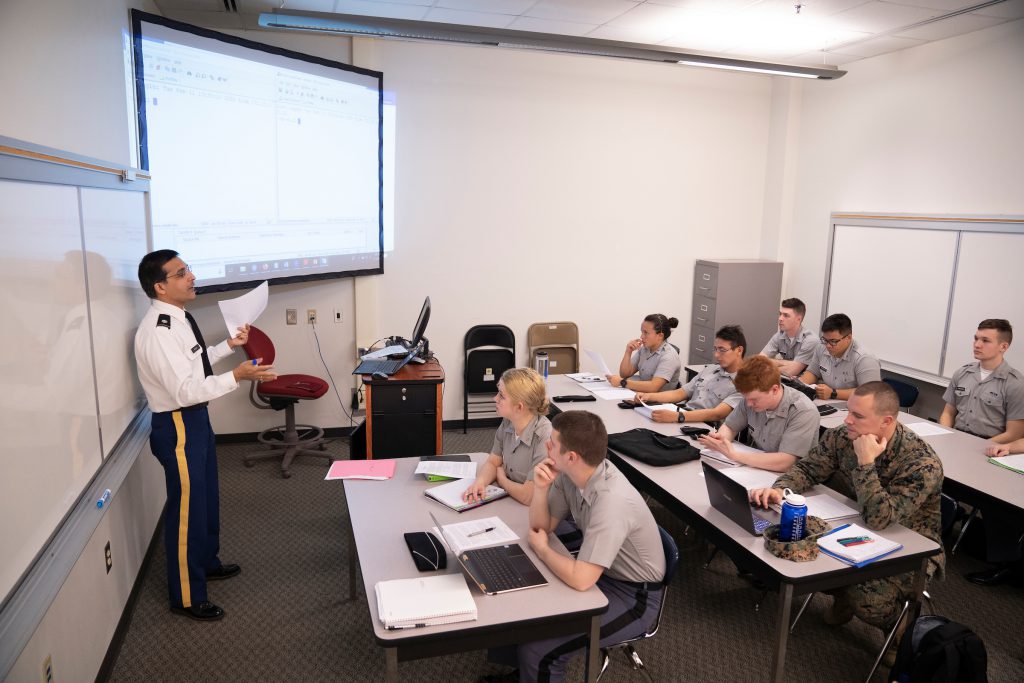 Photo: Cadets in a Computer Networks class led by Professor Shankar M. Banik, Ph.D.
Two cadets recently competed in the virtual National Cyber League, a competition giving students a chance to practice their cybersecurity skills. They competed against students from all over the country, and both placed in the top 100 out of more than 7,500 participants. Overall, The Citadel had 52 cadets and students participate in the NCL. The competition's activities included answering questions on niche cyber topics and completing various tasks such as cryptography, open-source intelligence and web application exploitation.
Senior cadet Ben Race placed 75th in the NCL and credited his previous experience with the NCL and other cyber competitions for his preparedness as well as his involvement on the Cyber Team at The Citadel.
"Being part of the Cyber Team has been a great opportunity. I've competed in unique competitions, such as the NCL, and gotten to travel to new places for them. For the NCL, I spend most of my time learning about the topics they'll quiz me on. There's always something new to learn," said Race. "I'd tell any cadet considering getting a degree in cyber to get involved with the Cyber Team and other extracurriculars related to it. These clubs give you another unique and fun aspect of learning."
Cadet Jacob T. Wood, a sophomore at The Citadel, placed 41st and is also active in cyber-related extracurricular.
"My favorite part of being on the Cyber Team is working with other people on problem solving, so I enjoy competitions like this. My professors really helped me prepare for the NCL, and although you have to be willing to put in a lot of effort in a major like this, it's worth it," said Wood.
The Citadel is ranked 19 out of 470 colleges nationwide in the NCL's Cyber Power Ranking for fall 2022. These rankings represent the ability of students to preform real-world cybersecurity tasks along with each school's top performance and individual student performances. The Citadel's highest scoring team took 39th place nationwide in the NCL; Cadets Race and Wood were on the team along with four other cadets – Chotipat Metreethummaporn, Nathanael Ling, Jackson All and Kirin Chaplin – as well as graduate student and former cadet Trey Stevens, '22.
"Experiential learning is a big component in our Cyber Operations program at The Citadel," said Shankar Banik, Ph.D., professor and department head for the Department of Cyber and Computer Sciences. "Participating in Cyber Competitions like National Cyber League gives our students an opportunity to apply the cyber skillset for solving a real-world cyber challenge. This kind of experience help them prepare for joining the cyber workforce after graduation."
The NCL's mission is to prepare the next generation of cybersecurity professionals through online, safe platforms of real-world cybersecurity challenges. The Department of Cyber and Computer Sciences, housed in The Citadel's Swain Family School of Science and Mathematics, is no stranger to this mission. Its Citadel Department of Defense Cyber Institute (CDCI) is addressing the need for a skilled cybersecurity workforce.
Professor William Johnson, Ph.D., is a new addition to The Citadel's Cyber and Computer Sciences Department and serves as the faculty advisor for the Cyber Team.
"In my time here so far, I have been amazed by our cadets. They're regularly in my office asking great questions and really wanting to dig into cyber security," said Johnson. "These cadets work incredibly hard and are eager to learn more and succeed."