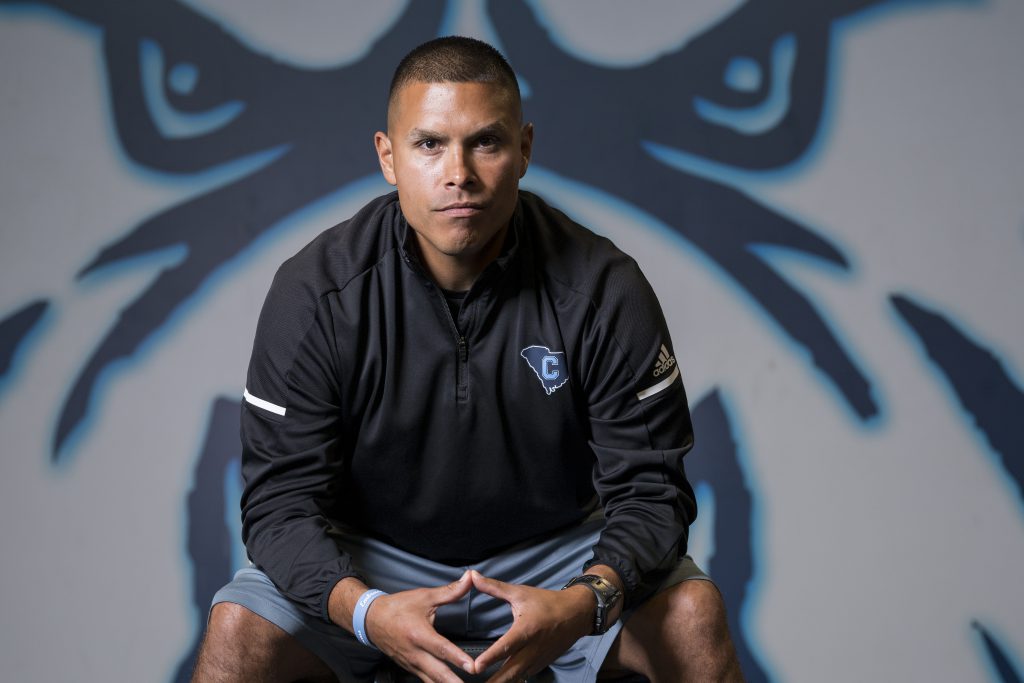 ---
At the age of 14, Donnell Boucher was passionate about football, but when he realized that he was only going to be an average player, he revised his playbook and became passionate about what he knew he could do well. With precision focus that guides everything he does, Boucher sets his sights on becoming a strength and conditioning coach. Now, the assistant athletic director for strength and conditioning and head strength coach at The Citadel, Boucher has realized his goal, but that has not slowed him down. He's working harder than ever, and he is making an impact, not only in physical fitness, but in helping to develop principled leaders.
At the small weight room in his hometown of Chicopee, Massachusetts, Boucher was the only high school freshman who could bench 200 pounds.
"I remember the feeling of being able to do something the other guys couldn't. That got me thinking that maybe this is something I could be good at. I could be better at this than football. And that sort of started it off. Every year other players came over, and we went to lift together. I turned into the go-to source for when we were going to lift."
When talk turned to workout programs, reps and sets, Boucher naturally understood the science behind strength and conditioning. As he set his course, he left no stone unturned.
Master's degree and experience: check
In 2007, when The Citadel offered Boucher a graduate assistant position in strength and conditioning and an opportunity to pursue his master's degree in Health, Exercise and Sport Science, Boucher headed to Charleston. The military college was the perfect fit.
"Right off the bat, I could line up with this place and I saw what kids are going through. Our kids that come here are not finished products. They come here and they have to be developed, and that's exciting—knowing that I have an immense part in their physical development and their emotional and mental development. That drives me."
Mentor: check
One of the foremost leaders in the field of strength and conditioning according to Boucher is Carolina Panthers Strength Coach Joe Kenn. Kenn is also someone Boucher considers a mentor, and when Kenn offered advice, Boucher listened.
"One of the first things he told me when I was just getting started down here: it doesn't matter how good your program is—if the players don't believe in you and don't believe in the things you're trying to get them to do, you'll never be as effective as you should be."
As Boucher considered his mentor's advice, he realized that education was a priority.
Second master's degree: check
Boucher began researching—visiting other places, learning what best practices are, and he decided a master's degree in social science would help him to better understand people and be more effective in his career. As Boucher will attest: learning to understand people is the key to success.
"I wanted to understand people. I wanted to make sure that when our athletes came in here, they were being led by a competent person who was well-versed in our subject matter and who had the ability to make connections between what we were doing in here and what we were doing on the field…
I'm not interested in being just a part of our industry—I want to help shape it and leave it better than it was when I joined it."
Goals: check, check, check
Boucher's goals for The Citadel stretch beyond athletes and the weight room. He is currently working with the commandant's office to improve physical training for the entire Corps of Cadets. "We want to be the senior military institute with the best PT performance."
For Boucher, his work is all about challenge and taking advantage of opportunity.
"Every time you come in the weight room that barbell's gonna weigh 45 pounds. It doesn't care about what happened yesterday. It doesn't care about the test you've got coming. It doesn't care what happened the night before—it's going to be 45 pounds. And you're either going to deal with that or you're going to walk out of here—a lost opportunity to be better than you were yesterday. And I think that's a powerful lesson."
Boucher is constantly reassessing, measuring and setting new goals.
"Anything valuable in life comes with prerequisites, suffering—you're going to have to extend and stretch yourself if you want that product at the end. Comfort bears no fruit. And that's what I love about this place. There ain't much comfort anywhere on this campus. It's hard for an 18, 19, 20-year- old person to understand that value, but I know as they go through it and become better for it, they build up resilience. Their commitment and the struggle they go through—it pays dividends in the end."
It has been almost 12 years since Boucher first came to The Citadel, hoping to break into the field of strength and conditioning. He is just as eager to make a difference today as he was then, and while he claims that he does nothing to motivate athletes, it is clear that he does so just by being Donnell Boucher.
"The last thing I want to do, and I tell our athletes this: I may be a strength coach, but my sole mission in life isn't to teach you to bench press. If all you learn from me is how to do a bench press in four years, I'm a tremendous failure. Our mission here is to set these kids up to win on the field and to win in life."
To view more student and cadet stories, visit mighty.citadel.edu.