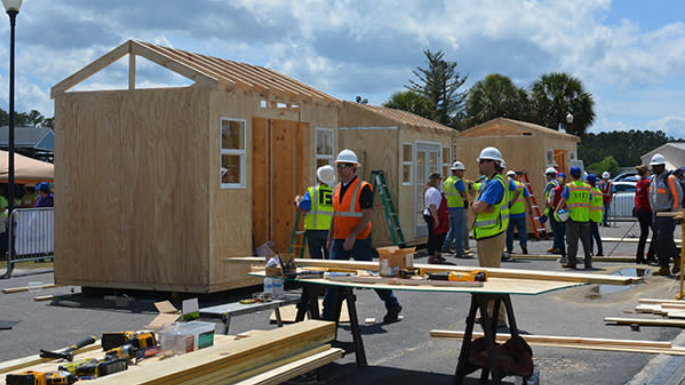 Charleston Metro Chamber announces second annual Build A Shed Competition
Charleston Metro Chamber of Commerce, in partnership with ABC Carolinas, presents a building competition for students and career-ready youth in Berkeley, Charleston and Dorchester Counties.
The Build A Shed Competition is a one-day building competition of an 8' x 11' shed. Eight local teams will be competing against each other to complete the shed using the same blueprint. The event will be held at the Exchange Park and begins at 7:00 a.m with judging of the sheds happening throughout the day. The day will conclude with an award ceremony beginning at 2:00 p.m. Participants will be mentored by volunteer construction industry professionals in safety, quality, planning, scheduling and communication and will finish the competition with an OSHA 10 Certification.
"This competition is in its second year and it's great to see the visibility the construction industry has already received. The participants are not only spending a fun day with their peers, they're also making connections with industry leaders looking for future talent from students like them," said Bryan Derreberry, President and CEO of the Charleston Metro Chamber.
Through this building competition, participants are provided the opportunity to work directly with construction professionals and to connect with leaders looking for skilled talent. Construction has numerous entry points, both with and without a college degree, and students who want to learn new skills can find, not just a job, but a career within this field.
The sheds are currently being auctioned off to the community until the end of the competition. All proceeds will support future Chamber-led talent and workforce development efforts.
Participating Teams:
Berkeley High School
Burke High School
Charleston County School of the Arts
Cross High School
Eckerd Connects
R.B. Stall High School
Wando High School
Participating Contractors:
Centennial
Charleston County Government Facilities
Choate Construction
Hitt Contracting
Miller-Valentine Group
Samet Corporation
Thompson Turner Construction
Trident Construction
Participating Subcontractors:
Bonitz
Cullum Mechanical Construction
Feyen Zylstra
M.C. Dean
Precision Walls
Quantum Coatings
Yellowstone Landscape
Click here for additional information and to bid on a shed.
Materials Sponsor:
Lowe's Home Improvement
Roofing Sponsor:
Baker Roofing
Shed Sponsors:
C.F. Evans Construction
Choate Construction
Cullum Mechanical Construction
Evans General Contractors
Low Country Case and Millwork
Thompson Turner Construction
South Carolina Department of Employment and Workforce
Lunch Sponsor:
The Citadel STEM Center for Excellence
Special thanks to:
Carolina Waste & Recycling
Charleston County EMS
C. R. Hipp Construction
Exchange Park
Herc Rentals
Jersey Mike's
Shed Movers
Williams Scotsman
About the Charleston Metro Chamber: With approximately 1,600 member organizations representing 160,000 professionals, the Charleston Metro Chamber of Commerce serves as the collective voice of the business community, and a catalyst for regional economic advancement and member success through Talent, Advocacy, Leadership and Business Development. Visit charlestonchamber.org.