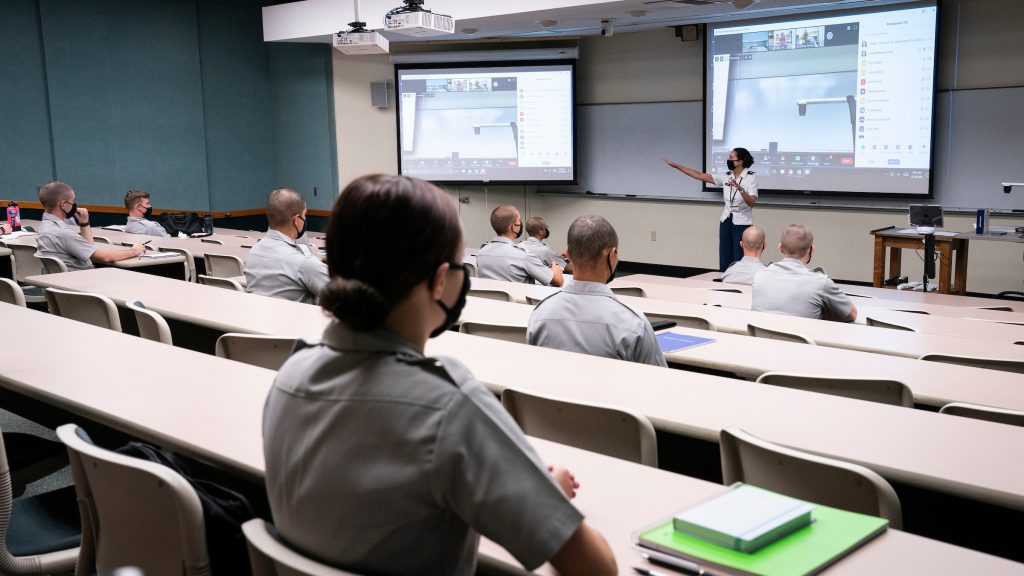 The Citadel Distinguished Scholars Program (CDSP) is guiding its second group of cadets from the Class of 2023 toward constructing the kind of academic portfolio needed to be seriously considered for prestigious post-graduate scholarships such as a Rhodes or Fulbright.
The program selection committee identifies the highest-performing freshmen, who then work during their time as undergraduates at The Citadel to prepare to compete for master's or doctoral degrees from the world's best universities.
If these past months have taught us anything, it is that the world can change at lightning speed. For our future leaders that means not just having command of a narrow body of knowledge, but having the breadth of understanding of the world around us and critical thinking skills to analyze a situation and discern the right course of action quickly. We are helping our future leaders develop the skills to be bold, courageous and definitive."

Earl Walker, Ph.D., professor of Management and Leadership, The Citadel
CDSP, recognizing that The Citadel is instilling core values in students in a disciplined and intellectually challenging military environment, seeks among them the most ambitious scholars who will then receive a higher level of personal, academic and professional development than was ever offered before.
CDSP's newest cohort of scholars was selected last spring before the pandemic-forced campus shutdown. They are now sophomores and moving forward in the program.
Caleb Friend is a sophomore from Spartanburg, South Carolina, double-majoring in Modern Languages in French and Spanish. He graduated high school with high honors, where he was involved in the Student Leadership Institute and student government (as class rep and treasurer), Beta Club and concert band. He also participated on the golf, cross country and soccer teams, and attended Boys State. At The Citadel, Caleb is in the Honors Program, and is active in the Catholic Chaplaincy, Citadel Pipe and Drums and Irish Heritage Society. He plans to earn his Master's before entering the Marines, and hopes to earn a doctorate one day.
Blake Garwood is a sophomore Computer Engineering major from Ponte Vedra Beach, Florida.

At The Citadel, Blake is a member of the Phi Kappa Phi Honor Society and participates in the Association for Computing Machinery Club and the Cybersecurity Club. His favorite pastime is golf, and in high school he played in golf tournaments throughout the state of Florida.
Blake is interested in research, innovation and entrepreneurship, and plans to pursue a Ph.D.
Austin Miles-Curtsinger, is a sophomore from Newark, California, majoring in Political Science. In high school, he was a member of the swimming and water polo teams and volunteered with his city's police department, assisting in the planning and execution of community events. He was awarded the Marine Option ROTC Scholarship to pay for his college education, and he will eventually commission in the United States Marine Corps. He enjoys reading, swimming, watching movies, horseback riding, exercising and spending time with friends and family. Austin is undecided about a military career and is interested in pursuing a law degree.
William Moran is from Lexington, South Carolina.

He is a sophomore Mechanical Engineering major, interested in having an impact via a math-based career in biotechnology while also open to learning new things and creative pursuits. In high school William was dedicated to learning and athletics, participating in cross country and tennis. At The Citadel, William is a member of the Toastmasters Club. He strives to be the friendliest person in the room. 
John Morris is a sophomore from Myrtle Beach, South Carolina.
Morris is studying Political Science with a focus on Pre-Law and Legal Studies. He graduated from the Academy of Arts, Science and Technology. During high school he played soccer. He also enjoys reading, exercising, surfing and participating in missions for his church. At The Citadel, John participates in the South Carolina Student Legislature delegation and the Citadel's chapter of the Republican Society. After graduation he plans to go to law school and practice as an attorney.
Benjamin Race is a sophomore double major in Mathematics and Computer Science, looking to add the new Cybersecurity major.
Race is from Columbus, Georgia but spent most of his life in Stockbridge, Michigan. In high school he was a two-time recipient of the AP distinguished scholar award. He was on the rifle team and received the U.S. Army Association award. As commander of the drill team, he helped them win two third-place state titles in drill, a first for his county. At The Citadel, Benjamin is a member of the Math Club and will join the Republican Society next year.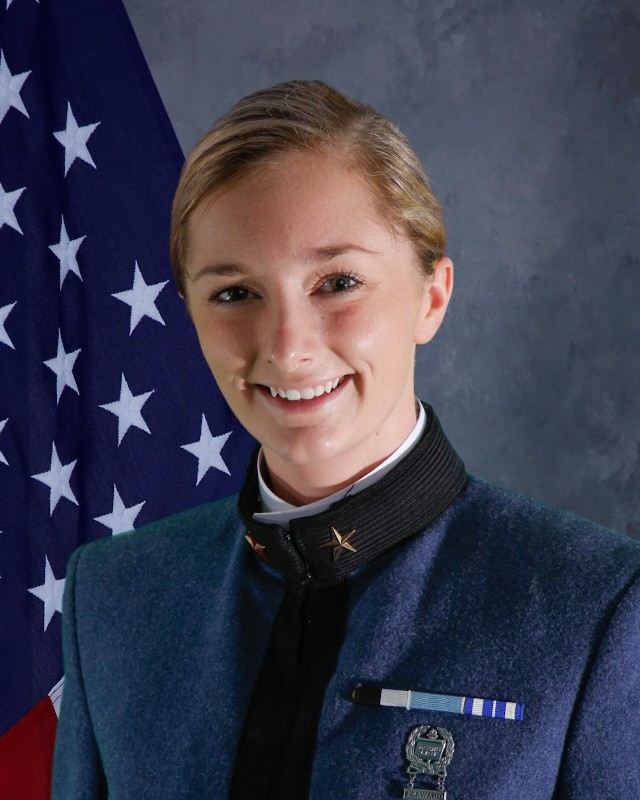 Elissa Reckdenwald is originally from Charleston, South Carolina. During her early teenage years, she moved to Andrews, South Carolina where she graduated from Andrews High School as valedictorian. In high school, Elissa was president of the National Honor Society, president of the Science National Honor Society, a delegate at Palmetto Girls State, and the secretary of FBLA. Elissa was captain of the female varsity cross country and soccer teams for three years, and participated in other extracurricular activities including the Art National Honor Society, drama club, chorus and band. At The Citadel, Elissa is a sophomore Intelligence and Security major with double minors in Leadership and Cyber Interdisciplinary Studies. She hopes to add a major in Spanish. She is a member of the Leadership Scholars Program and a Yawkey Scholar. Elissa also attends Grace Girls and is the manager of The Citadel women's soccer team. During her first semester at The Citadel, Elissa was awarded Dean's List, Gold Stars, and President's list distinctions. She would like to pursue a security career with the U.S. government.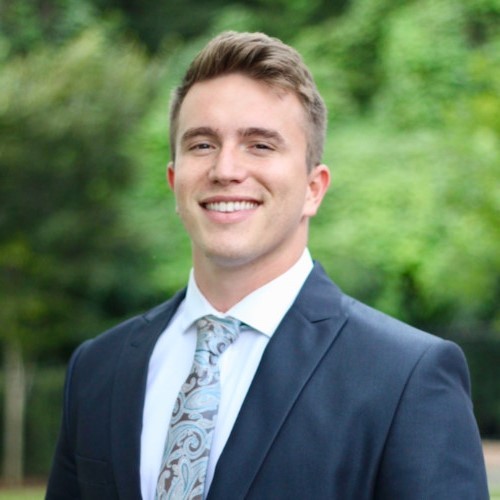 Trevor West is a Veteran Day student, having served as an Airborne Infantryman in the U.S. Army. During his enlistment he received two Army Achievement Medals, a U.S. Presidential Certificate of Appreciation and became the only soldier to complete the 82nd Airborne Division's Pre-Ranger Course as a PV2.
West owns and operates a five-unit rental portfolio consisting of both single family and residential multifamily properties. He is also the Founder and President of The Citadel Real Estate Investment Club, serves as a Sector Head for the Student Managed Investment Fund, and is a Veteran Mentor to Citadel cadets pursuing combat roles and positions in Special Operations units. He is a sophomore Gold Star recipient majoring in Finance and minoring in Economics and Data Science.
"Among our diverse new scholars are future military and civilian leaders, engineers and lawyers," said Earl Walker, Ph.D., director of CDSP and professor of management and leadership. "We see this program as beneficial to students in all majors and programs looking to maximize their opportunities for successful careers. We will develop their potential over their four years at The Citadel and make them well-rounded, well-versed, academically-prepared candidates who can put themselves up against the best of the best." 
Potential scholars are invited to apply for the program based on academic achievements through their first semester at The Citadel. Successful candidates must submit an application, be interviewed by a panel of faculty and sign a contract committing them to a variety of academic goals.
"The first things we look for among potential scholars are ambition and verve," adds Walker. "There are plenty of bright students out there with 4.0s, who will make out fine in life, but there is another tier, an upper echelon, for those who aspire to push themselves to be among the best in the world. 
CDSP provides its scholars with targeted tutoring, mentoring and fellowship advising focused on engagement – learning who they are, what they want to accomplish, and helping them chart a path for getting there.
The first four scholars, selected in 2019, are:
Will Jensen, Computer Science and Mathematics
Ashley Ruiz, Political Science and Cybersecurity Intelligence
Eric Skinner, English and Electrical Engineering
Martynas Tendzegolskis, Finance and Political Science
"We are always on the lookout for exceptional candidates. If you think you have what it takes, please contact us. We want to help you," Walker concluded.
For more information please contact Dr. Walker via email at walkerw@citadel.edu or Vanya Perez, CDSP program administrator, at vperez@citadel.edu.