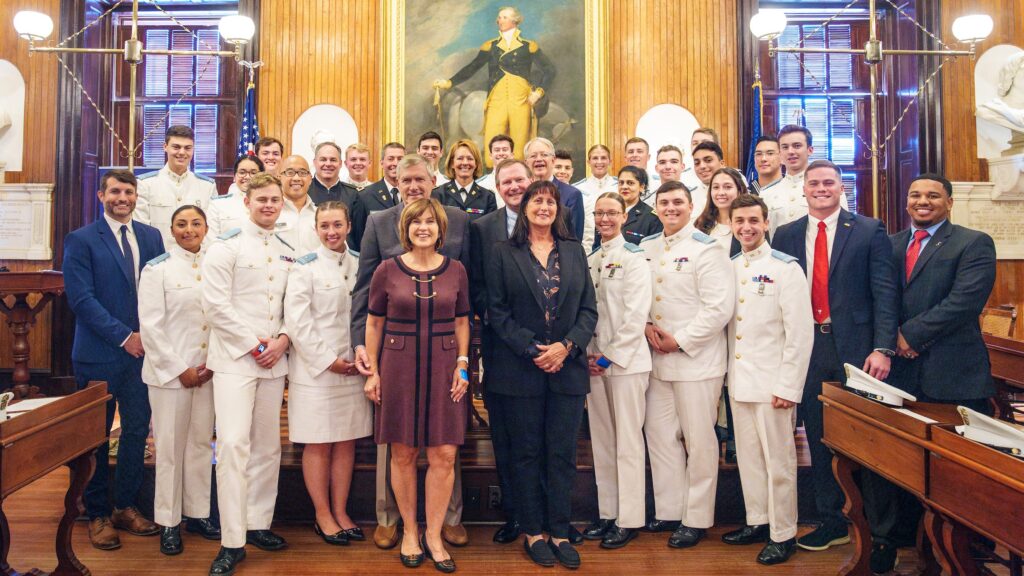 When Charleston Mayor John Tecklenburg first heard about The Citadel's medical camp in Kenya, it was from his wife Sandy.
"She saw a post you put out about the trip, and she was flabbergasted," Tecklenburg told a group of Citadel cadets and students Wednesday, Nov. 1, during a recognition ceremony at city hall. "She said, 'John, you would not believe what Citadel students are doing in the world.'"
In this particular part of the world — Nairobi, Kenya, to be exact — Citadel cadets and students were treating thousands of underprivileged patients.
Led by Health and Human Performance professors Sarah Imam, M.D., and Kimbo Yee, Ph.D., the group helped run The Citadel's medical camp, which is the largest, free general medicine provider in Nairobi. Since the first camp opened in 2022, the cadets and students who volunteered have helped treat nearly 11,000 patients while also getting a hands-on, one-in-a-lifetime experience.
A few months after returning from Kenya, those same cadets and students were invited to Charleston City Hall to be recognized by Tecklenburg. Part of the city's commendation included the mayor reading a proclamation which says, in part, "Therefore be it resolved that I as mayor of the City of Charleston, along with City Counsel, commend Citadel leaders and students for their remarkable efforts to assist populations in need and extend best wishes for your upcoming, third annual summer medical camp."
Citadel leadership also attended the event to applaud the group's efforts.
"I could not be more proud of the young men and women who spent three weeks in Kenya the past two summers serving others," said The Citadel Provost Sally Selden, Ph.D., SPHR. "We expect nothing less of our Corps of Cadets and our students at The Citadel. As we like to say, 'Service before self.'"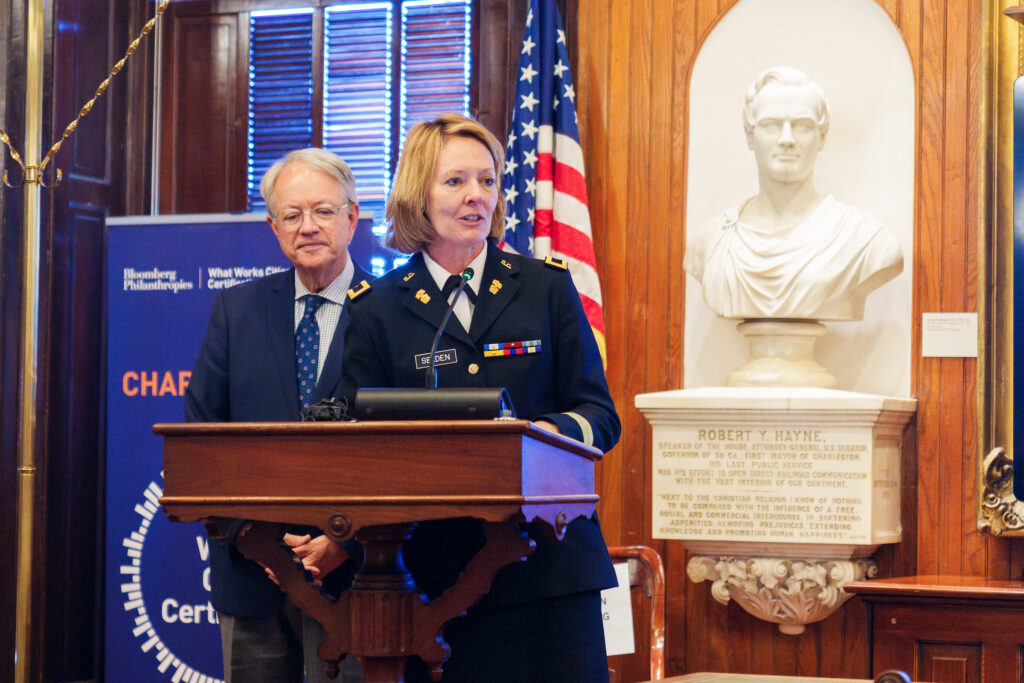 Some of the cadets and students were also offered an opportunity to speak about the experience.
"I'm truly grateful to have had the experience I did in Kenya," said Cadet Hunter Bates. "It was the most impactful experience I've participated in with The Citadel, and I am thankful to be a part of something that will help shape my career as a future physician."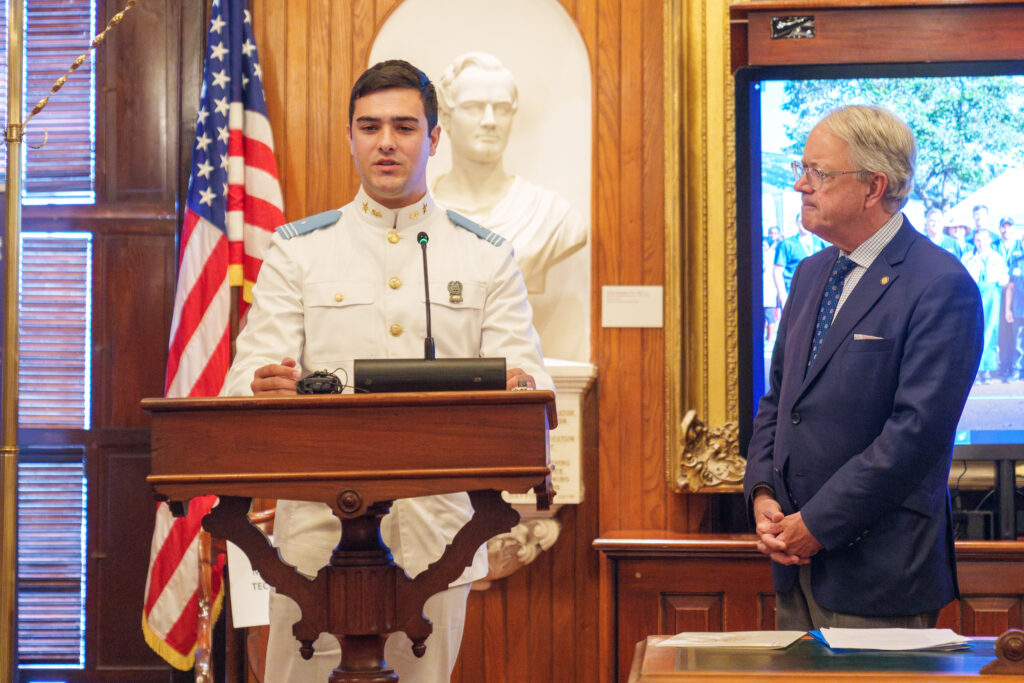 While participating in the camp is a great experience to cite for medical school applications, it is also a representation of the leadership model taught at The Citadel.
"For many of us, it was our first time traveling abroad. But I'm very happy to say that we were able to create a bigger impact and really, truly care for the patients there," said Cadet Arianna Romero. "As we all know, The Citadel is a leadership school, and we all had the privilege to participate, represent, learn, lead and make a difference."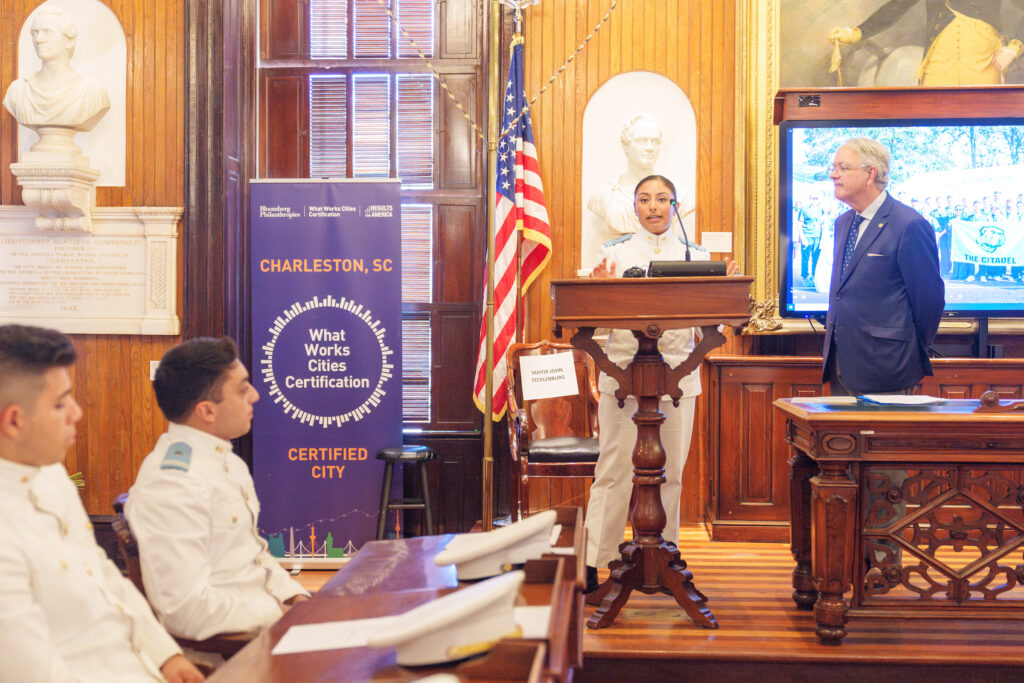 Throughout the hour-long event, Tecklenburg continued to emphasize one word: "heartwarming."
"I've found in my life, and I think you find during an experience like this, that helping other brothers and sisters is God's calling," he said. "It really is a calling, and if you can accomplish that in your life, wow, what meaning that can bring to what you do, whether it be serving in the medical profession, teaching, or maybe even being a mayor one day."
Imam, who came to The Citadel in 2015 from the Medical University of South Carolina, is the driving force behind this one-of-a-kind study abroad program. With the help of Mr. and Mrs. David C. Swain Jr., '80, and Dr. and Mrs. Christopher C. Swain, '81, Imam took 29 students and faculty in the summer of 2022 to the slums of Nairobi, Kenya, where they treated more than 5,000 patients in three weeks.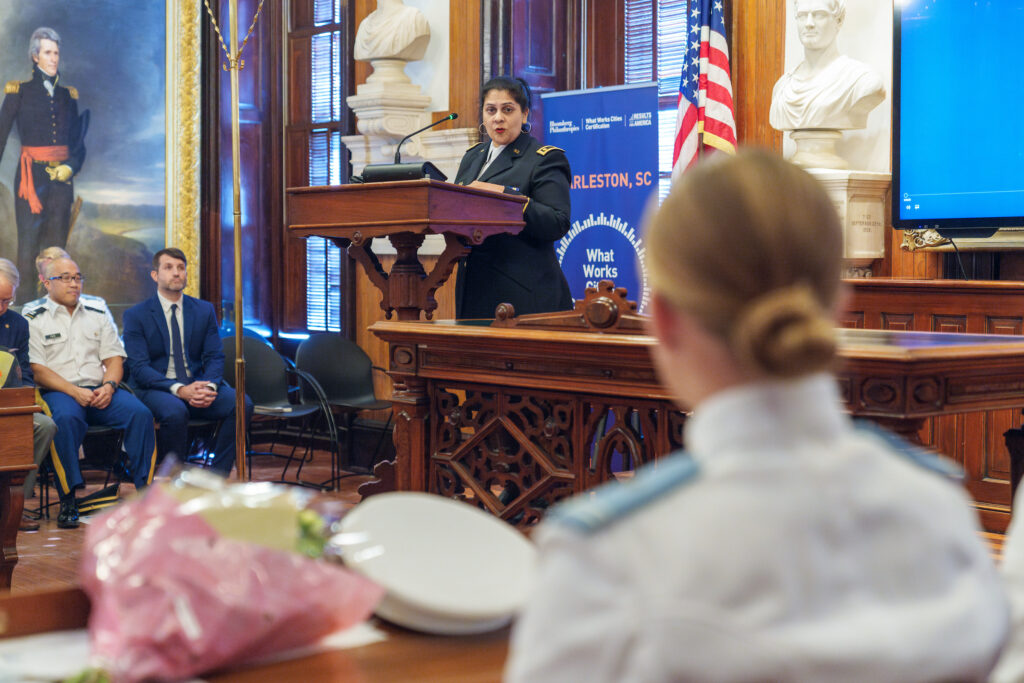 "Any time I have asked any of these students about this experience, every single one of them has said the same thing: 'This changed my life,'" said Darin Zimmerman, Ph.D., dean of the Swain Family School of Science and Mathematics. "That's pretty special, and it's probably one of the greatest examples of what we can do when we work together."
For more information on the medical camp and the funding that makes it possible, click here.