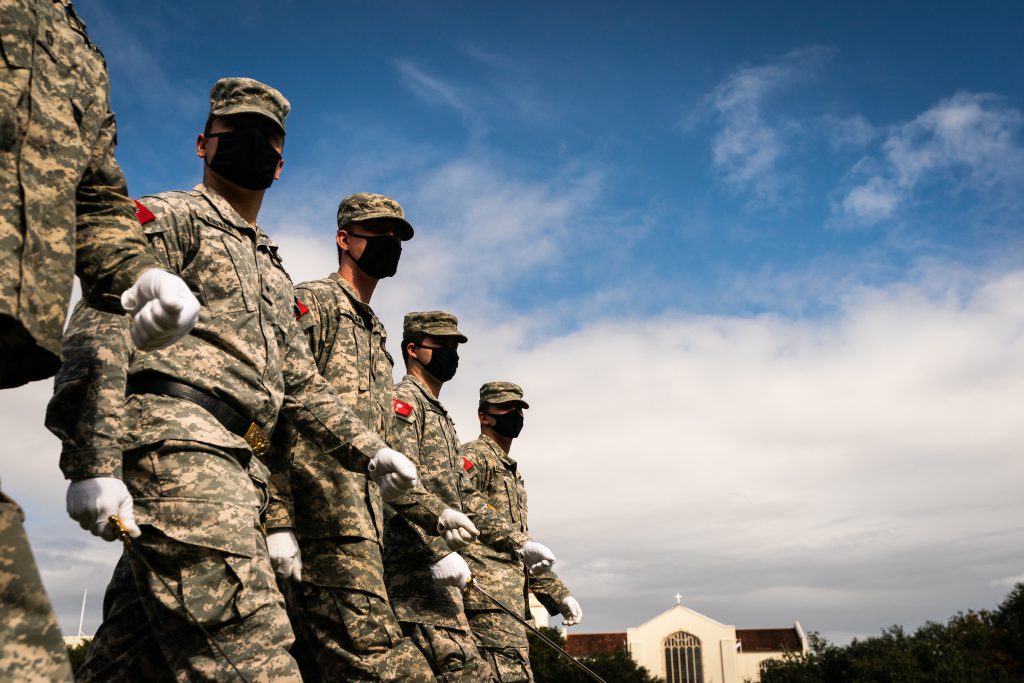 Campus community must remain disciplined about coronavirus protection protocols
Photo above: A portion of the South Carolina Corps of Cadets participates in parade practice on Summerall Field November 5, 2020, keeping in step with the tradition for possible future parades.
The last day of classes this fall for cadets and students at The Citadel is November 24. They will take finals from home following Thanksgiving and will not return until January.
But as COVID-19 cases across America spike at record levels, The Citadel is also seeing an uptick in cases and the number of cadets and employees in quarantine or isolation, which are updated daily on the college's website. Leadership is emphasizing that everyone must stay vigilant about continuing the college's protection protocols.
"We are so close to successfully completing a full, in-person semester. We must stay disciplined in fulfilling our duty to protect ourselves and others, even after leaving for the long holiday," said The Citadel Commandant of Cadets, Captain Geno Paluso.
As a precaution, cadets will not be granted leave before the furlough departure. They will, however, be able to enjoy food trucks, increased intramural activities and outdoor games at certain times over the next two weekends.
Despite the pandemic, the college's Operation Fall Return set conditions to restore on-campus living, learning and working in August. Strict COVID-19 protection protocols including mandatory face coverings, limiting cadets to only their own barracks, reducing leave for cadets, a hybrid learning model for classes and continuous, and expert disinfection of facilities assisted in keeping the on-campus experiences intact. Large crowd events — including military dress parades, Parents Weekend and Homecoming — were canceled to limit the spread of COVID-19.
Nov. 19 Virtual Town Hall
The Citadel President, Provost and Commandant will update parents on how the fall has gone and on what to expect for the spring semester return during the final Virtual Town Hall for the semester. It is scheduled for 7 p.m., November 19 and will be livestreamed on The Citadel Facebook page.
Specific details about barracks room departure protocols and storage options for the Corps will be provided to cadets by the Commandant's Office team.
After cadets depart, the college's expert sanitation contractor, the Budd Group, will deep clean barracks rooms and disinfect all cadet spaces, while continuing to sanitize offices and employee facilities. The college closes for winter furlough on Dec. 22 with employees returning January 4.
In January, cadets will return to live in their assigned 21 home companies, with Reconstitution taking place on a staggered schedule from January 13 – 15.