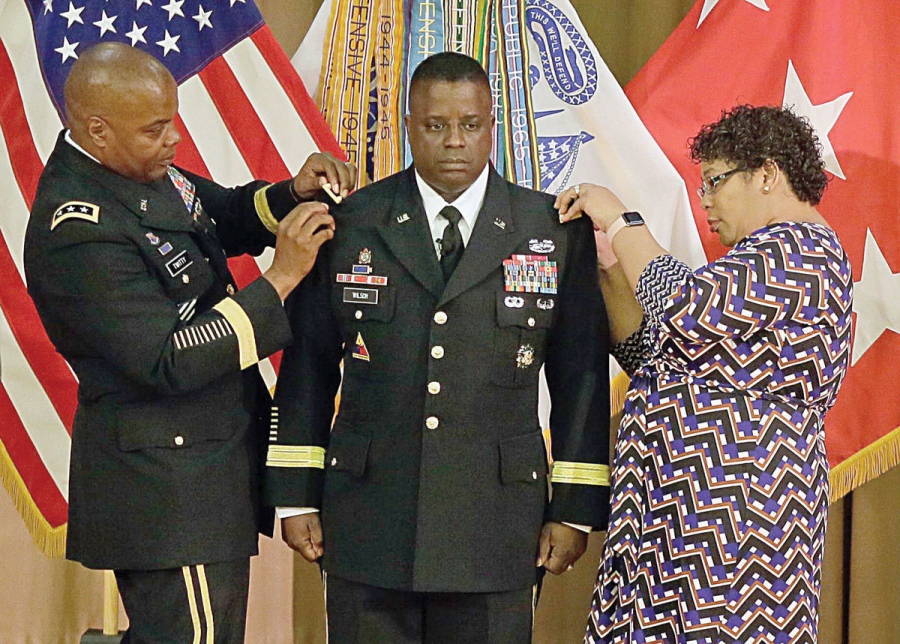 As seen in Stars and Stripes
The chief of the Army Ordnance Corps was promoted to the rank of brigadier general during a ceremony April 13 at Mark Clark Hall on the grounds of The Citadel, a military college in Charleston, S.C.
Brig. Gen. David Wilson returned to his alma mater to celebrate the achievement of becoming the first African-American active duty Citadel alumnus to reach the general officer ranks.
Lt. Gen. Stephen Twitty, commanding general, First Army, Rock Island Arsenal, Ill., is a longtime mentor of Wilson and presided over the ceremony.
During remarks, Twitty shared Wilson's personal battle with cancer and his dedication to remain in uniform even when doctors told him he had a 21 percent chance of surviving surgery to remove one kidney and adrenal gland and a 90 percent chance that the cancer would spread and kill him within 90 days.
"It is a story of great adversity," said Twitty. "It is a story of discovering a renewed passion for life and service to others. And it is a story that any Soldier can intrinsically understand because it is about defeating a ruthless enemy when the odds are fearfully stacked against you."
Twitty also highlighted Wilson's remarkable career, saying he has dedicated himself to mentoring young officers and giveing them the kind of support he received from his own command during his fight with cancer. Twitty shared the story of one young officer who chose to deploy to Iraq, after just completing a tour there, in order to serve with Wilson. The reason he gave is that he learned more in 19 months with Wilson's battalion than he had in all his previous years in the Army before.
Wilson is one of nearly 300 Citadel graduates who have since become U.S. flag officers. Numerous current and retired general officers were on hand to support Wilson and his family, including his wife, Patricia, who is a combat veteran. His father-in-law served in Desert Storm.
"When we say 'Army Strong,'" Twitty said to Wilson, "you are the living embodiment."
Making it to the first star is not done alone, said Wilson.
"This day is possible because of the support of family, friends, peers, officers, warrant officers, noncommissioned officers and Soldiers who supported me along the way," he said. "Reflecting on my almost 30 years of service, I am humbled, grateful and thankful for the opportunity to continue to serve our nation, but most importantly, our Soldiers. I have never been more proud than I am today to be a member of this great Army. It remains my privilege and my greatest honor to continue to serve alongside great men and women who love this nation and have dedicated their lives to defend her freedoms."
Wilson decided to hold his promotion ceremony at The Citadel because he said it was there he decided what kind of leader he wanted to be and how he wanted to influence change.
"It was here in the leadership laboratory that I found my purpose by way of my passion for serving and leading others," he recalled. "The Citadel was where I decided on a career in the U.S. Army, and it was here I immersed myself in the discipline of study and preparation."
Wilson has served as the Chief of Ordnance since August 2016.