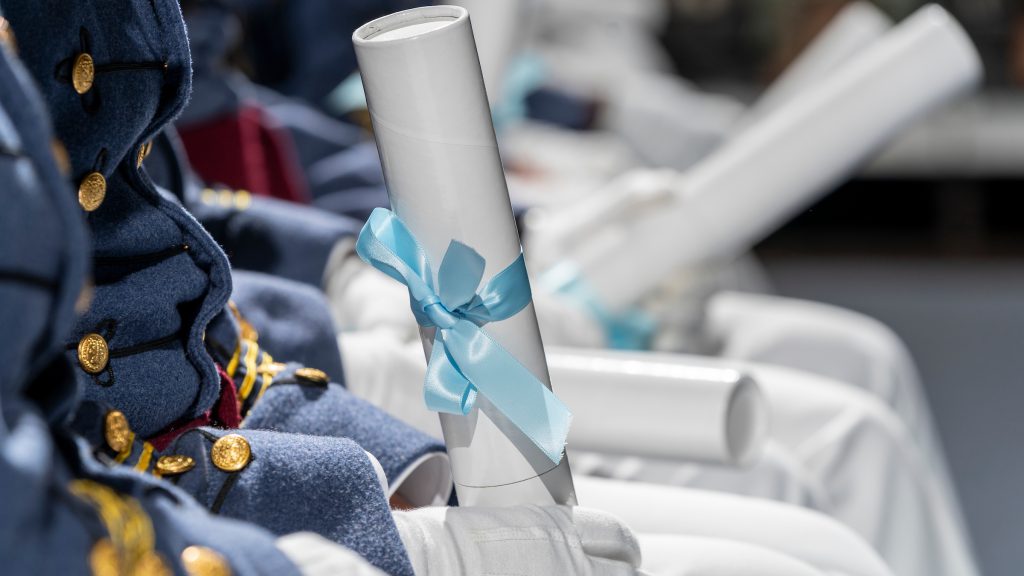 South Carolina Corps of Cadets; Citadel Graduate College commencement events and statistics
On May 9, The Citadel Class of 2020 — with more than 1,000 graduates comprised of the South Carolina Corps of Cadets and The Citadel Graduate College — will be celebrated for their achievements during two virtual commencement ceremonies. Both will be broadcast on the college's Facebook page, and on a special commencement website at this link which will be activated on graduation day.
A virtual program for each ceremony will be downloadable on the commencement website. A hard copy keepsake of the programs will be mailed to the home of each graduate.
South Carolina Corp of Cadets
The South Carolina Corps of Cadets ceremony begins at 1 p.m. EST. Graduates will find a virtual invitation at this page they can share with friends and family. See the virtual program here.
Graduates will be addressed by Gen. Joseph F. Dunford, Jr., USMC (Ret.), who served as the 19th Chairman of the Joint Chiefs of Staff, the nation's highest-ranking military officer, and the principal military adviser to the President, Secretary of Defense, and National Security Council from 2015 – 2019. In addition, there will be a special dedication to Charles Foster, the first African American Corps graduate, as this is the 50th anniversary of his commencement.
By the numbers, the ceremony includes:
590 cadets from 33 states
Approximately 180 cadets are earning commissions in all branches of U.S. Armed Forces to become new officers. These ceremonies are also virtual, managed by each ROTC branch.
26 veteran students
4 active duty students
The Citadel Graduate College
The Citadel Graduate College commencement begins at 3 p.m. EST. and will last about 45 minutes. See the virtual program here. Graduates will find a virtual invitation they can share with friends and family at this link. They will be addressed by Anderson "Andy" D. Warlick, the chairman and CEO of Parkdale Inc. Warlick is considered one of the most innovative leaders in the textile industry and is leading his company in the production of support products to combat COVID-19. He graduated from The Citadel in 1979 with a degree in business administration.
Included in the ceremony:
307 Master's Degree students
92 College Transfer Students (Undergraduate/evening or online)
What is the "Plus?"
The "Plus" part of the celebration is an option for anyone in the Class of 2020 to return to campus in the fall for a special military review parade by the Corps in their honor, and to walk a stage and receive their diploma in person from The Citadel President, Gen. Glenn M. Walters, for a commemorative photo. The experience is tentatively scheduled for Sept. 18.
"Even if we cannot all be together for a spring ceremony, we wanted to provide the richest experiences possible during a pandemic for our cadets and students in recognition of their tremendous efforts," said Col. John Dorrian, USAF (Ret.), vice president of communications and marketing for The Citadel.
Another Plus: each graduate's personal commencement web page where visitors can share messages
On May 9, every cadet and student can log on to the special commencement website to view their own graduation page, created just for them. The graduates can share their pages easily on social media platforms. The page will include:
A photo.
A professional reading of that graduate's name, just as it would have been read during an in-person commencement ceremony.
A quote or written message of appreciation to your loved ones from the graduate.
Electronic badges symbolizing the special achievement cords the graduate would have worn in a traditional ceremony.
A place were classmates, friends and family can leave written messages for their graduate.
A video message from graduates who provided one. (Instructions for submitting a video are here.)
PLUS: the information from these pages, the virtual ceremony and the virtual program can all be downloaded as keepsakes and shared.
What do the virtual ceremonies include?
On Facebook the ceremonies will open with a "virtual lobby" where people can gather to exchange comments and greet each other. (On the commencement website, this will be presented as a two-minute countdown.)
Among the speakers during the ceremonies will be the college president, the provost, and the keynote speakers outlined above.
Awards for special achievements will also be announced.
Degrees will be conferred by Col. Fred Price, President of The Citadel Board of Visitors.
Rather than the traditional reading of names, Gen. Walters will invite all graduates to spend time reflecting on their Citadel experience with their loved ones at their current locations during a special video.
The president of The Citadel Alumni Association (CAA) will invite graduates to turn their rings around together.
Morris Robinson, '91, international opera star, and the newest addition to CAA's distinguished alumni list, will sing the Alma Mater.
Both ceremonies will end on another Facebook virtual lobby and viewers will be directed to the commencement website to share comments on their graduate's page.
Once the ceremony is complete, a button will appear that will enable download of the ceremony as a keepsake.
Share your celebration with The Citadel family by using #Citadel2020