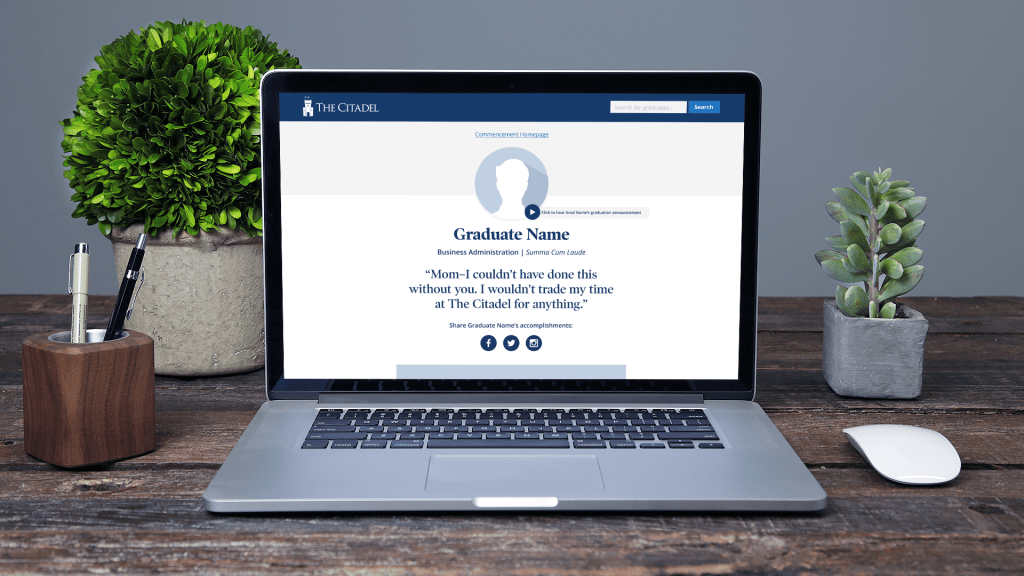 This commencement is the first of its kind in the history of our college. The Citadel is tremendously proud of your your accomplishments, and we want to help you celebrate them! As a key part of this year's virtual commencement experience, The Citadel will provide every cadet and student with a personal graduation profile to celebrate their accomplishments. Your graduation profile will enable you to submit a video message to congratulate your classmates, thank your loved ones, and celebrate the indomitable class of 2020! Your profile will be shareable on social media, where everyone can congratulate you for your hard work and commitment.
Your profile will include:
Your photo
A professional reading of your name, just as it would have been read during an in-person commencement ceremony
Your quote or written message of appreciation to your loved ones
A video message from you to your classmates and loved ones
A section for your classmates and loved ones to leave you a message of congratulations and well wishes.
There are a few steps we need you to take to help us prepare your personal graduation profile.
Log into your Marching Order account

Submit a quote to be featured on your graduation profile. You can use this opportunity to share a quote that is meaningful to you or to offer a message of gratitude to your loved ones.
Submit a professional photo of yourself to be featured on your graduation profile. Cadets who had a yearbook photo done can skip this step as we will be using your yearbook photos. Those who did not will be able to submit a photo.

Visit the video submission webpage on The Citadel website

Submit a video message of thanks to your loved ones and classmates that will appear on your personal virtual commencement webpage. We recommend filming your video horizontally in high definition for the best results.
So that we can have your personal graduation profile prepared in time, we're asking you to submit your materials no later than Thursday, April 23, 2020. Your profile will be visible worldwide immediately following the virtual commencement experience hosted on The Citadel Facebook page on Saturday, May 9 at 1:00 p.m. (South Carolina Corps of Cadets) or 3:00 p.m. (The Citadel Graduate College). If you have questions about this opportunity, send them to commencement@citadel.edu.