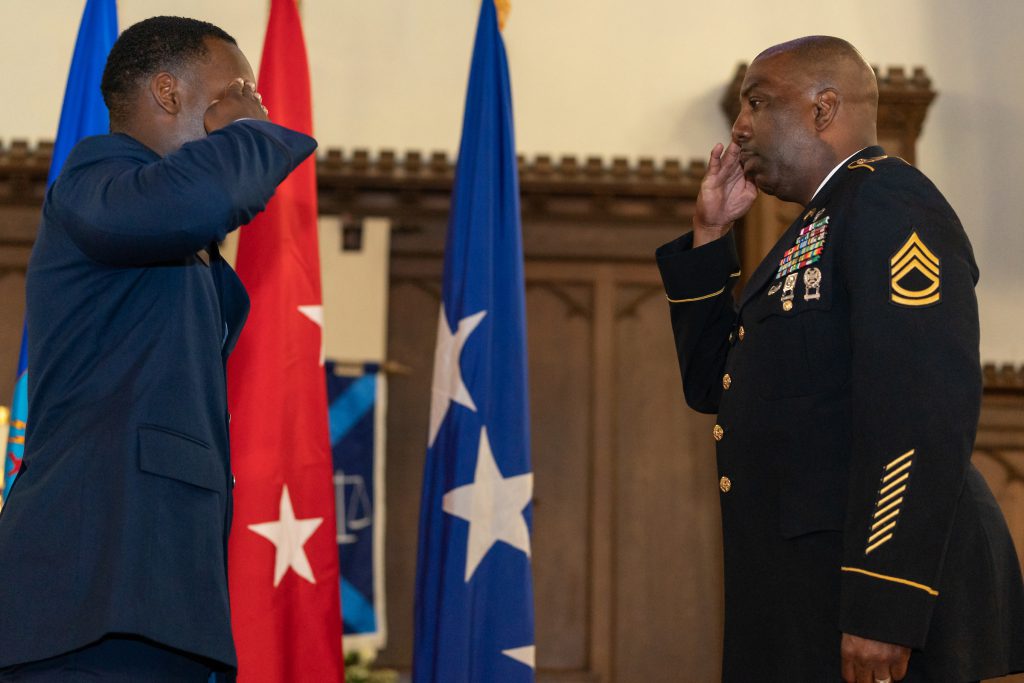 Photo: 2nd Lt. David Days received his first salute as a USAF officer from SFC (Ret.) Kenneth Greene beloved Citadel instructor in 2019
Approximately a third of the South Carolina Class of 2020 will earn commissions to become military officers upon graduating, which will be close to 200 this May. Each ROTC unit at The Citadel will hold virtual commissioning ceremonies this month to recognize their new officers and to allow for them to receive their gold bars and their first salutes.
U.S. Army ROTC Virtual Commissioning Ceremony May 9 at 5 p.m. EST
Citadel cadets who will earn commissions as officers in the U.S. Army will celebrate via a virtual event offered by the college's Palmetto Battalion AROTC unit commanded by Col. John Cyrulik, USA. An estimated 100 – 115 cadets will become officers, according to Cyrulik.
"Our commissioning cadets and students can expect to receive an email with a link and password to our virtual ceremony about 24 hours in advance which can then be shared with their loved ones worldwide, as so many have parents actively serving in our armed forces," he said.
The ceremony will include the recitation of the oath by the cadets who are asked to be in uniform, if they can, and who will have sponsors with them to pin their gold bars on those uniforms. The college invites cadets to send photos of their first salutes, along with the names in the photographs, to OCM@citadel.edu.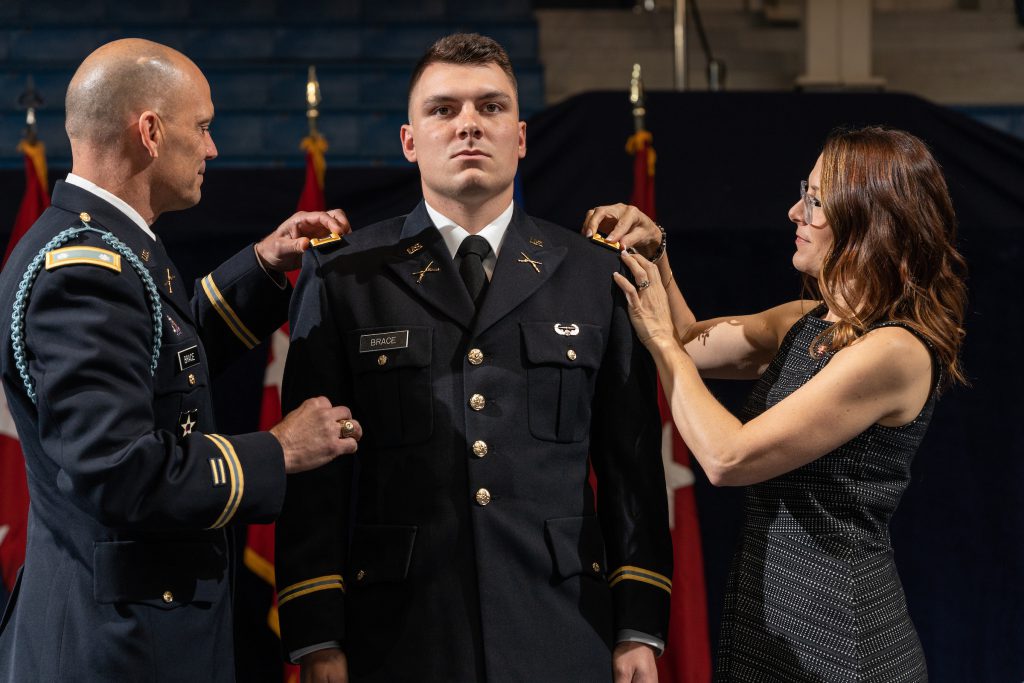 Congratulations to the The Palmetto Battalion's Class of 2020. You have excelled at every endeavor and our Army needs your enthusiasm, new ideas, leadership, and most importantly ─the character and values inculcated at The Citadel─ to help us solve the complex problems we all face today. We are fortunate to have such outstanding men and women committed to leading our soldiers during these challenging times.

Col. John Cyrulik, Prof. of Military Science, The Citadel
Cadet Paul Rhyne, soon to be 2nd Lt. Rhyne, was ranked #7 of nearly 6000 Senior Army ROTC Cadets nationwide and served as the Palmetto Battalion's Cadet Commander for the last year.
"Cadet Rhyne is the recipient of the prestigious George C. Marshal Award for excellence. He is branching Aviation and will begin flight school this summer," Cyrulik said.
See the full list of the nation's newest Army officers here.
U.S. Navy ROTC and U.S. Marine Corps ROTC at The Citadel to be pinned May 11
The Citadel NROTC and MROTC both fall under the command of Col. Charles Dunne, who anticipates that 40 – 45 cadets from the Class of 2020 will earn commissions. They will be recognized during a virtual ceremony on May 11 and will receive emails with links and passwords.
Congratulations to our newest ensigns and second lieutenants hailing from the proud Class of 2020. You wear the ring and know that your time here at The Citadel complements your shoulder boards and gold bars in a way that means more is expected of you. You leave this bastion of leadership, on the banks of the Ashley River, prepared to lead our sailors and Marines into the next challenging decades of the millennium. As you face obstacles and times of crisis ahead, look to "The Long Gray Line," spanning 177 years for strength and example. Fair winds and following seas!

Col. Chuck Dunne, USMC, Prof. of Naval Science, The Citadel
Midshipman (Navy) Jeremy Green
Green is the top NROTC performer across the campus academically, within the unit, and in extracurricular activities. He earned all As and only one B during his four years as a Mechanical Engineering major, was selected for the Chief of Naval Operations Distinguished Midshipman Graduate award and earned the Robert G. Miller Memorial Sword. Green was a member of Junior Sword Arch and served as cadet first sergeant his junior year and was the supply sergeant for the Summerall Guards and cadre platoon leader his senior year. He is in competition for the prestigious Shoemaker Scholarship to attend Naval Postgraduate School before Flight School.
Active Duty Sailor (STA-21) Officer Candidate Ronald Weimar
With a perfect 4.0 in Electrical Engineering, Weimar received the prestigious Burke Scholarship to attend Naval Post Graduate School after first fleet submarine tour. He earned the Naval Submarine League Award for outstanding performance by a student pursuing Submarine Warfare Designation. Weimar also served as a tutor in his limited off-duty time in the Math Laboratory of the Student Success Center.
Midshipman (Marine) Adam Niehoff
Niehoff embodies what a model Citadel cadet and midshipmen should be. He is the recipient of the Brigadier General Mace Leadership Award and served as the commander of the Fourth Battalion in the Corps his senior year. Niehoff finished in the top 10% at Officer Candidates School, was a member of Junior Sword Arch and served as cadet first sergeant his junior year. In addition, he was a leader within the Marine Contingent for three years
Active Duty Marine (MECEP) Staff Sergeant Mark Vowels
A leader best mentors by his own example, and Mark Vowels sets the standard in all facets of his life professionally and personally. He is the recipient of the Shane Childers Mameluke Sword for best MECEP in the unit. Vowels' writing abilities earned him a place in the college's Goldstar Journal Review. He also exemplified a servant leader, donating his free time to assist with training juniors for Officer Candidates School preparation and the Pre-Bulldog Program. By modeling exemplary Marine leadership, Vowels served as a mentor to all our midshipmen and MECEP Marines.
See the full list of the nation's newest Navy and Marine Corps officers here.
U.S. Air Force Virtual Commissioning Ceremony May 10
The Air Force ROTC unit at The Citadel was commanded by Col. Will, who is now on terminal leave before retiring. Will expects 40 – 45 cadets to earn commissions and says the virtual ceremony will be held May 10. Cadets will be notified with a link and password in advance, which they can share with loved ones.
It is always bittersweet to commission a graduating class. On one hand, it is inspiring and deeply satisfying to know that we are sending some of the most talented new officers into the ranks of the Air Force to fly, fight and win for our nation. But it is always difficult to see them leave. The Class of 2020 is an outstanding class, and the Air Force is going to benefit from their dedication to service, incredible discipline and character, and unmatched work ethic. The Citadel will send its best to virtually every operational career field in the Air Force, including pilot, combat systems officer, Remotely Piloted Aircraft, Intelligence, Cyber, Space and Missilier training. Others head off to training for logistics, aircraft maintenance, contracting, acquisitions and personnel. They are truly an outstanding group of young men and women, and I have absolute faith that they will serve the Air Force, our nation, and the cause of freedom with honor and distinction.

Col. Christopher Will, USAF, Prof. of Aerospace Studies, The Citadel
Cadet James Quimby tops the list of outstanding new officers, according to Will.
"Not only was James Quimby awarded the MacArthur Leadership Award for his incredible contributions to the Corps, but his leadership within the Det 765 Wing, The Citadel Flying Club and the Physics Department was also second to none," Will said.
In addition, Quimby was selected as the top Air Force ROTC Cadet in the Southeast Region, and has been nominated to compete at the Air Force level against the three other ROTC region nominees and the Air Force Academy nominee for Cadet of the Year honors. "We will not be surprised if he takes home the hardware, and know the Air Force is not only accepting an outstanding pilot, future test pilot and astronaut in its ranks, but a young officer of impeccable character and integrity with unlimited potential. Go Air Force!"
The full list of the nation's newest Air Force officers will be added here when available.
U.S. Coast Guard
Cadet Captain Samuel Santiago – the Sierra Company Commander – earned one of the "handful" of slots to Coast Guard Officer Candidate School this summer. He will commission as a Coast Guard Ensign, upon successful completion of OCS.

Col. Chuck Dunne, USMC, Prof. of Naval Science, The Citadel