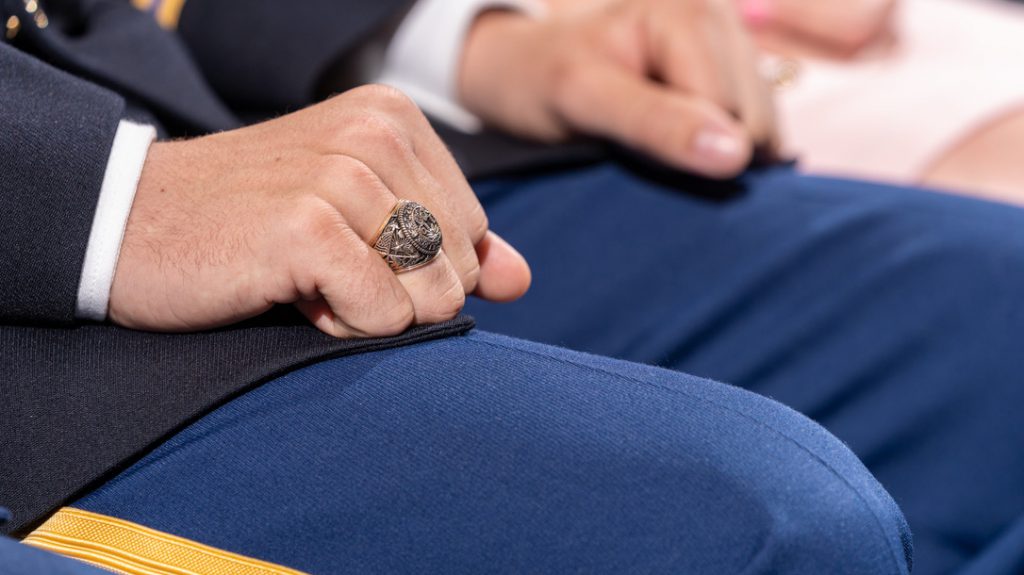 Citadel cadets who earned commissions as officers in the U.S. Army celebrated via a virtual event offered by the college's Palmetto Battalion AROTC unit, commanded by Col. John Cyrulik, USA. An estimated 100 – 115 cadets participated in the event, according to Cyrulik.
The ceremony included the recitation of the oath by the cadets who were asked to be in uniform, if possible, and who had sponsors with them to pin their gold bars on those uniforms.
The college invites cadets to send photos of their first salutes, along with the names in the photographs, to OCM@citadel.edu.
For more information on the ROTC commissioning ceremonies, click here.
Citadel cadets who accepted commissions into the U.S. Army include:
2020 Army Rotc Commissioning Cadets
Achterkirch, Peter — Signal Corps
Adams, Montele — Military Police
Bach Davis, Griffin — ARNG
Baker, Justin — Medical Services Corps
Barberina, Justin — Infantry / ARNG
Bauknight, Paul — Military Police/ ARNG
Beier, Booker — Military Intelligence / USAR
Bell, Preston M. — Military Intelligence / ARNG
Blanton, Samuel — Transportation Corps
Blount, Rayquan — Field Artillery / ARNG
Bord, Nathan — Field Artillery / ARNG
Bridenbaugh, Donald — ARNG
Broach, Bryce — Medical Services Corps / USAR
Broad, Breana — Adjutant Generals Corps / ARNG
Brooks, Shiloh — Ordnance Corps
Brown, Rhaei — Transportation Corps / ARNG
Burger, Sean — Field Artillery
Burk, Lee — Chemical Corps
Chen, Boey — Quartermaster Corp
Choppa, Jacob — Field Artillery
Clark, Jack — ARNG
Cobb, Cameron — Infantry
Cockrell, Timothy — ARNG
Coker, John — ARNG
Cote, Ryan — Infantry
Crosswhite, William — Field Artillery
Curtis, Joseph — Quartermaster Corps
Davis, Jonathan — Corps Of Engineers / USAR
Dennen, Kaitlyn — Transportation Corps / ARNG
Dinovo, Anna — Military Police / USAR
Disabatino, Jacob — Infantry
Dockins, Ross — Adjutant Generals Corps/ Usar
Douglas, Jared — Medical Services Corps/ Usar
Durant, Jalen — Quartermaster Corps
Durnan, William — Ordnance Corps
Dykens, Adam — Chemical Corps
Eckert, Samuel — Infantry
Ermakov, Arthur — Signal Corps / ARNG
Erney, Joshua — Quartermaster Corps
Farr, Tyler — Corps Of Engineers
Franklin, Jacob — USAR
Frazier, John P. — Infantry / ARNG
Geter, Aaron — Medical Services Corps / USAR
Gonzalez, Gabriel A. — Quartermaster Corps
Griffith, Micah — Corps Of Engineers / ARNG
Hammond, Matthew — Field Artillery
Hembree, Brayden — Air Defense Artillery
Hester, Benjamin — Armor
Hill, Ruston — Infantry
Holliday, Johnathan — Military Police / ARNG
Honeycutt, Richard — Cyber / ARNG
Hughes, Shane — Chemical Corps
Jackson, Ashley — Quartermaster Corps / USAR
Jalbert, Hannah — Military Intelligence
Kamara, Ballah — Quartermaster Corps / USAR
Karres, Gus — Infantry
Kelley, James — Infantry / ARNG
Kennedy, Matthew — Military Police
Kent, Jesse — Military Intelligence / USAR
Kidd, Aiden — Infantry
Kim, Bryan — Signal Corps
Klassen, Benjamin — Field Artillery
Lowery, Thomas — Military Intelligence / USAR
Lucas, Brady — Aviation / ARNG
McAlear, Alexander — Military Police
Meetze, Dylan — Corps Of Engineers / ARNG
Minaudo, Anthony — Quartermaster Corps
Monteiro, Josef — Infantry
Moran, Lucas — USAR
Mullally, Brenden — Military Police
Neeley, Jordan — Signal Corps
Pack, Lewis — Infantry
Parker, Gavin — Armor/ ARNG
Peckham, Jacob — Armor
Phillips, Samuel — Corps Of Engineers / USAR
Puckett, Hunter — Field Artillery
Ramutkowski, Jeffrey — Armor / ARNG
Randall, Marcell — Adjutant Generals Corps / USAR
Ransom, Matthew — Air Defense Artillery / USAR
Renda, Sebastian — Infantry
Rhyne II, Paul — Aviation
Richerson, Jake — Armor
Roides, Joshua — Finance / USAR
Ross, Huntor — Aviation / ARNG
Salazar, Matthew — Infantry
Sauls, Isaac — Field Artillery / ARNG
Schindler, Jake — Transportation Corps
Schoonover, Grant — Armor
Schrieks, Christopher — ARNG
Shave, Christian — Medical Services Corps
Shugart, William — Medical Services Corps / ARNG
Snyder, Ben — Infantry
Sullivan, Raymond — Corps Of Engineers
Terris, Carter — Infantry
Terry, Oliver — Field Artillery
Tia, Anamalae — Nurse Corp
Triplett, Joshua — Field Artillery
Vargas, Paul — Infantry
Viado, Christopher — Field Artillery
Vlass, Tyler — Quartermaster Corps / ARNG
Werder, Michael — Ordnance Corps
Westmoreland, William — Corps Of Engineers / USAR
Wilkening, Gabriel — Transportation Corps / USAR
Williams, Eric — Corps Of Engineers / ARNG
Wisniewski, George — Chemical Corps / ARNG
Wyble, Darrian — Infantry
Young, Bratton — ARNG
Zeigler, Brennen — Infantry / ARNG