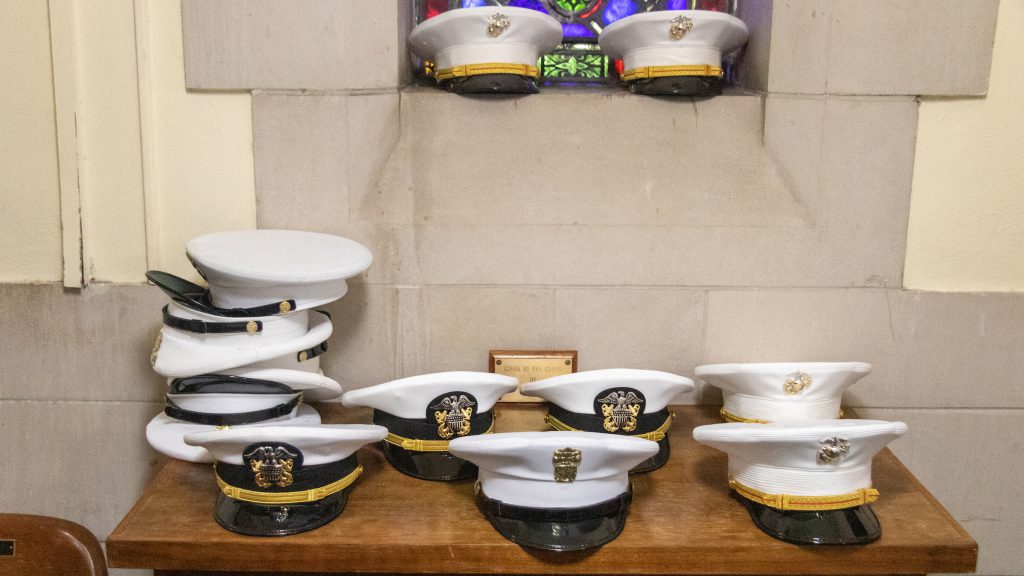 Photo: A table inside Summerall Chapel during the Navy and Marines commissioning ceremony in 2019
The Citadel NROTC and MROTC both fall under the command of Col. Charles Dunne, who anticipates that 40 – 45 cadets from the Class of 2020 will earn commissions. They will be recognized during a virtual ceremony on May 11 and will receive emails with links and passwords.
Watch the recorded message from Col. Dunne to the NROTC and MROTC commissionees here.
For more information on the ROTC commissioning ceremonies, click here.
| | | |
| --- | --- | --- |
| First Name | Last Name | Branch of Service |
| Andrew | Becker | Navy |
| Mathew | Byrnes | Navy |
| Hunter | Calkins | Marines |
| David | Clark | Navy |
| Jacob | Duggan | Marines |
| Ethan | Eich | Navy |
| Jacob | Fritz | Marines |
| Jeremy | Green | Navy |
| Paul | Gunn | Marines |
| William | Hesse | Navy |
| Adam | Hohlbein | Marines |
| Ian | Hohlbein | Marines |
| Wesley | Hoksbergen | Marines |
| William | Hope IV | Navy |
| Robert | Howard | Marines |
| Charles | Kent | Marines |
| Denis | Kuchta III | Navy |
| Yann | Lamicq | Marines |
| James | Lipscomb | Marines |
| Kalvin | Martinez | Marines |
| William | Massey | Navy |
| William | Mathis | Marines |
| Kyle | McCormick | Marines |
| Sierra | Morris | Marines |
| John | Mueller Jr. | Navy |
| James | Mundy | Marines |
| Austin | Nations | Marines |
| Haylee | Neal | Marines |
| Andrew | Newton | Navy |
| Adam | Niehoff | Marines |
| Dillon | Ortiz | Marines |
| John | Pippins | Navy |
| Tyler | Robinson | Marines |
| Patrick | Ryan | Navy |
| Scott | Thompson | Navy |
| Jonathan | Urbanic | Navy |
| Kenzi | Vargo | Marines |
| Anthony | Viteri | Marines |
| Mark | Vowels | Marines |
| Ronald | Weimar | Navy |
| Timothy | Wentworth | Navy |