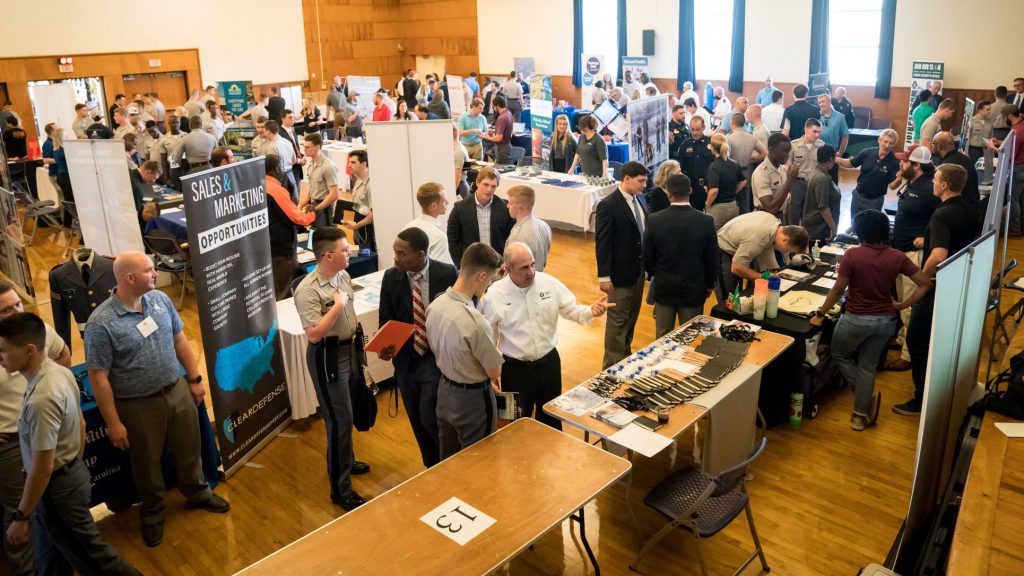 By Alaina Rink, CGC '22
As The Citadel prepares cadets and students for success in the workforce, the Career Center gives them the tools needed to find the right job. One of the Career Center's initiatives is to bring employers from many different industries to campus throughout the year.
Over 50 employers attended the Career Center's spring job fair, ranging from Volvo and Santee Cooper to MUSC and the Secret Service.
Cadet Hannah Collee, '23, was one of the 400 participants. A Computer Science and Cyber Operations double major, Collee wants to use her studies to make a difference after graduation, so she spoke with representatives from the FBI and CIA. "The Citadel's leadership opportunities prepare you to make the first move and expand your network," she said.
Likewise, Cadet Cameron Crouse, '24, said the classes he took as a Criminal Justice major – like Criminology, as well as Police Systems and Practices – will prepare him for the career he wants with law enforcement. The City of North Charleston Police Department, Gwinnett County Police Department and South Carolina Department of Public Safety all sent representatives to the job fair.
Cadet Keefe White, '22, pulled double duty at the fair; he is a Mechanical Engineering major as well as an intern for Nucor, one of the company attendees looking to recruit more from the Corps of Cadets. "The Citadel prepared me for resume presentation," he said at the Nucor table. "The Technical Writing and Communication class prepared me for being interviewed by a panel of five." Citadel professor Alyson Eggleston, Ph.D., specifically designed this course to prepare Engineering, Mathematics and Computer Science majors for professional communication in the workforce.
Professors attended too and championed their pupils. "I am so excited to see former students return to the career fair. It's so valuable," said Lauren Rule Maxwell, Ph.D. She encourages her Communications 216 students to be knowledgeable about the companies they apply for and to never underestimate the importance of having conversations and following up.
As the career fair's positive energy transforms into job offers, members of the Career Center will continue helping cadets and students shine on their way to successful careers.
For more information on joining the South Carolina Corps of Cadets, click here.
---
Alaina Rink is a graduate assistant in the Office of Communications and Marketing while pursuing a master's degree in English. She earned her undergraduate degree from the College of Charleston in secondary education English and taught in the Charleston area for four years.