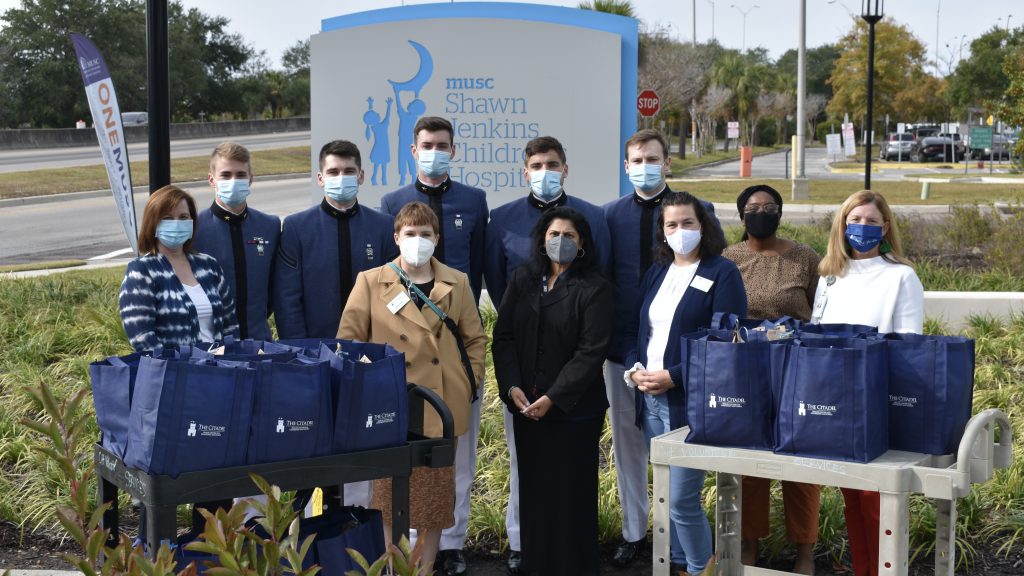 Photo: Cadets (left to right) Collin Beck, Benjamin Johnson, Davis Fuller, Andrew Davis and Jesse Murdaugh — with other members of The Citadel community — delivering goodie bags to Shawn Jenkins Children's Hospital.
More than 1,000 goodie bags are now in the hands of local healthcare workers. The gifts are a small sign to show how cadets at The Citadel, and members of the community, are grateful for their work.
"Healthcare workers are something that we cannot do without," said Cadet Benjamin Johnson, who helped deliver the gifts. "Showing them appreciation, and showing them that their work does not go unnoticed, is something that I feel is important. Healthcare workers are the backbone of society."
Giving back was a group effort — freshmen cadets packed the goodie bags on Oct. 20, during the Class of 1979 Leadership Day. The bags were then delivered by five cadets from the college's new Alpha Epsilon Delta Healthcare Honor Society to local hospitals on Nov. 10.
"One reason I chose to help is so that we could give back a small token of our appreciation to all the healthcare workers that have been working so diligently with those affected by COVID over these difficult times," said Cadet Jesse Murdaugh. "We tend to take their care for granted until it may be that they are caring for one of our own loved ones. I just wanted them to know that, at The Citadel, we appreciate their hard work everyday."
The gifts, packed in bags with hand-written messages from the freshmen cadets, contained snacks, lotion and lip balm.
Usually, freshmen cadets will travel to local schools and speak with students there, sharing stories of leaders who have impacted them. This year, due to COVID, they weren't able to make it to the schools — but found another way to give back.
"When we realized that the cadets wouldn't be able to visit schools in Charleston County, we had a short period of time to find other ways for the more than 650 cadets to contribute," said Christina Arnold, director of service learning and community engagement for the Krause Center. "We organized four stations on campus, and one of those put together goodie bags for health care heroes. It's just a little something to remind them they are important as they continue to be on the front lines of covid-19 and all the limitations and policies that have resulted from it."
So far, more than 100 bags have been delivered to nurses with the Charleston County School District, 400 to the Shawn Jenkins Children's Hospital and 600 to the Medical University of South Carolina Hospital. 400 more bags will to to Roper St. Francis after Thanksgiving.
"Giving back to healthcare workers that put in so much effort to take care of the community felt really good," said Cadet Davis Fuller. "It felt even better that I was able to represent The Citadel while doing so."