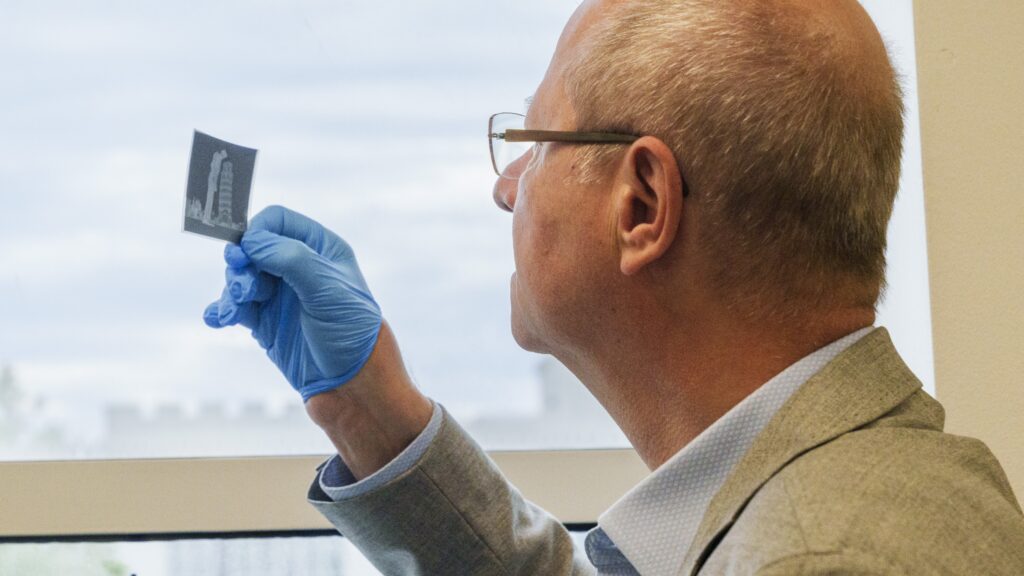 By Catherine Quarles, CGC '25
In a unique combination of preservation, photography and presidential history, one Austrian archivist traveled from Europe all the way to campus for a look at the past that only The Citadel could offer.
Hans Petschar, Ph.D., director of Photographic Archives for the Austrian National Library, visited The Citadel in October with support of the Botstiber Institute for Austrian-American Studies. A scholar of the prolific photographer Yoichi Okamoto, Petschar came to study The Citadel Archives and Museum's Mark W. Clark Collection, which contains more than 200 negatives taken by Okamoto. Okamoto is best known for his role as the official U.S. presidential photographer to Lyndon B. Johnson, and many of his photos are saved in the National Archives. But, before that, he accompanied Army Gen. Mark Clark, who would become The Citadel's 11th president, during Clark's time as chief of U.S. Occupation Forces in Austria and U.S. High Commissioner for Austria. While studying the archives of the Austrian National Library, Petschar realized that The Citadel Archives and Museum could fill in important gaps from Okamoto's career. According to Petschar, Okamoto was not only head of the Signal Corps photographers in Austria, but he also worked as a personal photographer to Clark.
Between 1945 and 1947, Okamoto worked for Clark and documented daily life in Austria after the end of the war and during reconstruction.
"He wanted to document history in the making, and this is exactly what he did," said Petschar.
According to Petschar, Okamoto took "approximately 22,000 negatives which have been heavily used by scholars studying contemporary Austrian history." The Citadel's rare collection helps expand this understanding of history. Petschar believes Clark's letters and photographs also offer an important, contemporary perspective into the Cold War.
"Clark was very, very important for Austria," Petschar said. "As you can see in the archives here, Austrians wrote to him when he was about to leave, thanking him for what he had done. He was very tough against the Soviets and in helping Austria negotiate the state treaty."
Okamoto's photographs in The Citadel's archival collections showcase this important moment in Austrian history.
"It was a great opportunity to come here," said Petschar.
"The Citadel Archives & Museum was thrilled to build this international relationship and partnership with Dr. Petschar and the Austrian National Library," said archivist and associate professor Tessa Updike. "Yoichi Okamoto was a prolific photographer, and as an archivist I am so excited to showcase the incredible images we hold of him at The Citadel. I look forward to working with Dr. Petschar and the Austrian National Library to promote Okamoto's work and legacy as we move forward with this project."
Catherine Quarles of Atlanta, Georgia earned her undergraduate degree from The College of Charleston in English, graduating summa cum laude. She is currently working as a graduate assistant in the Office of Communications and Marketing while pursuing a master's degree in English.