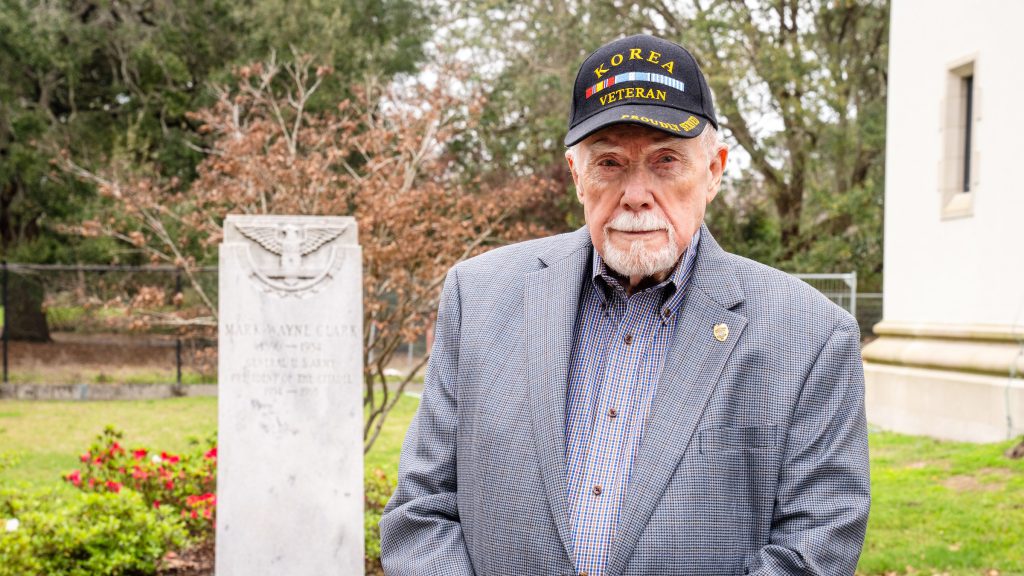 In 1953, just before Army Gen. Mark Clark agreed to serve as the 11th president of The Citadel, he was stationed in Japan as the Supreme Commander of the United Nations Command.
As the Korean War came to a close, an Army corporal named William Bozeman served alongside Clark as his body guard. Bozeman protected Clark from April 1953 until Clark left the post in October of that same year.
Nearly 70 years to the day from when Bozeman met the four-star general, he visited The Citadel to tour the campus, visit Clark's grave and pay respect to the man he so admired. Bozeman came to the Military College of South Carolina on Feb. 17, just one day after his 94th birthday.
"I got to thinking that I'd like to come over here and see where Gen. Clark was buried," said Bozeman. "I didn't work with him — I worked for him. But he was fine to talk to, just one soldier to another. He didn't flaunt his rank or anything like that. I never saw him get mad at anybody at all, he'd just shake his head if they irritated him. He was really great. I'm sorry I didn't get to stay with him longer. And his wife Maurine was the sweetest lady you ever met. She used to bring us coffee, she'd make us come in the house when it was cold, she would always take care of whoever was there."
Originally from Rome, Georgia, Bozeman joined the U.S. Army in 1950, going onto active duty in both Korea and Japan, until he was medically discharged in 1957. Following his time in the military, he went on to work as a Quality Control Manager for Lockheed Martin Corporation for 32 years. He is now retired, living in Dacula, Georgia.
Two cadets had the opportunity to show Bozeman around campus and hear some of his stories from his time in the service.
"To have the opportunity to talk to Cpl. Bozeman was an incredible honor," said Regimental Public Affairs Officer Cadet Eric Wilson. "Getting to hear him share his stories with us was a gift, and gaining some insight into Gen. Mark Clark during his tenure in Japan, Korea and Austria was an opportunity that not many have."
Both Wilson and Josh Tolbert, the regimental public affairs non-commissioned officer, showed Bozeman different sites on campus connected to Clark, while also discussing the general's tenure as president of the Military College of South Carolina.
"Spending the afternoon with Cpl. Bozeman was a great educational experience," said Tolbert. "Being able to learn from his time with Gen. Clark and all of the stories he shared while being his bodyguard was enlightening."
The Citadel Archives and Museum also pulled hundreds of photos and artifacts from its collection on Mark Clark for Bozeman and his family to look through during their visit.
Bozeman and his family planned to attend parade after his tour. Weather, however, had other plans – parade was canceled. When told of the cancelation, knowing how much the cadets would appreciate the chance to get off campus early on a Friday, Bozeman only said with a grin: "Good."