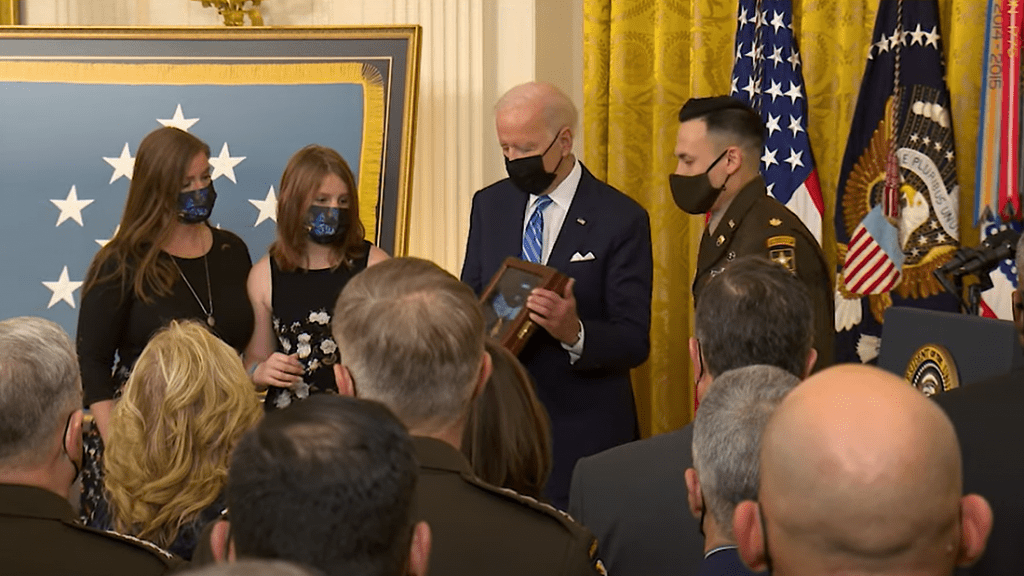 His is the name most recently added to The Citadel War Memorial, a monument on campus honoring former members of the South Carolina Corps of Cadets who sacrificed their lives for their nation.
Sgt. 1st Class Christopher Celiz, a former cadet who attended The Citadel as a member of the Class of 2008, was killed during combat operations in Afghanistan on July 12, 2018.
On Thursday, Dec. 16, his sacrifice was recognized on the national stage when President Joe Biden posthumously presented him with the Medal of Honor, the country's most distinguished award for military service. The award was accepted on his behalf by his wife and daughter.
"Christopher Celiz was courage made flesh," said President Biden during the presentation ceremony. "Today we add his name to the lead vanguard of American warriors who, generation after generation, have strengthened and inspired our nation with their unwavering bravery and service. His legacy lives on in the lives he saved, the teammates he mentored, and the memories he made with his beloved wife Katie and especially their precious daughter, Shannon."
Celiz, a native of Summerville, South Carolina, attended The Citadel from 2004 – 2006 before leaving the college in good standing and enlisting in the Army in 2007.
"Sgt. 1st Class Celiz exemplifies the criteria for Medal of Honor recipients – gallantry and intrepidity above and beyond the call of duty" said The Citadel President Gen. Glenn M. Walters, USMC (Ret.), '79. "The Citadel is honored to recognize him on the college's War Memorial alongside other fallen alumni. We are grateful his family will accept our nation's highest award for military valor on his behalf. It could not be more deserved."
In 2013, Celiz was selected to serve with the 75th Ranger Regiment as a combat engineer. He was assigned to Headquarters and Headquarters Company, 1st Battalion, 75th Ranger Regiment, Hunter Army Airfield, Georgia where he served as the battalion master breacher and engineer. In March 2017, he was assigned to Company D where he served as the mortar platoon sergeant.
At the time of his death, Celiz was serving as the battalion mortar platoon sergeant and was in the process of reclassifying to the infantry branch.
At the same ceremony, President Biden also awarded the Medal of Honor to Sergeant First Class Alwyn C. Cashe, US Army, and Master Sergeant Earl D. Plumlee, US Army, for conspicuous gallantry.