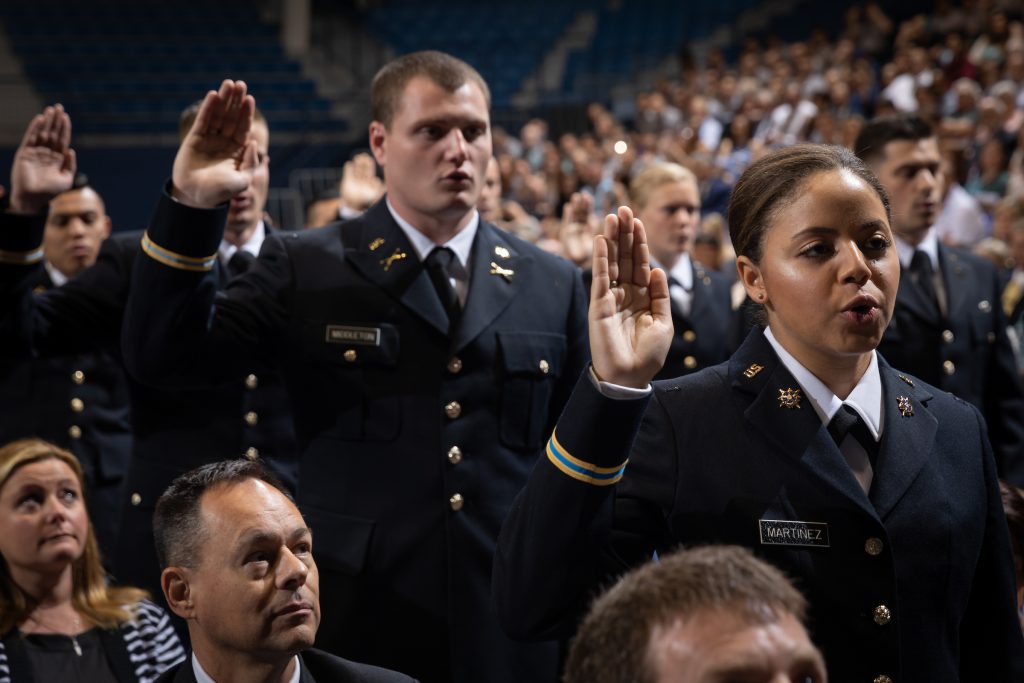 More than 100 Citadel cadets will become officers in the Army in 2018
ROTC programs produce almost 70 percent of the officers that enter the Army each year, and more than 100 of them will come from The Citadel in 2018.
Cadets who will join the Army upon graduation at The Citadel took their commissioning oath on Friday, May 4 in McAlister Field House. The cadets will officially be sworn in as officers during the South Carolina Corps of Cadets commencement ceremony on Saturday, May 5.
Commissioned cadets include:
Blake Ackerman
Andrew Aiken
Alexander Alequin
George Alviter
Zachary Appleby
Jackson Baker
Jake Bakley
Benjamin Barry
James Bath
Timothy Behnke
Richard Bennett
Jacob Bergert
Cameron Boeckel
Sean Bogertey
Evan Borrelli
Nigel Bostick
Joshua Bowman
Kyle Brady
Harrison Brooks
Grayson Carter
Austin Chawporn
John Clark
Alexander Collette
Matthew Consiglio
John Cordes
James Davidson
Michael Delage
Nathan Dixon
Zackery Eiserman
Dontel Ellis
Jacob Emge
Noah Fleckenstein
Richard Foster
Joshua Galletto
Daniel Ganoe
Thomas Griffith
Stephen Gursky
Caleb Guyton
Paige Herbst
Huston Hall
John Hildenbrand
James Hodgin
Brandon Hoffman
Adam Jenkins
Justin Kiel
Dakota King
Jonathan Kinnear
Jason Kline
Topper Knutson-Harper
Frank Kordonis
Michael Lantz
Eric Larsen
Morgan Long
Robert Machamer
Christian Machesky
Jack Marquez
Samuel Martin
Cynthia Martinez
Nicholas Mathwig
Jeremy McCathern
Reginald McMillan
Adam McNeill
Walter Metcalfe
Caleb Middleton
Grant Miller
Koury Minninger
Michael Murphy
John Myrtle
Sabrina Necelis
Christopher Niepsuj
Joseph Pappagallo
Cesar Parra
Monica Paulk
Jacob Payne
Matthew Phoenix
Carter Phung
Gabriel Rabiu
Holly Rickett
Landon Rohrer
Christian Romero
Matthew Russell
Chandler Sambets
Brandon Saxby
Christian Sears
Cody Simmons
Andrew Smelser
Thomas Smith
William Smith
Zachary Smith
Scott Takahashi
Aaron Tribbett
Charles Turner
Samuel Turner
William Tye
Daniel Vazquez
Dalton Weintraub
Robert Wiegand
Daniel Yu
Cadets commissioning at a later date in 2018 include:
Devin Blanding
Christopher Bucci
Skylar Cooper
Nathan Edwards
Chaska Ford
Amos Jackson
Cliff Joseph
Lewis Martinez
Devonte Mitchell
Ryan Rhodus
Aleksandr Rogers
Ryan Sinnott