Answering the call of duty: Over 100 commission in the armed services from the Class of 2017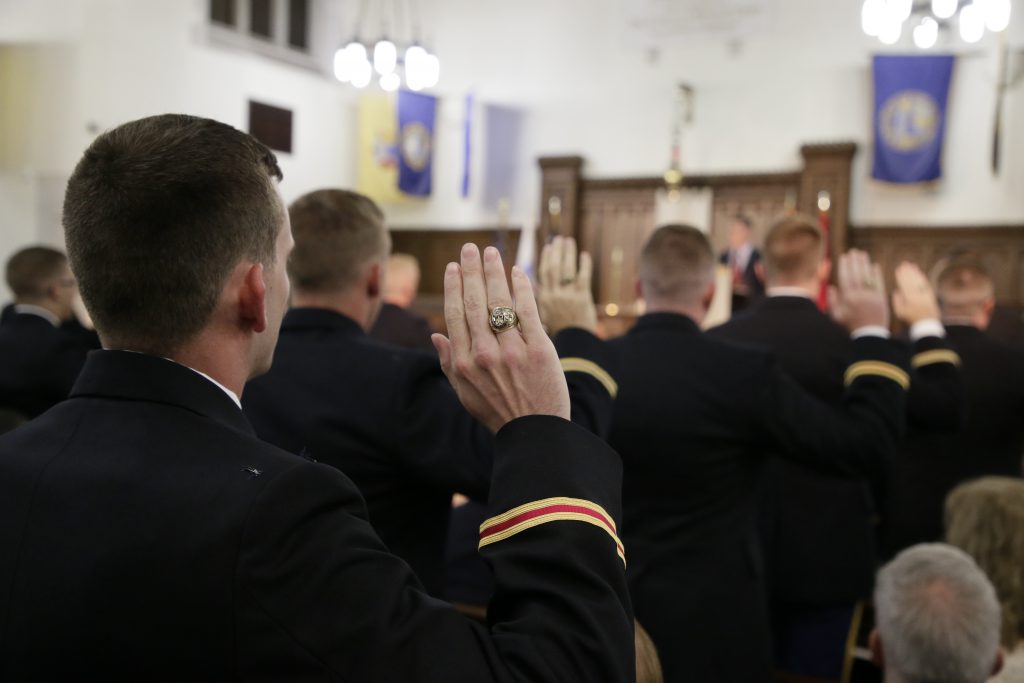 The Citadel commissions more officers in the armed services than almost any other college in the country. The Class of 2017 includes more than 100 cadets who are now America's newest military officers serving in every branch of service. Family, friends and loved ones helped pin the new officers during commissioning ceremonies for each branch on May 5 held in Summerall Chapel.
The Citadel's ROTC departments provide cadets with officer training during college to allow them to begin their military careers as officers after graduation. Approximately a third of the South Carolina Corps of Cadets answer the call of duty to serve the country.
The Class of 2017 officers include:
Army
Preston Abernathy
Jordan Abrams
Colin Adames
Austin Bannister
Brandon Baugh-Cheatam
Miles Bebout
John Bingham
Aaron Bridges
Cody Bryant
William C. Buck III
Neil Bultman
Carl Burgener
Wyatt Burton
Jackson Butkus
Matthew Buyer
Jonathan Cabeza-Arias
James Carignan
John Coburn
Evan Collins
Alexander Colonna
Gregory Copplin
Griffin Delmaso
Gregory Daly
Harrison Dixon
Ryan Dolan
Joshua Dominquez-Lopez
Connor Downing
Andrew Downs
Samuel Duncan
Andrew Fayed
Sean Fitzgerald
Cody Ford
Roderick Gacuma
Colin Green
Joshua Hamilton
Matthew Hamma
Marcus Harbol
Colby Hendrix
Lucas Hess
Logan Higaki
William Hooker
James Howard
Jose Huertas
Avery Hyatt
Sarah Johnson
Kyle Jones
Michael Kecken
Christopher Kegley
Michael Kennedy
Forrest Kimbrell
Mary Ann Koller
Kevin Kondek
Jacob Lanford
Thomas Lang
Kyle Larsen-Shumaker
Stephen Liljeberg
Kevin MacDonald
Rupinder Manhiani
Kevin Martin
Reeves Matthews
Jeremy Miller
Brandon Murphy
Stefan Nacif
Nicholas Noga
Devin Oliver
Joshua Park
Sungho Park
William Pauley III
Ryan Rhodus
Joshua Richardson
David Salter
Samuel Santa Rita
Lauren Seedor
Bret Seidler
Tremaine Shivers
Joel Smith
Kevin Smith
Michael Smith
Cole Snyder
Jacob Stewart
Reese Stoneburner
Grant Suter
Tanner Swain
Cory Taylor
Williams Thies
Luke Tiscareno
George Tolbert
Jacob Van Horn
Fallon Weaver
Garrett Wilke
Kyle Winston
Brandon Yates
Dylan Yates
Air Force
Brett Albertson
Charles Brewton
Marlan Campbell
Carly Cannon
Winston Crosby
Kelsie Crouch
Joshua Dvorak
Ryan Fallon
Hayden Fry
Matthew Gill
James Gray
Zachary Harrison
Russell Henderson
Montana Hinson
Gregory Krueger
Olivia Lion
Nicholas Maddalena
Angelica McNerny
Geoffrey Mode
Alexander Oritz
Daniel Santorum
DeAndre Schoultz
Cameron Scott
Cody Smithey
Navy
Bradley Bailey
Sean Brennan
Robert DeCort II
Jose Delgado II
Samuel Douglas
Dexter Ledbetter
Conner Perley
Garrett Pinckney
Thomas Riherd III
Benjamin Young
Marine Corps
Jeffrey Smerglio
John Roselli
Joshua Scaife
Nathan McAnally
Nathan Chew
Lawerence Boyce
Hugh McDowell
Christian Forbes
Edward Frasier
William Maxwell
Patrick McIver