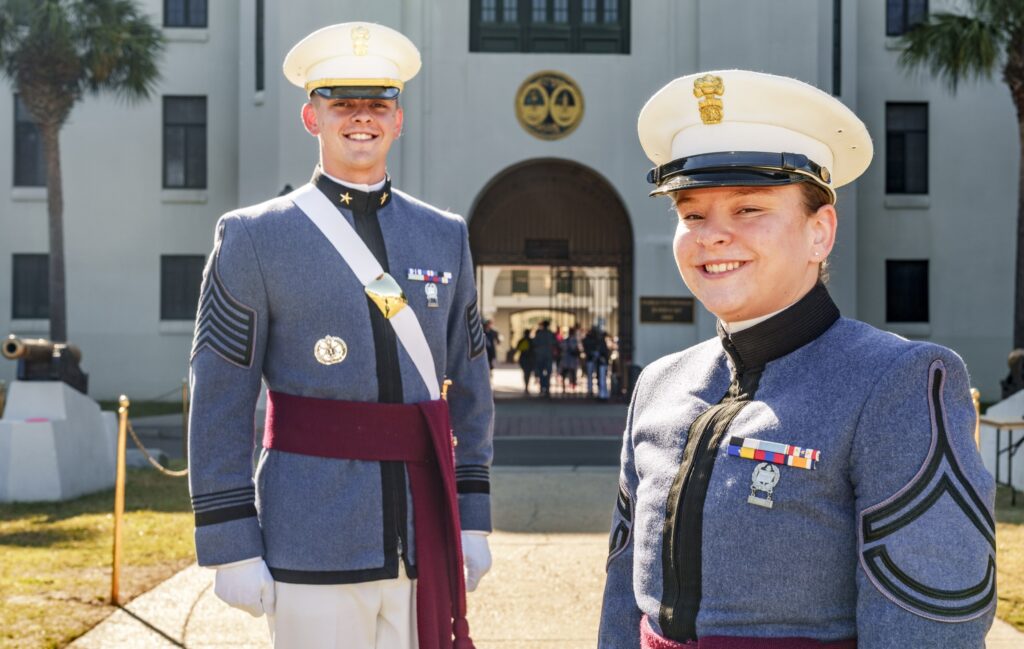 Each year, the Regimental Public Affairs NCO sits down with the Regimental Commander so that the community gets to know more about the current commander and how he is leading the South Carolina Corps of Cadets.
Cadet. Col. Sullivan Newsome was born in Waxhaw, North Carolina. He is a Supply Chain Management major and hopes to work in maritime logistics or in the beer distribution industry after graduation.
Earlier this year, Newsome answered a series of questions from Kamryn Peebles, this year's Regimental Public Affairs NCO.
Q&A with Sullivan Newsome
Who or what was a big reason why you chose to be the Regimental Commander?
The Citadel was the only school I applied to when I was a senior in high school. I got here in August 2020, and since then I have continuously pushed myself to seek out discomfort. I decided to go out for the Regimental Commander position early in my junior year. I was the Regimental Command Sergeant Major and saw the ins and outs of The Citadel. I developed a new passion for leadership and thought to myself, "If anybody, why not me?" I knew it would take a lot of dedication and hard work to be in the running as there is anything but a shortage of leadership talent in the Class of 2024. I attribute a lot of my achievements to the people I surround myself with. Without my friends, family and mentors I am not sure if I would be in this position. Ultimately, I am passionate about what The Citadel offers and want to do everything in my power to leave this institution better than I found it. The school is growing year by year and the professionalism in the Corps is better than I've ever seen it.
How do you manage your time day to day with being the Regimental Commander?
For me, it's all about prioritizing my days. The Citadel is a college so obviously academics are my top priority. I was nowhere near a stellar student in high school, but I have seen a drastic change in my academics since getting here. My second priority is a tie between my family, friends and Corps responsibilities. I owe it to every cadet, TAC and Commandant's Office employee to give my utmost effort to anything I am tasked with. But without my friends and family I would not be where I am. Number three on my list is physical fitness — I am no marathon runner or Olympic athlete, but I am a strong believer that a healthy body makes a healthy mind. Finally, having personal time throughout the week and on the weekends is a necessity for me. Whether I am watching college football at a friend's house or am back in Prosperity, South Carolina, enjoying the lake, I do my best to take time to decompress and relax. At the end of the day, you have to try to clear your mind before the beginning of a new week.
What advice would you give to future Regimental Commanders?
Do not get complacent in your achievement. Every day that you wake up you should remember a few things. First, you work for the Corps, they are counting on you every day. Second, you are one person. You cannot physically handle every emergency on campus by yourself and cannot be everywhere at once. There will be things you'll bear the blame for, and you accepted that responsibility when you took the job. With that being said, do not let the small bumps turn into mountains. Do everything in your power to help someone every day. If you can't, then find the reason why and remember — it is a privilege to be where you are and to lead the Corps of Cadets. Whatever you expect from the knobs through the commanders is something you should portray every day. Show up on time, look the best you can and do everything in your power to leave the school better than it was when you assumed command.
What advice would you give to a struggling knob?
Whatever you do, do not quit. You will be pushed day in and day out, there will be very long days when you question what made you pick The Citadel. What will keep you going is your why. For me it was simple — if you quit this, what is to say you won't quit in the future. Yes, being a knob is very challenging, but it will not be the most challenging thing you do in your life. All it takes is a willingness to be coached, time management and some thick skin. Lean on your classmates when you need them and then do the same for them when they need you. At the end of the day, the system is going to be hard and that is on purpose. Do not fight the system because that will only make it harder. Buckle up, get ready and take each day one at a time.
What advice would you give to an incoming knob?
Do everything you can to prepare yourself. Get outside of your comfort zone while you are at home. This will prepare you mentally for the challenges ahead such as hot, long and humid Charleston days. Get active, get involved in some sort of team, set goals for yourself and be coachable. Being a part of a team in high school taught me a lot about followership, teamwork and being a leader among my peers. Do not be afraid of failure. Everyone who is leading you has been in your shoes. Not everyone is going to be the "best knob" in their company. When you can leave, leave. This place will build you up to be an incredibly strong leader, but you have to take time away from it as well. Do not spend open weekends in your room.
How do you manage your stress?
I am no master at managing stress and many of my friends would say the same. However, I have learned the importance of personal time. Whether it is going to the gym, on a run, back home or going out to get a bite to eat, you have to take time for yourself. I am a firm believer in figuring out your work-life balance early in the year. Each year has its different challenges and you need to set that balance early on. This year I have quickly learned to balance my work — school and rank — and my personal life — family, relationship and friendships — better than I have in the past three years, and in doing so I have allowed myself to be able to accomplish tasks quicker and more effectively than in the past and see my friends, family and girlfriend regularly.
About Regimental Public Affairs NCO Kamryn Peebles
Kamryn Peebles is a biology major who lives in Conway, South Carolina and is originally from Erie, Pennsylvania. Peebles is the Regimental Public Affairs NCO on campus and wants to pursue a career in optometry or physical therapy.