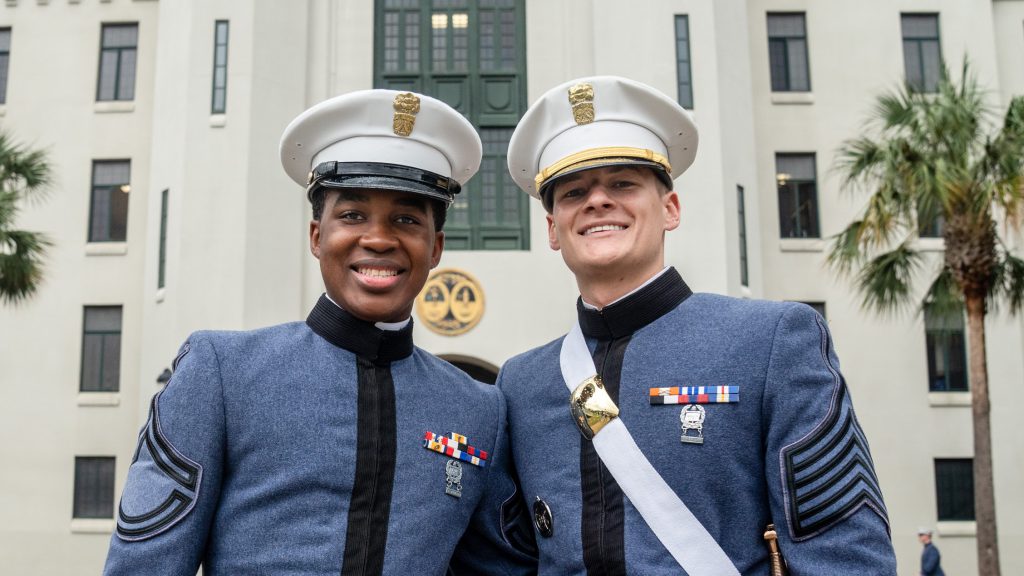 Each year, the Regimental Public Affairs NCO sits down with the Regimental Commander so that the community gets to know more about the current commander and how he is leading the South Carolina Corps of Cadets.
Cadet. Col. Brandon Johnson was born and raised in Charleston, South Carolina. He is a Supply Chain Management major and a member of the Junior Sword Arch and the Hollingsworth Society.
Earlier this year, Johnson answered a series of questions from Josh Tolbert, this year's Regimental Public Affairs NCO.
Q&A with Brandon Johnson
What is one word that you would use to describe yourself?
Fearless.
How do you spend your free time?
I always get a workout and a run in. My schedule is busy, but exercise is a daily priority. On the weekends, I enjoy spending time with friends and family. You can always catch me on the boat or the beach. I live right next to Sullivan's Island, so I frequently spend time there.
What is a quote you live by?
There are two. The first is just two words — "Never settle." I first started using this short phrase my sophomore year and it has stuck with me ever since. I also live by the Bible verse Isaiah 6:8: "And I heard the voice of the Lord saying, 'Whom shall I send, and who will go for us?' Then I said, 'Here am I! Send me.'" Stepping up to a challenge is something I take pride in, and I am always looking for one.
Why did you choose The Citadel?
In high school, I planned on attending the University of South Carolina. I vividly remember sitting down at the dinner table and deciding that I was going to attend The Citadel. I changed my mind because I was seeking a lifestyle that was uncommon for most people my age. I knew the structure and discipline would benefit me. Thankfully I made the right decision, and I have not looked back since.
Who inspires you the most and why?
My father is a huge inspiration for me, his character and selflessness are something I truly admire. No matter what decision I make, he always supports me. I frequently call him to ask for advice and he always seems to have the right answer. Without my parents, I would be no where near where I am today. He has made countless sacrifices for me and my siblings. He always pushes me to be my best in any endeavor.
What made you want to become the Regimental Commander and what are your goals for the school year?
I love The Citadel and wanted to make a difference for my fellow cadets. I am fortunate to have great mentors who always push me to be my best here, and they are a big reason why I made it this far. At the beginning of the year, my main goals were to develop as many leaders as possible, give cadets the ability to lead and to create an environment that is both productive and enjoyable. I want everyone to take pride in their Citadel experience.
As a knob, did you ever see yourself becoming the Regimental Commander?
I was not dead set on becoming the Regimental Commander, however, I knew I could do it if I set my mind to it — I knew I had the potential. I learned early on that my effort was the only limiting factor to my success in life. I always wanted to be a commander at some level. At the end of the day, I wanted to be a leader.
You are the Regimental Commander the same year the Citadel celebrates 100 Years on the Ashley. How important and special is that to you?
It is very important to me. I have always had an astounding amount of respect for all of the classes that came before mine. The legacies they left behind are still carried throughout the Corp of Cadets. The Citadel truly is a special place and it is an honor to be carrying on the legacy of the campus. The cadets are what make the past 100 years so meaningful. Without the past, present and future cadets, The Citadel's life-changing experience would disappear. I hope to see another 100 years of the road less traveled.
What is your plan after you graduate and what will you miss the most after you graduate?
I am going to begin my career right here in Charleston. Thankfully, I am fortunate to have professional experience in the maritime logistics industry through past internships. I have no doubt I will miss all the brothers and sisters I have gained along the way. I am beyond fortunate to be surrounded by peers who constantly push themselves. Being surrounded by the best 18-to-22-year-olds in the country is a humbling and rewarding experience.
What life lesson have you learned here that you will take with you after you graduate?
I have learned so much that it's honestly hard to put it into words. I developed what I believe to be the most important and beneficial trait for any human — discipline. I've learned that means doing the things you need to do when you don't want to do them and having a constant force pushing me to be my best every day. Discipline is earned through the challenges we face here.
About Regimental Public Affairs NCO Josh Tolbert
Joshua Tolbert is a junior from North Charleston, South Carolina and a computer engineering major. On campus, he is the Regimental Public Affairs NCO and participates in the Gospel Choir, African American Association and The National Society of Black Engineers. After graduation, Tolbert plans to become a database administrator.