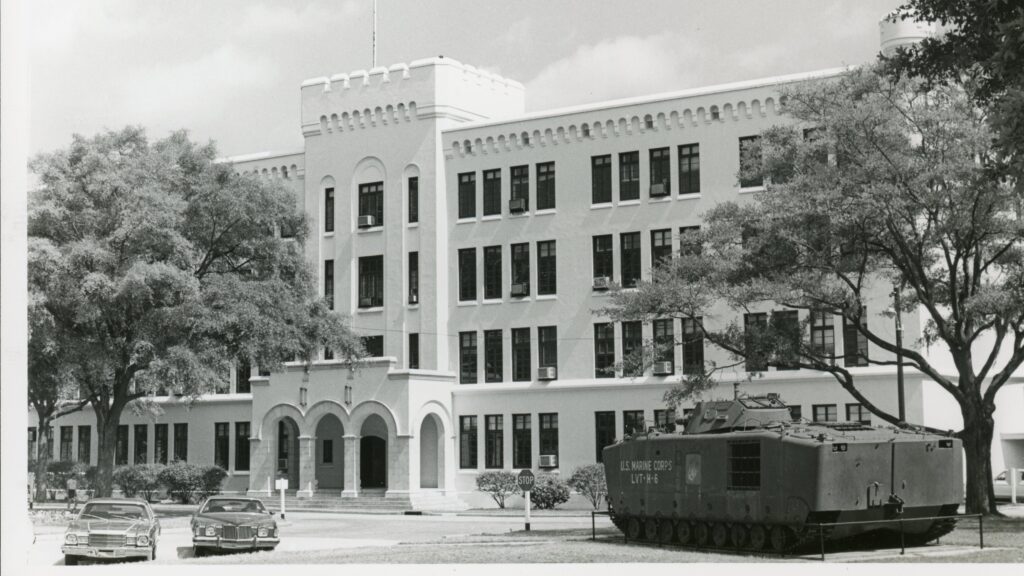 As the Capers Hall Replacement Project nears completion, The Citadel community is reflecting on the previous building, all the way back to the early 1950s when it was first constructed.
During the building's initial construction, The Citadel's President was Gen. Charles P. Summerall, who oversaw much upward growth at the college during his time on campus. Before the construction of Capers Hall, Gen. Summerall helped increase the size of Bond Hall, constructed the chapel, a swimming pool, student activities building, mess hall, engineering building and more than 50 apartments for faculty members.
When Capers Hall was built, there were nearly 1,500 cadets enrolled at The Citadel who would, most likely, have classes in the building. Now, The Citadel has more than 2,300 cadets enrolled and more than 1,000 students — although the student body population has grown immensely, many of these cadets and students will have at least one class in the new home for the School of Humanities and Social Sciences during their time on campus. During its original construction, the building was part of a $700,000 expansion.
The new building for the School of Humanities and Social Sciences will boast many educational and technological improvements, thanks to the generous donations from hundreds of Citadel alumni and supporters. Some of these features include:
Modern, flexible classrooms with advanced teaching technology
Center for Cyber, Intelligence, and Security Studies
Cyber Lab and Cyber Range
National Security Classroom
Center for Inclusive Excellence
Center for International and Special Programs
250-seat performing arts auditorium
Digital media classroom
Art studio
Art gallery
Legal Studies classroom
Psychology interview rooms
Training Sensitive Compartmented Information Facility (SCIF)
The new building will house The Citadel School of Humanities and Social Sciences, which includes several departments: Criminal Justice, Intelligence and Security Studies, English, Fine Arts and Communications, History, Modern Languages, Literatures and Cultures, Political Science and Psychology. These departments will all be housed in the new building when it is complete and will be open for cadets and students to take classes for the fall 2023 semester.