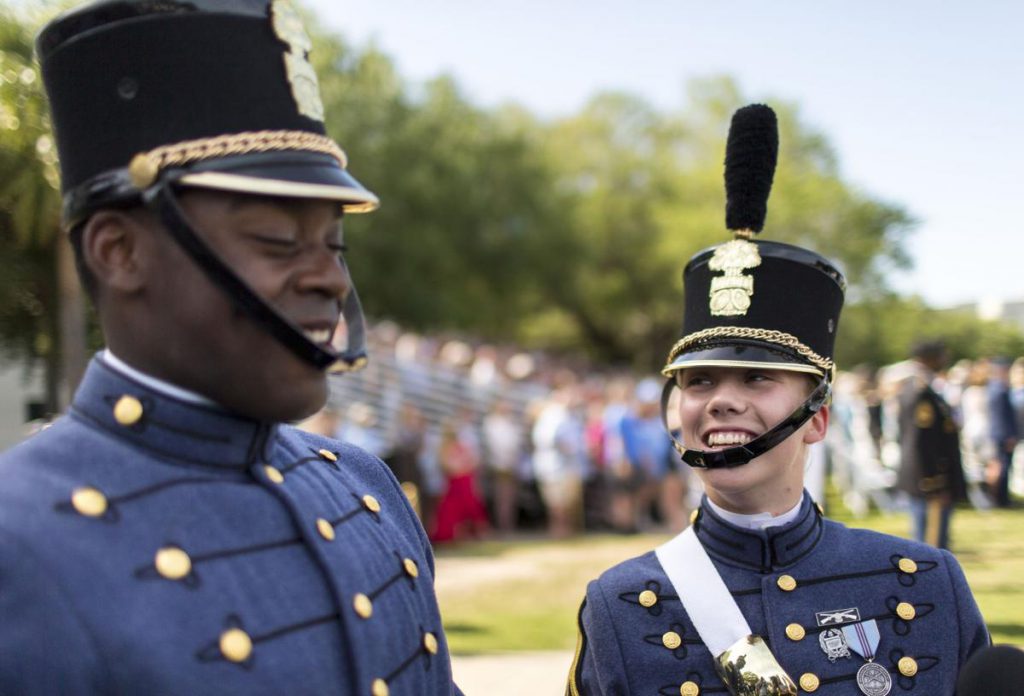 As seen in The Post and Courier, by Paul Bowers and Andrew J. Whitaker
With the passing of a ceremonial sword on Friday, Sarah Zorn made history. For the first time in The Citadel's 175-year existence, a woman has been chosen to lead the Corps of Cadets.
Zorn's selection as regimental commander for the next school year represents an about-face for the public military college, which admitted its first female cadet in 1995 after a federal court ruling forced its hand.
"I'd say the school has shifted 180 degrees," Zorn said. "I was very much challenged here, and that's normal, that's what it's supposed to be, but I was never singled out. I was treated as an equal and expected to perform as a cadet would."
The first female cadet, Shannon Faulkner, received death threats and slurs and had to be escorted onto campus by U.S. marshals. She dropped out quickly in the beginning of her first year after suffering heat stress. She later revealed that someone had threatened to kill her parents.
Years later, Faulkner would tell The Associated Press, "I was doing it for the next woman."
Today, women remain a minority at The Citadel, accounting for about 9 percent of the undergraduate Corps, but their numbers are growing.
"The women here, they form a really tight group because there are so few of us," Zorn said. "You connect with each other, and you try to build each other up and help each other out in any way that you can."
A rising senior from Burnettown, Zorn will lead the 2,350-member undergraduate Corps in the 2018-19 school year as regimental commander, while finishing a degree in business administration.
According to the Blue Book, a handbook for cadet life, the regimental commander's responsibilities include directing subordinate battalion and company commanders, publishing a fire safety plan, and preparing a report on the effectiveness of the school's adversarial "fourth class" system for disciplining freshman cadets.
On Friday afternoon, Regimental Commander Dillon Graham handed off a sword known as the Burrows Sword to Zorn. The late Army Col. Jake Burrows, who served as regimental commander in 1940, presented the sword to the school in 2007.
The hand-off took place during a commencement ceremony known as the Long Gray Line, symbolizing the generations of men and women who have graduated from the Corps of Cadets.
Zorn had a strong start when she arrived in the fall of 2015. After excelling in JROTC at Midland Valley High in Aiken County, she earned an Army ROTC scholarship to The Citadel.
She also brought a competitive edge: She has been training in martial arts since a young age and holds three black belts in different disciplines.
Johnny Hughes, Zorn's sensei from Aiken County, describes her as a laser-focused person with a dry sense of humor and a tough-as-nails disposition.
"She's possibly the most motivated person I've ever met in my life," Hughes said. Asked about her achievement at The Citadel, Hughes said, "It does not surprise me a tiny bit. It makes me so proud I can't stand it."
Those who have watched Zorn's ascent at The Citadel say she embodies the school's highest ideals.
"Cadet Zorn has fully embraced the cadet experience, excelling in academics, character, military and fitness," said Citadel President Lt. Gen. John Rosa in a statement.
Zorn will lead the student body in partnership with the school's administration. She earned her new position through a lengthy application and interview process with current leaders.
David Days, who was runner-up for the position, will serve as regimental executive officer — Zorn's right-hand man.
"I know the school is in good hands," Days said. "We're still both going to be attacking the goal."