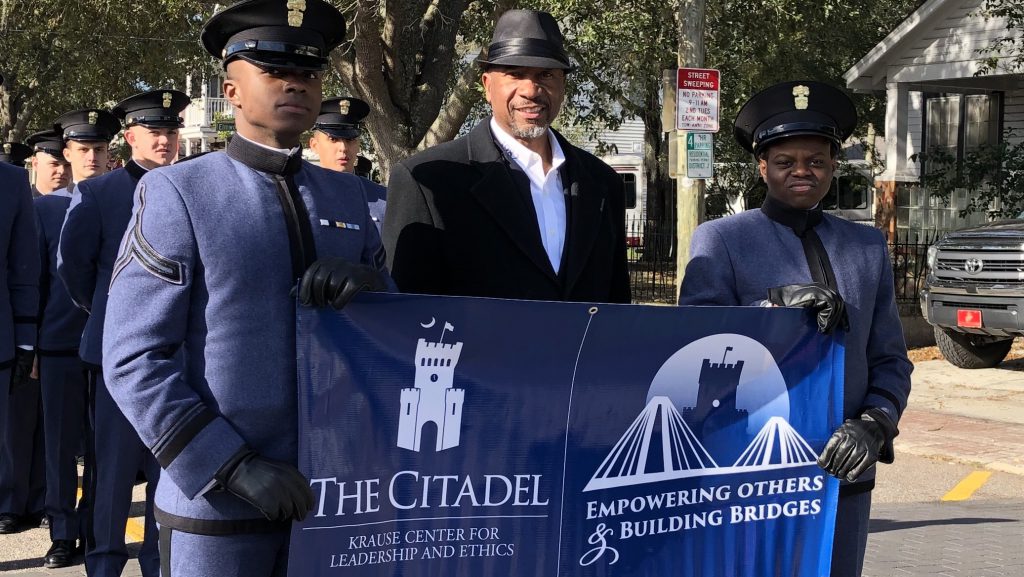 Photo above: Bruce Alexander, '82, with Cadets Tromaine Cobbs and Tatayana Green marching in Charleston's 2020 MLK Day Parade
It started in the fall of 2019.
"Dr. Kelly Brennan, the college's associate provost for enrollment, contacted me about the possibility of The Citadel African American Alumni Association, which we call CA4, helping with a recruit retention project," said Lt. Col. Bruce Alexander, USAF (Ret.), Citadel Class of 1982.
Alexander, who lives in Clinton, Maryland, serves in numerous roles for the Citadel including as president of CA4. Professionally, he previously served as the vice president of communications for Operation Homefront which supports America's military families in need. Prior to that he was a top-level communications director for eight years with the U.S. Dept. of Agriculture. And, among his many positions while serving as an officer in the U.S. Air Force for 25 years, Alexander directed communications for Andrews Air Force Base, Maryland providing direct support to the President and Vice President, Cabinet, Congress, Department of Defense, and U.S. Air Force leaders, in addition to commanding a 330-person Services Squadron at Charleston Air Force Base, South Carolina.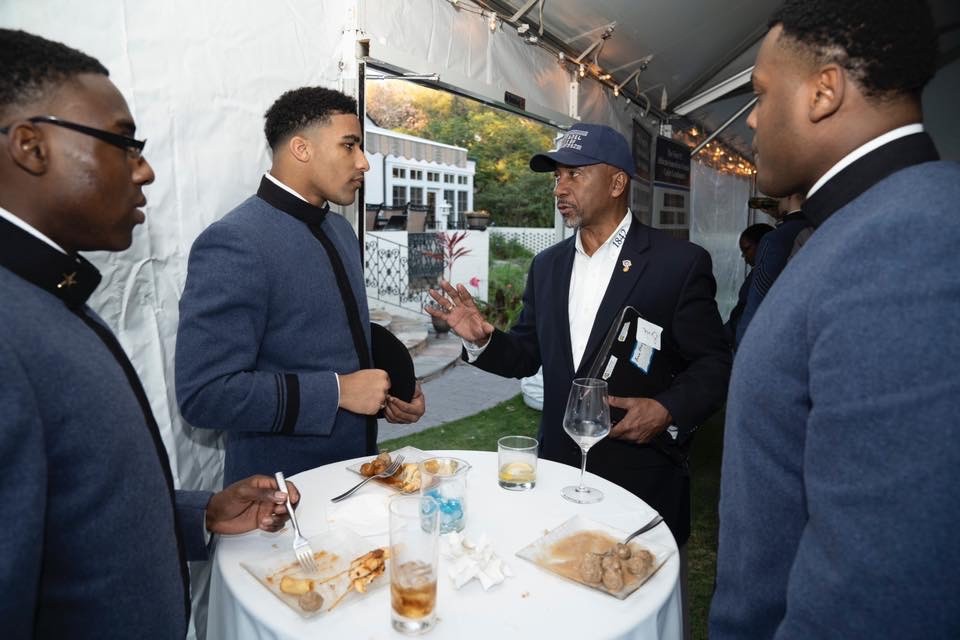 Alexander and other dedicated CA4 members mentored African American cadets since the organization was formed in 2016, during the 50th anniversary of the matriculation of Charles Foster – who broke the color barrier, becoming the college's first African American cadet. Additionally, CA4 hosts an annual reception for African American cadet recruits at matriculation and participates in activities with cadets such as the Martin Luther King Day parade in Charleston.
But the approach suggested by Brennan was new.
The idea was for African American alumni to work with accepted high school seniors who are also African American, to keep them interested and engaged in attending The Citadel from the application stage into their knob year.
"As an enrollment professional, I have seen how important it is for students considering college to know that there is a supportive network of alumni who have faced many of the same transitions they will," Brennan said. "For parents, providing an additional resource, a CA4 member they can get to know and trust, helps them understand how best to support their future cadet."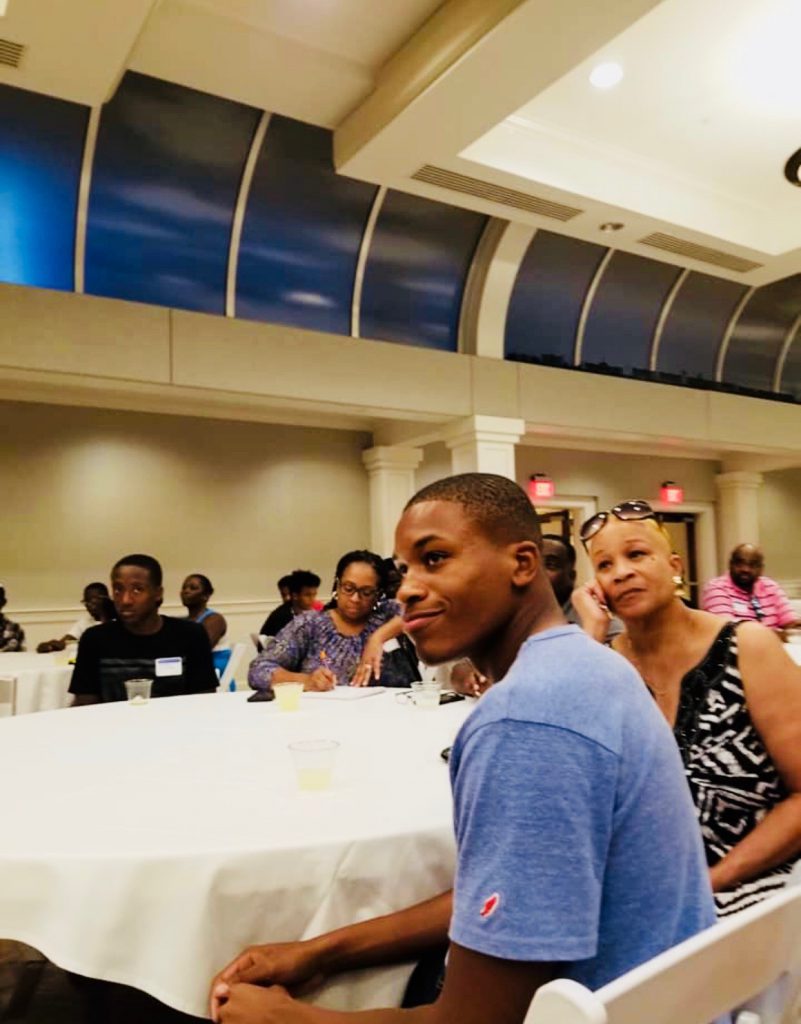 "Dr. Brennan said the college was great at identifying and recruiting excellent high school candidates. The problem was retaining their interest until they successfully enrolled and matriculated," Alexander explained. "The mission of the CA4 is, first, to facilitate the mentoring of cadets and young alumni; second, to develop and fund African American cadet scholarships; and third, to support the school's diversity efforts at every echelon associated with The Citadel's endeavors," Alexander said. "Helping retain African American recruits was a natural fit."
CA4 agreed; Alexander, Alvin Perkins of the Class of 1979, and others began working with recruits in the early part of 2020.
First, a letter written by Alexander — with his photo in the signature block — was included in application packets for about 160 African American students and their families. Then those who applied and were accepted were each called by Alexander, about 160 calls.
"That first phone call of congratulations from the president of CA4 was critically important in displaying how much we at The Citadel cared about our incoming students and parents. It reinforced the decision they were about to make," Alexander said. "The continuous response from almost each and every parent was 'No other college is reaching out to speak to us. Thank you for taking the time to explain the benefits of a disciplined and principle-driven education.'"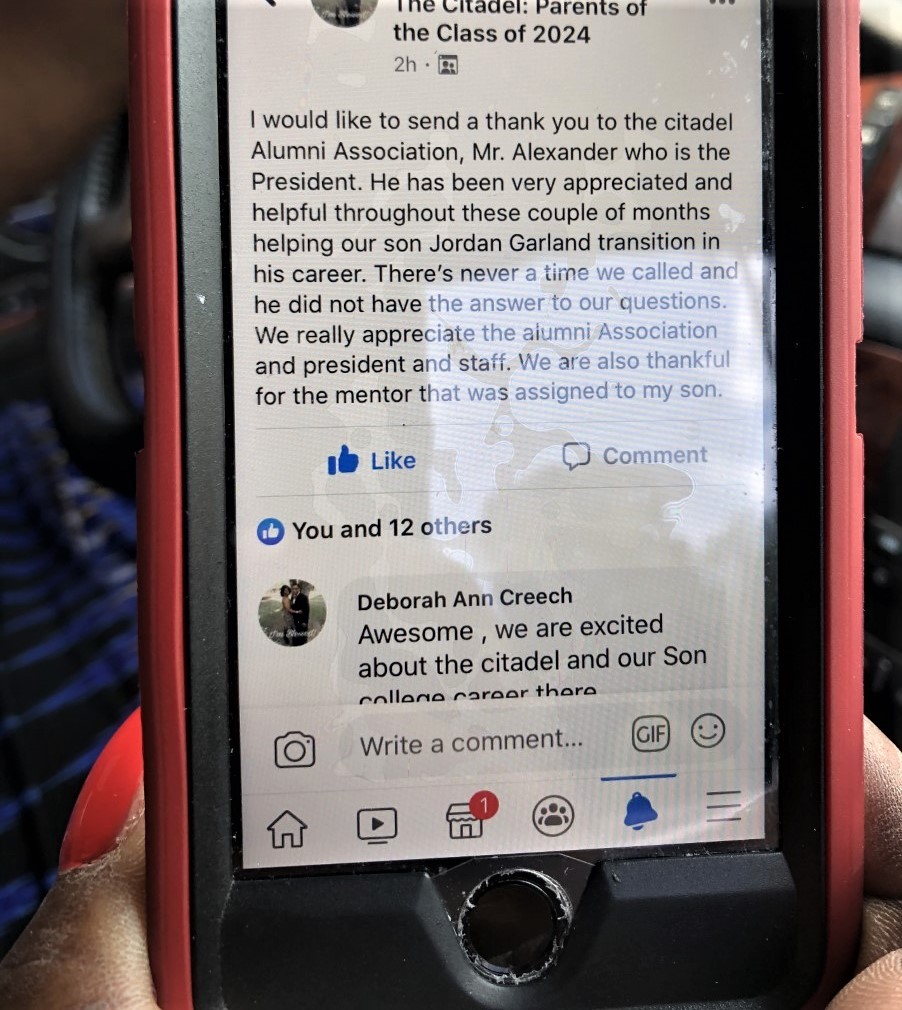 Alexander says once a family secures a slot for their student by making a deposit, he reaches back out to them to ask if they would like to participate in the CA4 mentoring program. If so, a mentor, who will meet the family virtually, is handpicked, based on gender, career goals and geographic proximity. The select CA4 mentor is also provided with a CA4 mentoring handbook, authored and designed by Alexander and Perkins, to help guide the mentor along this journey and provide consistency in the manner each incoming student is mentored.
"At this stage, the CA4 mentors are guiding parents and the mentee through matriculation, answering questions and easing anxiety for the family by keeping them informed," Alexander explained. "Of course, initially we had no idea this work would become even more important because of the pandemic. At this point, four weeks before matriculation, we are excited to see a substantial increase in retention of African American recruits."
African American Admissions Population
| | | | |
| --- | --- | --- | --- |
| | 2019 | 2020 | Increase |
| Applications | 248 | 313 | 26.21% |
| Admits | 124 | 197 | 58.8% |
| Act Deposits | 45 | 75 | 53.6% |
"Between writing to all African American applicants and calling all who were accepted to the college to congratulate them, the program has already made an impact," Brennan said. "I look forward to this program continuing to positively impact the growth of diversity at The Citadel, and to finding ways to use it as a model to expand our outreach to other groups of applicants."
"I continue to receive follow-up conversations from parents and positive discussions associated with this program, which have permeated across the closed Citadel Parent Facebook pages," Alexander said. "Mentoring builds a bridge of Honor, Duty and Respect back to The Citadel for all alumni!"