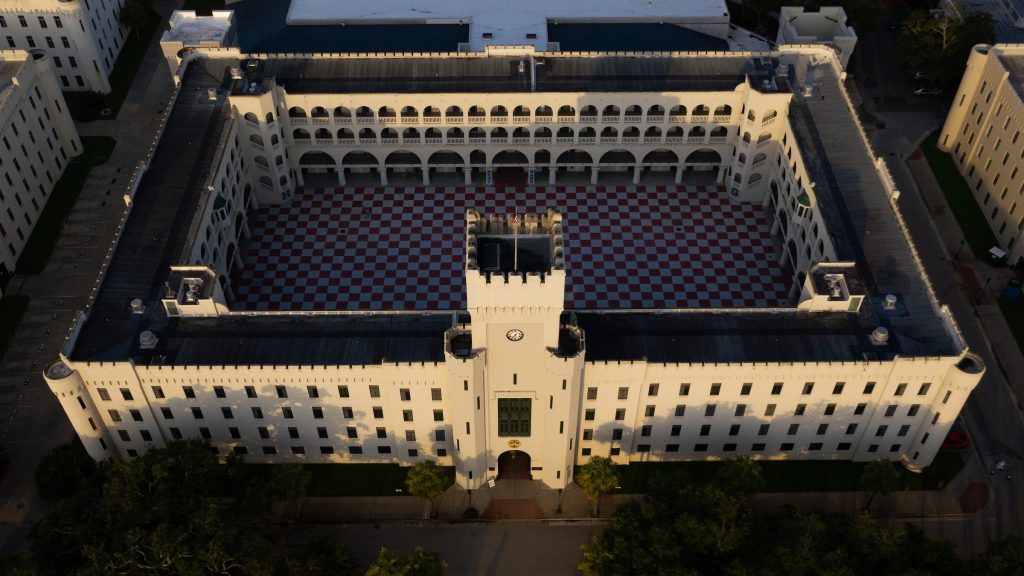 Virtual Day of the Dead celebration
Oct 31 – Nov 2
The Citadel History Department website
Free, open to public
Dia de los Muertos, or the Day of the Dead, is a holiday celebrated in Latin America, when people honor their loved ones who have passed on.
The solemn celebration of life and death is usually held on campus, in the Daniel Library. This year, however, the display will be posted on the History Department's webpage — so that anyone, anywhere, can safely view it and pay their respects.
Last year, a traditional "Dia de los Muertos" altar was set up on display in Daniel Library. Like this year, the Corps of Cadets, students, faculty and staff were invited to put up pictures of their loved ones to memorialize them.
The digital altar will be viewable starting on Saturday, October 31 and will stay online until November 3.
Witting Tree
Nov 1 – 11
Outside Summerall Chapel
Free, open to public
242 — that's the number of blank dog tags that cadets will hang on a tree, just to the left of Sumerall Chapel.
It's the second year in a row that the Chapel, with participation from members of the Corps of Cadets, has participated in the national veteran suicide awareness program called The Witting Tree.
Every day cadets with the Lutheran Campus Ministry — led by Rev. Phillip Clark, their chaplain and volunteer coordinator — will hang 22 dog tags on the tree. That number is meant to raise awareness of the fact that an average of 22 veterans commit suicide daily in our country.
The dog tags will remain on the tree near the Chapel until Wednesday, November 11.
Group photo opportunity for Citadel veteran students
Thursday, November 5
3 p.m.
Summerall Field
In honor of their service — and the upcoming Veteran's day holiday — The Citadel will be taking a group photo of its veteran students.
All veteran students, veteran day students and active duty students are encouraged to come.
Veteran and active duty students who plan to participate should meet in the center of Summerall Field; if it is raining, the meeting location will be the lobby of McAlister Field House.
Masks will be required.
Thinking of pursing a Master's degree? Join a virtual information session about graduate degrees in Intelligence and Security Studies, International Politics, Military History or Social Science degrees
November 5
6 p.m.
Virtual, via Zoom
Free, open to public
With the pandemic changing how prospective students find the right degree program, The Citadel Graduate College is hoping to make things easier. The college will be hosting multiple virtual information sessions for prospective students. The session on Wednesday, October 21 will be focused on The Citadel's Intelligence and Security Studies, M.A. in International Politics, M.A. in Military History and Social Science programs.
The information sessions are program-specific, with representatives from the all of the departments, to better address questions from anyone attending.
For more information about this information session, please contact The Citadel Graduate College at cgc@citadel.edu.
Community Alert: 21 gun salute
November 8
9 a.m.
The Citadel campus
There will be a 21 gun salute at 9 a.m. on Sunday, November 8.
The salute will occur during a private ceremony, held by the family of a deceased alumnus on campus, who is being interred in the columbarium.
From data to decision: Innovation and Entrepreneurship Speaker Series
November 10
8 a.m.
Virtual, via Zoom
Free, open to public
Dan Streetman, an expert at leveraging real-time data to enable faster, smarter decisions, will speak to The Citadel community and the public through the Innovation and Entrepreneurship Speakers Series.
Streetman is the Chief Executive Officer of TIBCO, a data and software company based on California.
Prior to leading TIBCO, Streetman helped propel significant data-driven commercial transformations, most recently at BMC, Salesforce and more. He is a strong advocate for creating cultures of collaboration, and he honed his leadership skills as a U.S. Army officer, serving in combat operations and receiving decorations including the Bronze Star.
Streetman is a distinguished graduate of the U.S. Military Academy at West Point, where he served as the first regiment commander; he earned an MBA at Harvard Business School.
The Innovation and Entrepreneurship Speaker Series introduces students to business professionals working in entrepreneurial endeavors across various mediums of society. It is organized by James Bezjian, Ph.D. and David Desplaces, Ph.D.
Baker Business Bowl: Elevator pitch round
November 11
3 – 5:20 p.m.
Buyer Auditorium and Zoom
Free, open to public
Eight teams — made up of Citadel cadets and students — will compete for a place in the finals of the Baker Business Bowl. The Elevator Pitch round will be held on Wednesday, November 11 starting at 3 p.m.
This semi-final round consists of a five-minute summary presentation, where teams explain their potential business ideas to a panel of business experts. After the brief presentation, the judges will hold a ten-minute question and answer session with each team.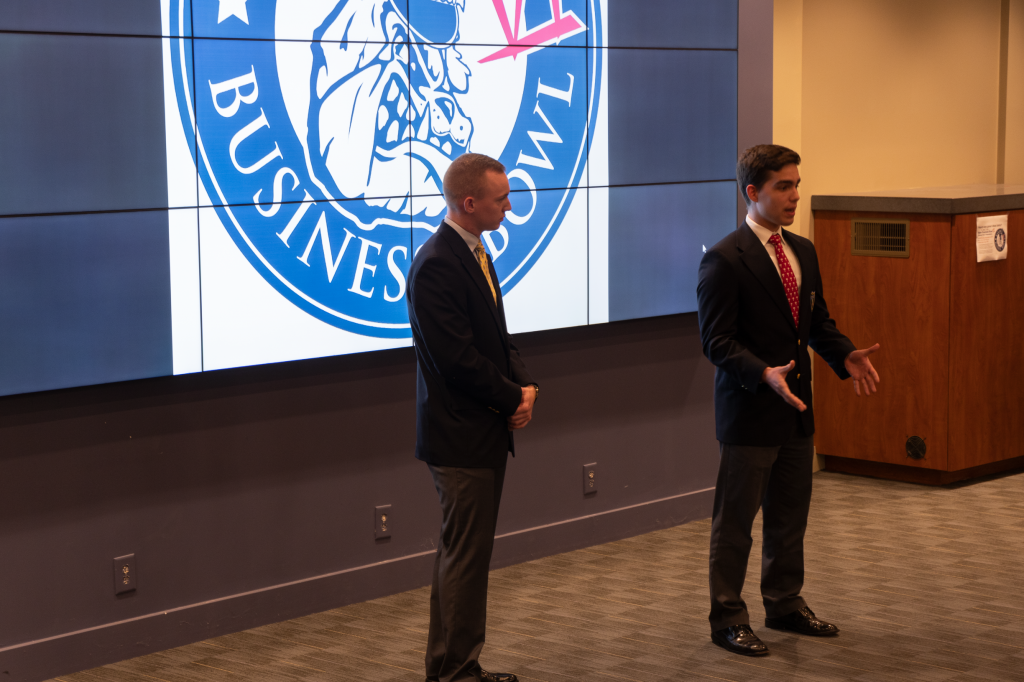 The top five teams will move on to the final round, which will be held in April 2021. The final winning team will earn $10,000 to invest in their proposed business.
The Baker Business Bowl is a program aimed at helping budding entrepreneurs who have an idea for a new product or service, and the desire to turn that idea into a business. It's open to cadets, evening undergraduate students, and graduate students.
Citadel professor presents at SC ACT Conference
November 12
10:30 – 11:20 a.m.
Virtual
Closed to the public
A professor from the Zucker Family School of Education will be presenting at this year's 2020 South Carolina ACT Virtual Conference, on Thursday, November 12.
Lee Westberry, Ed.D., who also serves as the program coordinator for Educational Leadership, will discuss, in detail, the four major systems needed in schools:
curriculum and instruction
teacher support systems
student support systems
culture
Westberry will explain how each of these systems has multiple, moving parts and how all four systems are necessary to maximize effectiveness in schools.
The event is on the 12th, and people must register to attend the virtual conference; so, it is not open. I am not sure of my time slot. We have a run through Nov. 10th. I will email to find out the time of my presentation, though it is already recorded.
Westberry says that utilizing this system approach has a direct impact on student achievement results, teacher effectiveness, teacher retention, self-efficacy for all and much more.
ACT State Organizations represent individuals from the earliest grades through careers, ACT State Organizations members include teachers, counselors, administrators, enrollment advisors, and business professionals. ACT State Organizations is represented in all 50 states and the District of Columbia.
Applied Physics Experience for high school students
Saturday, November 14
1 – 5 p.m.
Virtual, via Zoom
Registration required
The Citadel Physics Department is hosting a virtual — but still hands-on — recruiting and outreach experience for high school students interested in physics.
Students will collaborate with Citadel faculty and students through Zoom while using science, math, creativity and hands-on skills. Though geared towards physics, the event is open to all students, regardless of their background in STEM.
All required parts will be mailed to registered students.
The Physics Department plans to host these types of events, open to students across the country, three times a year. The next two dates are scheduled for Saturday, April 3 and two half-day sessions on Thursday, July 8 and Friday, July 9.
Citadel professor presents for Aspen Institute conference
Wednesday, November 18
1 – 7 p.m.
Virtual
Free, open to public
A professor of Leadership and The Citadel will be discussing the history and current status of African American land and home ownership. Faith Rivers James, J.D., will speak at the Aspen Institute's conference on heir's property on November 18.
James will present on these topics along with Lizzie Presser, from ProPublica and the New Yorker. James will also be part of a 45-minute panel breakout session, titled "Building a Movement of Landowners."
She will be featured in the Opening Plenary, which runs from 1 – 3 p.m. as well as the Breakout Discussions from 3:30 – 5:30 p.m.
Viewers can join any or all portions of the conference. Registration information can be found here.