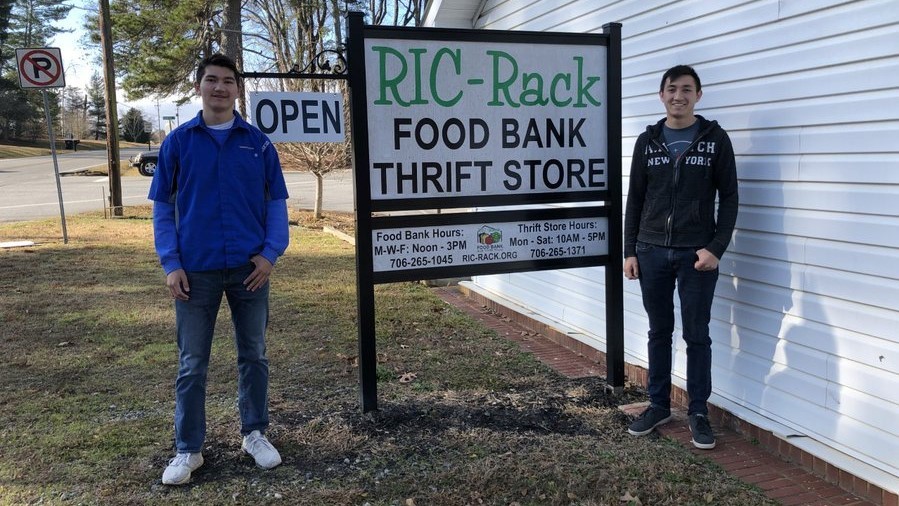 Photo: Brothers Max and Jack Zappendorf recently raised over 3,000 pounds of food donations for local food bank RIC-Rack in their eighth annual food drive. (Courtesy: Seannie Zappendorf)
(Note: The cadets' mother, Seanie Zappendorf, says her sons collected more than 4,000 pounds of food donations by the end of 2020, and over 12,000 pounds of food total between the years of 2013 – 2020).
Two Dawson County brothers recently raised and donated over 3,000 pounds of food to the RIC-Rack Food Bank during the family's 8th annual food drive.
Jack and Max Zappendorf grew up in the Dawson County community, and in 2013 the brothers noticed that there were some people in the community in need of a little extra help with their groceries. But instead of standing by, the brothers decided to do something about it.
"They noticed that there was poverty in the county, so we went ahead and asked the Chamber who to donate to," Seanie Zappendorf, the boys' mother, said. "And they said that RIC-Rack would be a good one to donate to, so they started collecting food."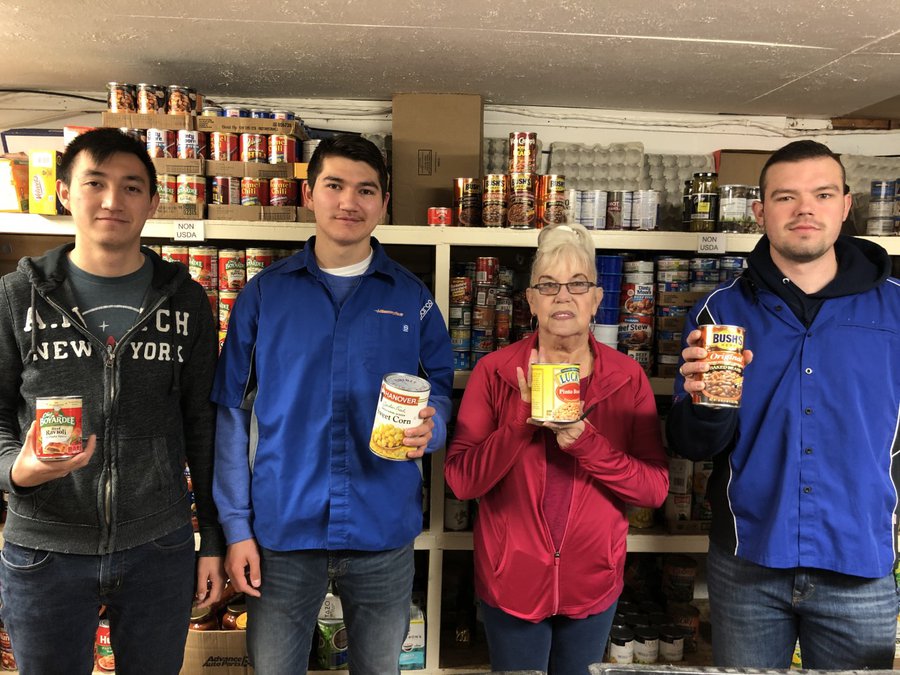 Max Zappendorf, who is now a sophomore in college at The Citadel, said that he and his brother Jack decided to hold their food drive around Christmas because it's a time when RIC-Rack needs a little more food than usual, especially in a year such as 2020.
"Every time at Thanksgiving and Christmas it's really busy," Zappendorf said. "I know that they've been needing a lot more this year and it's been a lot harder for them to get food so I think it's even more beneficial."
The Zappendorf family owns Discovery Parts, a racing car parts store that is located in the Atlanta Motorsports Park and sells to car racers all over the country. The brothers decided to use the family business as a way to reach more people and collect more donations.
"We wanted to encourage people to come here for deals but also do something positive like this, so we give people a discount at the store and ask them to bring in as many cans as they want," Zappendorf said.
The amount of food raised has grown each year, from just over 190 pounds in 2013 to more than 3,000 pounds this year.
According to Jack Zappendorf, a senior at The Citadel who will be accepting a 7 year contract with the Army upon graduation, he and his brother set a goal each year to raise more than the previous year. 
"It started out as a company food drive and it's grown over the years," Jack Zappendorf said. "Every single year the food drive numbers just keep growing and growing which is great to see, and most of the people are from out of the county, but they come in to help out which is great."
According to both brothers, it all comes back to doing what they can to help and support the community that they live in.
"We've been here for almost a decade, and we just try to help out where we live," Jack Zappendorf said.