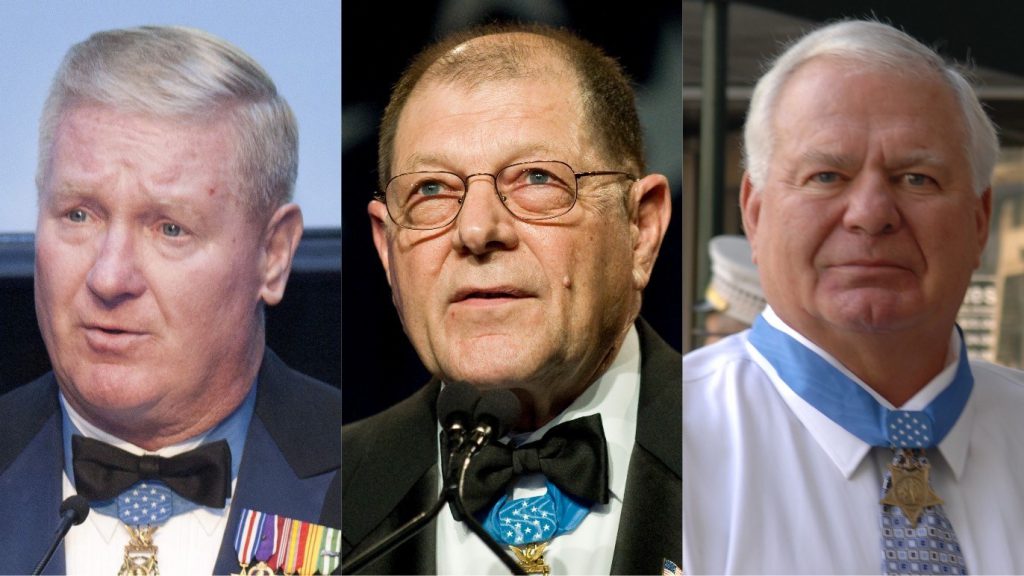 Photo: Medal of Honor recipients (left to right) Sammy Davis, Harold Fritz and Michael Thornton
The Congressional Medal of Honor Society will be hosting events in Charleston to provide Citizen Honors Service Awards for Acts of Selfless Service and to highlight the Medal of Honor. Numerous Medal of Honor Recipients will attend several events held July 13-14.
Three Medal of Honor recipients will speak at The Citadel at 9:30 a.m. on Wed., July 14. Sammy Davis, Harold Fritz and Michael Thornton will address incoming cadet-recruits who are attending The Citadel Success Institute.
The Citadel Success Institute is designed to helps to better prepare cadet recruits academically, emotionally and physically for the rigors of the Military College of South Carolina before they actually matriculate and begin the fall semester. Class of 2025 participants will earn credit in a course related to their majors, meet cadet mentors, hear from the Medal of Honor recipients, make new friends within their class and work on team-building exercises and physical fitness on a campus obstacle course.
About the Medal of Honor recipients
Sammy Davis, USA (Ret.)
The story of how Sgt. Sammy Lee Davis earned the Medal of Honor served as the inspiration for some of the war scenes in "Forrest Gump."
On November 18, 1967, Davis' base was under attack by the Viet Cong. During the battle, Davis (who was a private first class at the time) provided covering fire for his gun crew; he also ignored warnings to seek cover to fire a burning howitzer at the enemy, and he continued to fire even after being injured by an enemy mortar round that exploded near him. Additionally, he ignored his injuries and inability to swim and, using an air mattress, crossed a river to rescue three wounded soldiers. After, he refused medical attention and joined another howitzer crew which fired at the Viet Cong forces until they fled.
Davis was awarded the Medal of Honor by President Lyndon Johnson on November 19, 1968.
Harold Fritz, USA (Ret.)
Lt. Col. Harold Arthur Fritz was a first lieutenant when, though wounded, he demonstrated the remarkable leadership that resulted in him being awarded the Medal of Honor and promoted to captain.
Fritz was leading his seven-vehicle armored column to escort a truck convoy on January 11, 1969. When the suddenly came under attack, Fritz' vehicle was hit and he was seriously wounded. Despite this, having realized that his platoon was in danger of being overrun, Fritz leaped to the top of his burning vehicle and directed the positioning of his remaining vehicles and men. Later, armed with only a pistol and bayonet, Fritz led a small group of his men in a fierce charge that routed the attackers. When a relief force arrived, Fritz moved through heavy enemy fire to direct its deployment. He assisted his men, and refused medical attention until all of the wounded had been treated and evacuated.
Fritz was awarded the Medal of Honor by President Richard Nixon on March 2, 1971.
Michael Thornton, USN (Ret.)
Lt. Michael Edwin Thornton, from the Upstate of South Carolina, is the only Medal of Honor recipient in over 100 years to save the life of another recipient, who had also performed heroic, lifesaving actions months earlier.
On October 31, 1972, Petty Officer Thornton was an assistant U.S. Navy adviser who, along with a lieutenant serving as senior adviser, accompanied a three-man Vietnamese Navy SEAL patrol on a mission to gather intelligence. After reaching land, the patrol moved on foot until it came under heavy fire. The group, outnumbered, called in naval gunfire support and then engaged the enemy in a fierce firefight before moving back to the waterline. After learning that the senior adviser had been hit by the enemy and was thought to be dead, Thornton returned through heavy fire to the his last position and succeeded in moving the seriously wounded and unconscious lieutenant to the water's edge. Thornton then inflated the lieutenant's lifejacket and towed him towards the sea for two hours, until both were picked up by support craft.
Thornton was awarded the Medal of Honor by President Richard Nixon on October 15, 1973.
Media Advisory from the Congressional Medal of Honor Society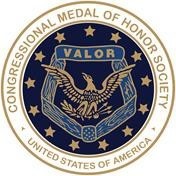 Who and What:
On Wednesday, July 14, Recipients of the Medal of Honor will present their 2020 and 2021 Citizen Honors Service Awards for Acts of Selfless Service at a dinner being held at the Belmond Charleston Place, after a day of activities highlighting the integrity of the Medal of Honor and its Recipients. This is the first time that this prestigious awards dinner will be hosted in Charleston.
"For the Citizen Honors Awards each year, the Medal of Honor Recipients come together to recognize service and commitment beyond the call of duty, not only on the battlefield, but also at home in the course of everyday life," said Drew Dix, President, The Congressional Medal of Honor Society (CMOHS).
CMOHS conducts an annual nationwide search to select individuals and an organization to receive their Citizen Honors awards for Service and Valor. The Citizen Honors Award Honorees receive their awards from a group of Americans whose actions have defined the words courage and selfless service – Medal of Honor Recipients. The Honorees are ordinary Americans who have gone above and beyond to perform extraordinary acts of service.
Catherine Herridge, CBS News, Senior Investigative Correspondent will serve as Master of Ceremonies.
The 2020 and 2021 Valor Awards will be presented in Boston in September.
When & Where:
Wednesday, July 14, 2021
5:00 p.m. media interview opportunities, 6:30 p.m. dinner and program
Belmond, Charleston Place, 205 Meeting Street
Additional Activities with Medal of Honor Recipients in Charleston:
Tuesday, July 13:
3:00 p.m. — Mayor John J. Tecklenburg Welcome and Presentation of Keys to the City to Medal of Honor Recipients
City Hall, Council Chamber, 2nd Floor, 80 Broad Street
6:50 p.m. — American Airlines Reception Hosting Medal of Honor Recipients and Citizen Honorees First Pitch
Joseph P. Riley Park, Home of the Charleston RiverDogs
7:05 p.m. — Ceremonial First Pitch by Medal of Honor Recipient Matthew O. Williams
Game Time
Wednesday, July 14:
9:30 a.m. — Character Development Program at The Citadel, where three Medal of Honor Recipients will speak to more than 225 incoming cadet-recruits, who are taking part in the Citadel Success Institute, on the importance of courage, commitment, integrity, sacrifice, citizenship and patriotism.
The Citadel – Buyer Auditorium (2nd Floor of Mark Clark Hall)
10:00 am — Veterans Outreach Program, where Medal of Honor Recipients will lead peer-to-peer panel discussions on overcoming adversity, modeling of resilience behaviors in tough times, coping with high stress jobs and reducing the stigma of asking for help.
Scientific Research Corporation (SRC) Corporate (In person and Webcast) 101 Remount Road, Suite 500, North Charleston
5:30 p.m. — Citizen Honors Dinner and Awards Presentation
Belmond Charleston Place, 205 Meeting Street
To attend any of the above events or request additional information, RSVP to John Falkenbury 703-731-1042.
The Congressional Medal of Honor Society was chartered by Congress in 1958 to create a brotherhood among the living Medal of Honor recipients; to protect and uphold the dignity and honor of the Medal; to promote patriotism and love of country; and to inspire our youth to become worthy and dedicated citizens of our nation. Its membership consists exclusively of those individuals who have received the Medal of Honor. Today, there are 67 living recipients of the Medal of Honor.
For more information about the Congressional Medal of Honor Society, visit http://www.cmohs.org/.