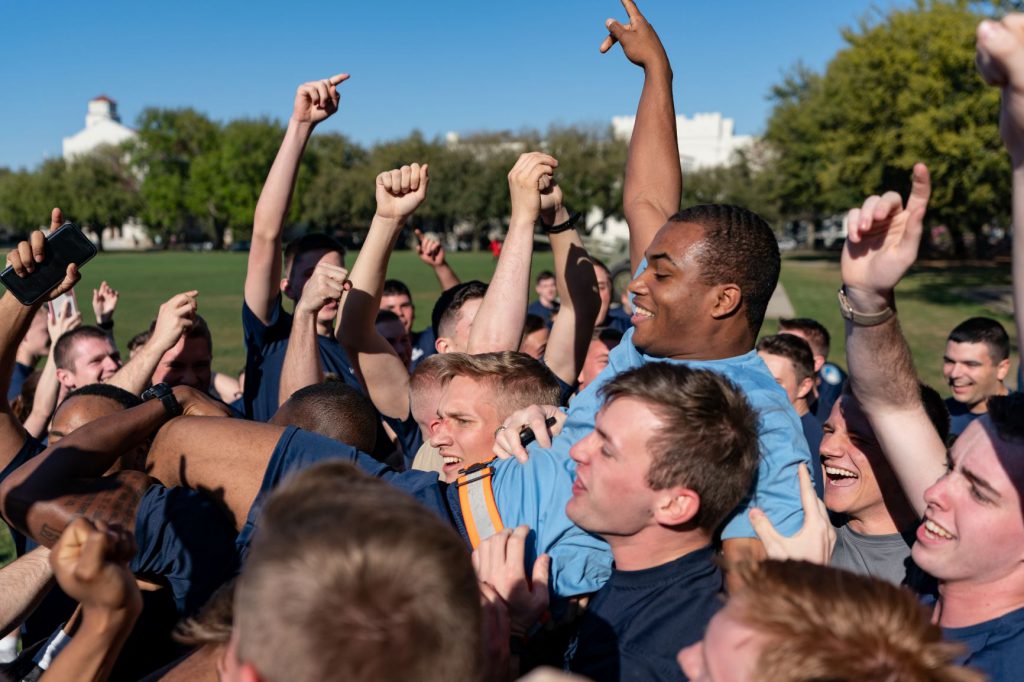 Photo: Kilo Company celebrates after willing tiebreaker
On March 22, the South Carolina Corps of Cadets held a physical training competition instead of a parade
After a grueling competition and a dramatic, last-minute tiebreaker, three cadet companies will get to enjoy special privileges after coming out on top.
To break the tie for first place, the athletic officers from Kilo and Palmetto Battery faced off in a push-up competition.
But in the end, Kilo Company came out on top.
The competition was made up of multiple events, with only a handful of cadets participating in each challenge. Cadets who weren't involved in the different events were required to take part in a two-mile run. The companies earned points, based on how well they performed in
each event, and all those points were totaled to determine the company that earned first, second, and third place, overall.
As a reward for winning first place, cadets in Kilo will be excused from the Saturday morning inspection, which include personnel, rooms, arms, equipment and common areas of the barracks.
For coming in second place, Palmetto Battery cadets will be excused from Monday morning personal training, giving them the rare opportunity to sleep in.
And for a third place prize, the cadets in Oscar will be awarded a block overnight, which gives them one extra night they're allowed to stay off campus.
Some of the events in the competition included:
8 person tire flip relay
4×400 run
4 person 100 meter swim
6 person log lift
12 person 40 yard tunnel
9 person O-course relay (teams of 3)
3 team pull ups (1 person max for 1 min)
3 team medicine ball throw (total distance)
12 person tunnel race
9 person tug-o-war tournament style
3 team slam ball volley ball tournament style
9 person truck push for time