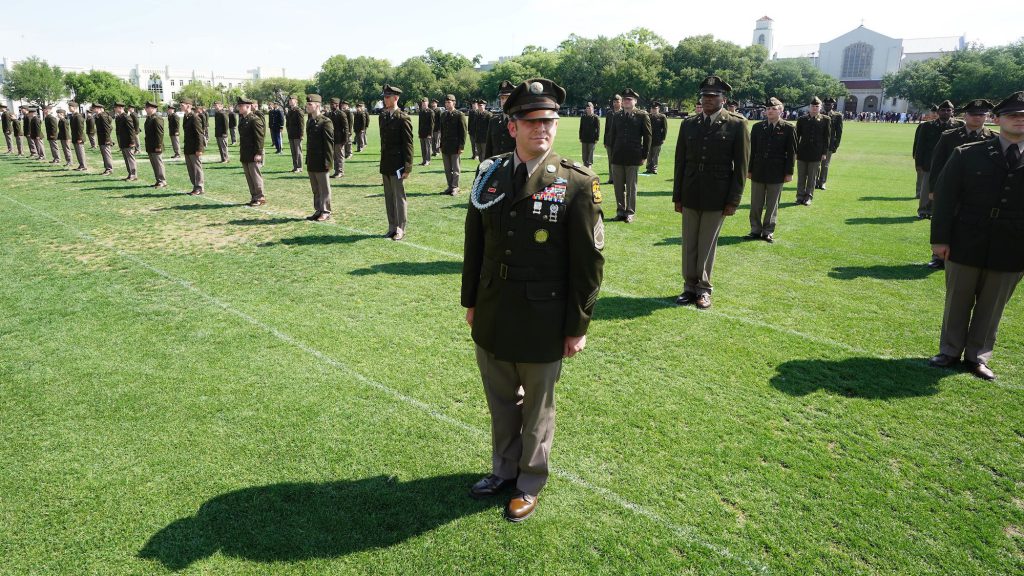 Photo: Army ROTC cadets from the Class of 2022, immediately after accepting their commissions on May 6.
The ROTC departments at The Citadel offer opportunities for cadets to accept commissions in all branches of the armed forces through the Army ROTC, Air Force/Space Force ROTC and Navy/Marine Corps ROTC departments.
Anyone awarded a three- or four-year ROTC scholarship is guaranteed admission into the South Carolina Corps of Cadets.
A-tten-tion! Channel JFK and ask what you can do for your country while in college. Or maybe camouflage calls your name, or red, white and blue give you a sense of nostalgia. You can prepare for a life of service with fellow cadets with ROTC in college. Hundreds of schools across the country specialize in preparing students for the Armed Forces, but these 10 stand apart from the rest. With a diverse lineup of classes, programs and resources that prepare students for the Armed forces to impressive success stories, these schools have it all. What makes a unit one of the best is at the heart.
These 10 college ROTC programs lead with integrity and serve with bravery.
10. Austin Peay State University
9. University of North Georgia
8. Hampton University
7. Embry-Riddle Aeronautical University
6. Massachusetts Institute of Technology
5. Virginia Polytechnic Institute
4. Texas A&M University
3. Virginia Military Institute
2. Norwich University
1. The Citadel
The Citadel packs a powerful punch. Many ROTC grads enter the Army, Air Force and Navy every year. On the academic side, the college offers more than 20 majors and 30 minors to a close-knit student body of only 2,300 undergrads. The Citadel models itself on academics, ethics, physical fitness and of course, military prowess. "I believe we are a top ROTC college due to the fact that we are training beyond our duties in ROTC, as a Senior Military College, every aspect of our lives involves military behaviors, by the way we dress (uniformed college), the way we eat and the way we walk and talk," said cadet Nicholas Mathwig. And with small class sizes and top-of-line facilities, your four years here will consist of rigorous team-management and discipline-building exercises. Some of the available scholarships for students include the Palmetto Fellowship Scholarship, and HOPE AND LIFE Scholarship. Mathwig said, "We also have world-class cadre training, aiding our development as a future leader in the US Army."