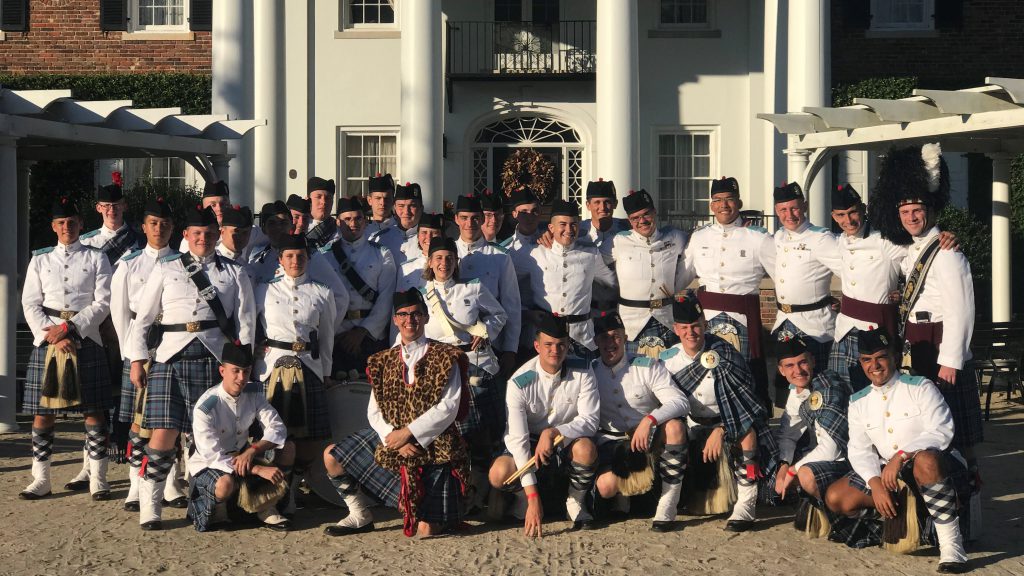 Photos and videos provided by Cadet Gillian Wiggins
In just a few months, The Citadel Pipe Band will be performing in front of an international audience at The Royal Edinburgh Military Tattoo in Scotland.
But before that, the band played for their Lowcountry fans at the 48th Annual Charleston Scottish Games and Highland Gathering.
The entire band participated in multiple grades of competition, and they also joined the other pipe bands for the opening and closing ceremonies. The pipe band placed 3rd overall in their level. Additionally, two cadets participated in solo competitions: Willis Oakes, a freshman, won first place in his level at a drumming solo competition and Brady Taylor, a sophomore, played the pipes for his father's drum solo.
The Charleston Scottish Games and Highland Gathering is the second oldest event of its kind in the southeast, having gotten its start in 1971. The event brings over 8,000 guests from around the country and the world into the Lowcountry.
At The Royal Edinburgh Military Tattoo, The Citadel Pipe Band will represent America for the fourth time and remains the only U.S. military college band to have received the coveted invitation to perform on behalf of the nation in the world's most famous military music festival.
The band will perform on the esplanade of the medieval Edinburgh Castle Aug. 7 – 29, 2020, as part of the month-long festival of music and pageantry featuring military organizations from around the world.
The Royal Edinburgh Military Tattoo, which celebrates its 70th anniversary in 2020, it is the largest production of its kind, broadcast to more than 30 countries. The college's participation as America's band puts Charleston and South Carolina in the spotlight, with an estimated 100 million viewers annually according to the show's producers.
Help the band get to Edinburgh
As an invited member of The Royal Edinburgh Military Tattoo 2020 cast, lodging and meals are provided for the 80 – 90 band and staff members making the trip to represent America in 2020. However, the transportation of the ensemble and all of its equipment is not covered, which is where the band's generous donors come into the picture.
The Citadel Foundation (TCF) is managing donations for America's Band 2020. To find out how you can help, please call Bill Yeager at (843) 953-3842 or visit The Citadel Foundation's website to donate. Thank you!