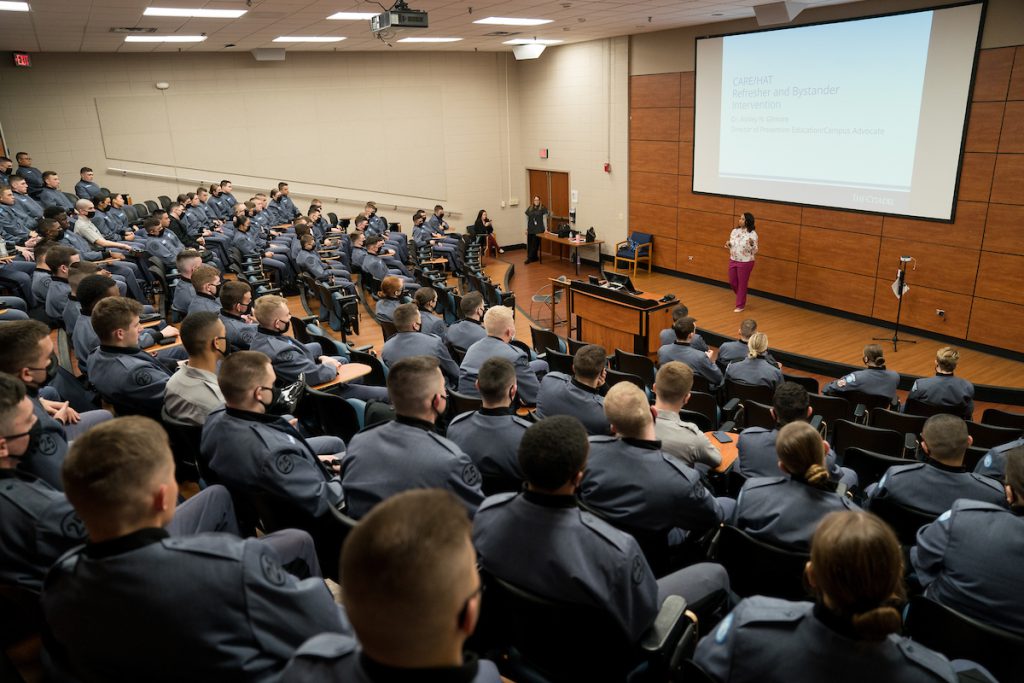 New Campus Advocacy, Response and Education Program leader begins working with the Corps
Though it is now common, The Citadel was among the first public colleges in South Carolina to have a full-time professional dedicated to sexual assault prevention education. Janet Shealy created the Campus Advocacy, Response and Education (C.A.R.E) program, retiring from her role recently after more than 15 years of service to the college and its cadets.
Ashley Gilmore, Ed.D., is the new C.A.R.E program director and, just a couple of weeks into her new job, she's already met with hundreds of cadets.
"The mission of the C.A.R.E. program is to foster a campus community free of sexual violence, sexual harassment, intimate partner violence and stalking," Gilmore explained recently when meeting with freshmen (knobs). "This will occur when every member of our community is able to feel empowered, knows their resources and can offer support and respect to those around them."
Gilmore serves in the U.S. Air Force Reserves which she joined in 2010 and is a Second Lieutenant. She holds a Doctoral Degree of Education in Educational Leadership from Liberty University, an Associate's Degree of Arts in Education Management and an Associates Degree of Arts in Criminal Justice from the Community College of the Air Force, a Master's Degree of Education in Counseling Rehabilitation from University of Alabama, and a Bachelor's Degree of Science in Psychology from Troy University. Prior to joining The Citadel, she was a training technician for the 628th Civil Engineering Squadron and a group unit training manager for Air Force Reserve 315th MSG at Joint Base Charleston,.
Gilmore's role is to educate The Citadel's cadets, students, faculty and staff on issues related to sexual misconduct prevention, response and advocacy.
Part of her work is to provide a 90 minute prevention course, to each grade-level of cadets, every year of their four years attending The Citadel.
"We talk about definitions, laws expectations, communications styles and techniques, risk-behavior identification and mitigation, healthy relationships and the relationships that can occur between drug and alcohol use, and sexual misconduct," Gilmore said. "And I let them know about the many resources we have on campus to help them, which include me and my willingness to listen."
Gilmore is already putting two new prevention programs into place including "Stay on Guard," an alcohol and drug resource program that specifically targets cadets the first six weeks that they receive leave passes. "The cadet human affairs officers will be assisting with this effort, which is intended to raise awareness of resources for them both on and off campus before they head off campus for fun."
The second initiative is called "Bite Back," and it coordinates and provides bystander education opportunities to students through training and social media. "'Bite Back' teaches students how to recognize a harmful situation and how to respond in a way that could positively influence the outcome of that situation."