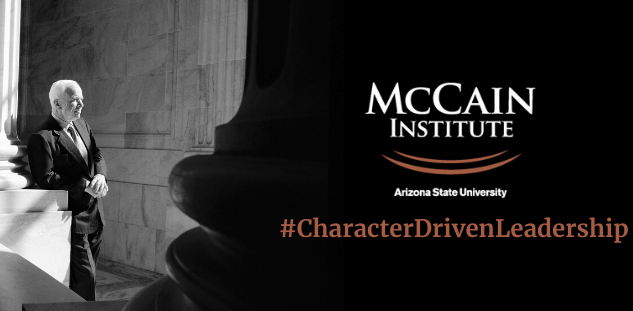 WASHINGTON, DC – The McCain Institute for International Leadership at Arizona State University and EdVenture Partners hosted the final competition for Invent2Prevent. Mission in Transition from The Citadel took home first prize. The three other finalists included VOICES of Columbia University, FUSE from Missouri State University and The THiNK Campaign at the University of Massachusetts at Amherst.
As part of the semester-long project, each university team evaluated a current threat facing their community and identified an opportunity to create a program or tool to prevent targeted violence or terrorism. Each of the four finalists provided a 12-minute video of their specific project and answered 10-minutes of questions from the judges during the final competition.
"We were thrilled to see innovative projects from all 25 of our participating schools this semester," said Brette Steele, senior director of preventing targeted violence for the McCain Institute. "This year's participants and finalists are a testament to what can happen when students are encouraged to apply their ingenuity towards preventing targeted violence in their communities."
"I can't think of a better time in recent U.S. history to partner America's university students to help prevent acts of hate and targeted violence in our country through the development of Invent2Prevent initiatives," commented Tony Sgro, chief executive officer of EdVenture Partners. "The amazing projects, resources, and community partnerships developed by the teams will go far in building resiliency on their campuses and in their local communities."
The final competition, held on Tuesday, June 15, was judged by a panel including the the Director of the Center for Prevention Programs and Partnerships at the U.S. Department of Homeland Security John Picarelli, McCain Institute Non-Resident Senior Fellow and Executive Director of the Global Internet Forum to Counter Terrorism Nick Rasmussen, Founder of Moonshot Countering Violent Extremism Vidhya Ramalingam, Boston University Pardee School of Global Studies Professor Jessica Stern and ABR Ventures Managing Partner Marc Brown.
The panel of judges awarded the prize for first place and $5,000 to Mission in Transition of The Citadel, based in Charleston, SC. Mission in Transition was created by merging two major issues affecting the nation: the impact of isolationism on the human psyche and inadequate resources for service members transitioning from active-duty status to civilian life. To combat the isolationism that service members may feel after leaving military service, Mission in Transition serves as the first barrier of protection against veteran recruitment into targeted violence and terrorism groups by helping them find a sense of purpose and ultimately taking on their next mission in life. To learn more, visit the Mission in Transition project at: www.missionintransition.com/, or watch the their team's full presentation here.
The judges subsequently awarded second place and $3,000 to FUSE from Missouri State University; third place and $1,000 to VOICES of Columbia University; and fourth place to The THiNK Campaign at the University of Massachusetts at Amherst.
Learn more about FUSE: https://www.fuseconversations.org/, or watch the their team's full presentation here.
Learn more about VOICES: https://www.voicesamplify.org, or watch the their team's full presentation here.
Learn more about The THiNK Campaign: https://www.thethinkcampaign.org/, or watch the their team's full presentation here.
About the McCain Institute for International Leadership at Arizona State University
Inspired by the character-driven leadership of Sen. John S. McCain and his family's legacy of public service, the McCain Institute implements programs and initiatives to make a difference in people's lives across a range of critical areas: leadership development, human rights, rule of law, national security, preventing targeted violence and combating human trafficking.
About EdVenture Partners
EdVenture Partners (EVP) builds academic partnerships to address social impact, marketing communications, sales and other business-related challenges for Fortune 500 companies, governments, NGO's and trade associations. EVP has partnered with nearly 1,000 academic institutions in 76 countries worldwide with more than 250,000 students participating in peer-to-peer experiential learning programs.
About Arizona State University
Arizona State University has developed a new model for the American research university, creating an institution that is committed to access, excellence and impact. ASU measures itself by those it includes, not by those it excludes. As the prototype for a New American University, ASU pursues research that contributes to the public good, and ASU assumes major responsibility for the economic, social and cultural vitality of the communities that surround it.