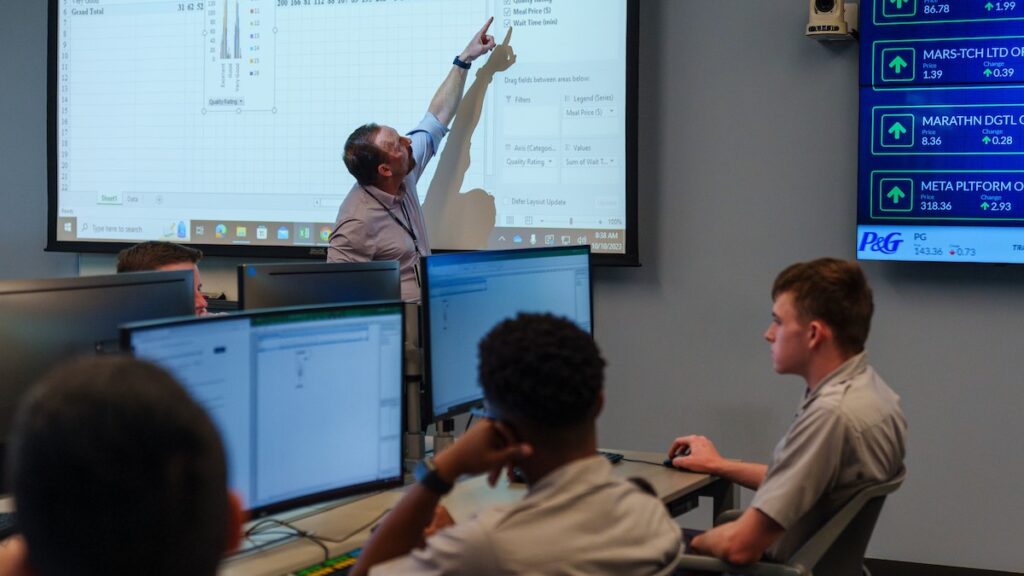 The Citadel's Tommy and Victoria Baker School of Business has partnered with Knack, a leading peer tutoring platform that will enable cadets and students to learn from one another – free of charge. Knack will allow cadets and students to book individual or group tutoring sessions through its app or desktop platform. Through this partnership, The Citadel will give cadets and students an engaging way to learn and be better prepared for their business courses.
Knack tutors won't be ordinary instructors — tutors will be Citadel cadets and students who have previously passed courses they offer assistance in with a B+ grade or higher. These accomplished tutors are invited directly through Knack to offer their expertise and will be paid for their time and effort. Tutoring sessions can take place in person at designated locations on campus, or online through Knack's platform. Knack is a leading student success platform that is helping higher education institutions deliver impactful peer tutoring. The Citadel joins several other institutions — such as Auburn University and The University of Florida — in using this tutoring platform.
"We're excited to add Knack as a resource to support cadets' and students' academic success through the support of their Citadel peers," said Iordanis Karagiannidis, Ph.D., professor and associate dean of the Baker School of Business. "This partnership not only reflects the business school's commitment to provide cutting-edge educational opportunities, but it also shows the power of collaborative learning."
Knack is available as a mobile application through both Apple and Google devices and offers a desktop application version as well. Tutors will be trained through Knack's online tutor training modules that were built in partnership with CRLA, or the College Reading and Learning Association.
As of now, Knack's services are currently offered only to cadets and students who are seeking tutoring in business classes. While the tutoring services are free, tutors will be paid for their time and commitment. This program aims to improve student achievement and develop a culture of collaboration within The Citadel's thriving academic community with a clear commitment to achieving academic excellence through peer-driven learning.
The Citadel has been ranked as the best Public University in the South for 13 consecutive years, as well as being ranked #1 for Best Colleges for Veterans in the South. Additionally, the undergraduate business program was ranked #159 nationwide by U.S. News World and Report.
To learn more about the Tommy and Victoria Baker School of Business, visit the website.