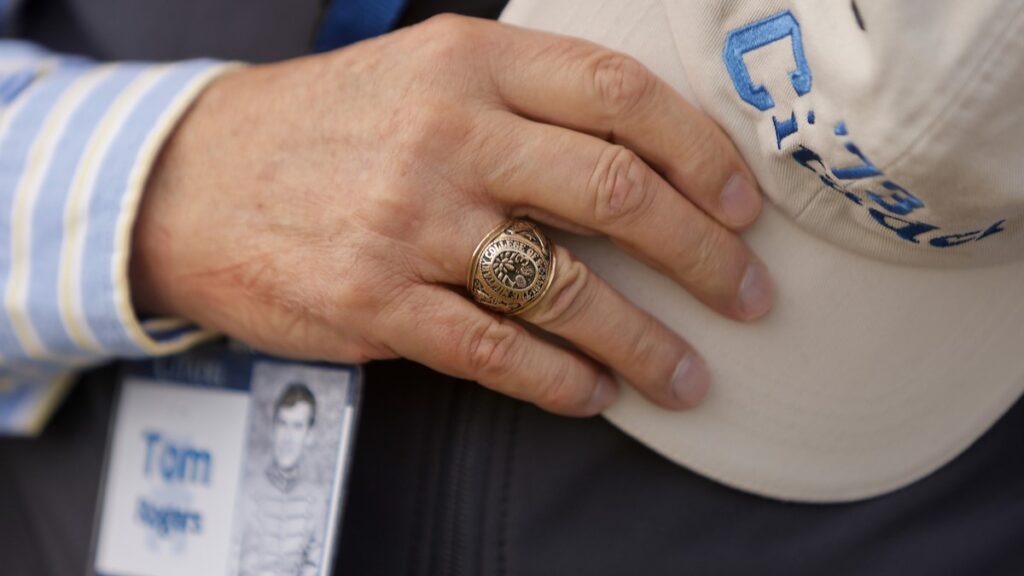 The Citadel is reflecting on its past weekend, which held one of the biggest events on campus — Homecoming 2023 — hosted by The Citadel Alumni Association.
This year, the Class of 1973 celebrated their milestone 50th reunion. Other classes that had milestone reunions included those ending in '3 and '8.
On Friday, Nov. 3, a twilight parade took place on Summerall Field. This parade honors each branch of the U.S. military, as well as those who have made the ultimate sacrifice for their country.
The Homecoming festivities continued on Saturday, where the day began with open barracks, giving families and friends a chance to see their cadet's room as well as a Pipe Band performance in each of the five barracks. The Summerall Guards performed as well, giving Homecoming attendees a chance to experience the silent precision drill in person.
Saturday also saw a Homecoming jeep review parade, with The Citadel President Gen. Glenn Walters, USMC (Ret.), '79 taking review alongside outgoing president of The Citadel Alumni Association John P. McAleer III, Class of 1972.
The Center for Inclusive Excellence and Center for International and Special Programs hosted a celebration to officially dedicate the space in honor of Charles Foster, Class of 1970, who was the first African American cadet to graduate from The Citadel, as well as to unveil a portrait of Foster.
"On his shoulders, we're standing. He began a movement that was unstoppable because we all have joined that movement and others come behind us to join this movement as we promote the values of this wonderful institution, our alma mater," said Tony DeWitt, president of The Citadel African American Alumni Association.
This space was donated by The Citadel African American Alumni Association, where many members of the group, as well as Charles Foster's brother William Foster Jr., were in attendance.
"Today marks a significant moment in our institution's history as we gather to dedicate this room in honor of a remarkable individual, Charles Foster. His indelible legacy and courageous spirit continues to inspire us today. Charles was not just a trailblazer, he was a pioneer whose determination and resiliency broke the barriers and paved the way for future generations," said Gen. Glenn Walters, USMC (Ret.), '79. "May this room serve as a living tribute, inspiring all who enter to embrace Charles' legacy and to strive for excellence in all they do.
Citadel Alumni Award Winners
Distinguished Life Member – Theodore A. Hargrove, '71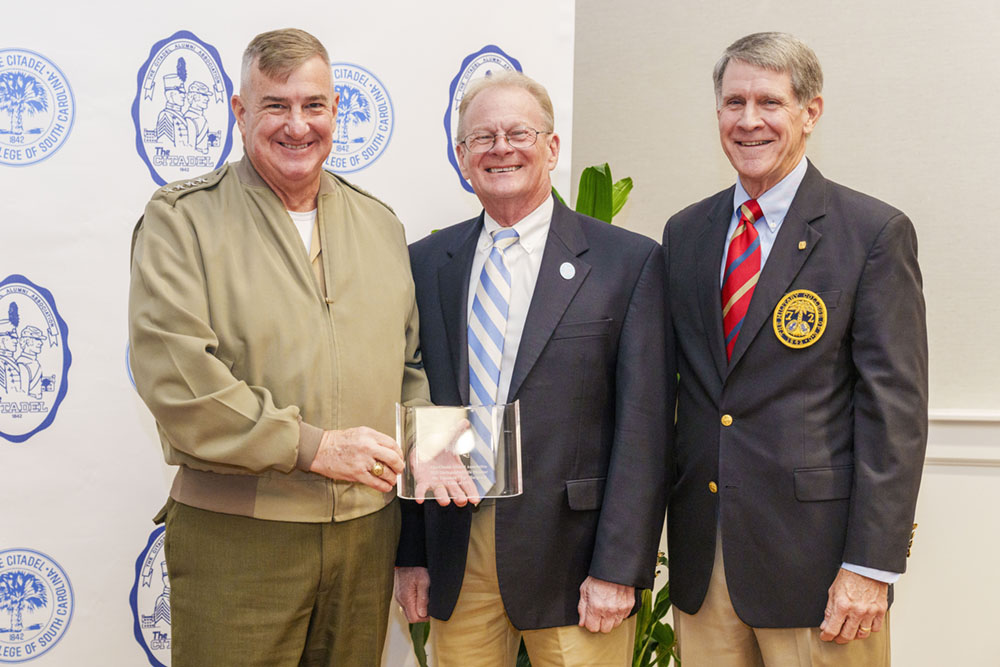 Theodore A. Hargrove III is a veteran of the U.S. Air Force, an attorney and a devoted alumnus. Hargrove has served on the State Bar of Texas Family Law Council and the Texas Criminal Defense Lawyers Association as well as the State Bar Grievance Committee. In 2014, he was elected district director of The Citadel Alumni Association for Texas, Oklahoma and Arkansas, and in 2016 he was named District Director of the Year. More recently, in 2020, Hargrove was awarded the Palmetto Medal, one of the highest awards presented by The Citadel.
Hargrove currently serves on The Citadel Alumni Association Board of Directors and as the chair of the Ring Committee. He is a member of The Citadel Foundation's Mark Clark Society, President's Circle and Citadel Legacy Society for his loyalty and generous financial support of the college. He is also a member of The Citadel Brigadier Foundation and a Life Member of The Citadel Alumni Association. In addition to ongoing financial support to The Citadel, he has personally paid one cadet's tuition and helped raise funds to support another cadet during her senior year.
Alumnus of the Year – John L. Rasberry, '57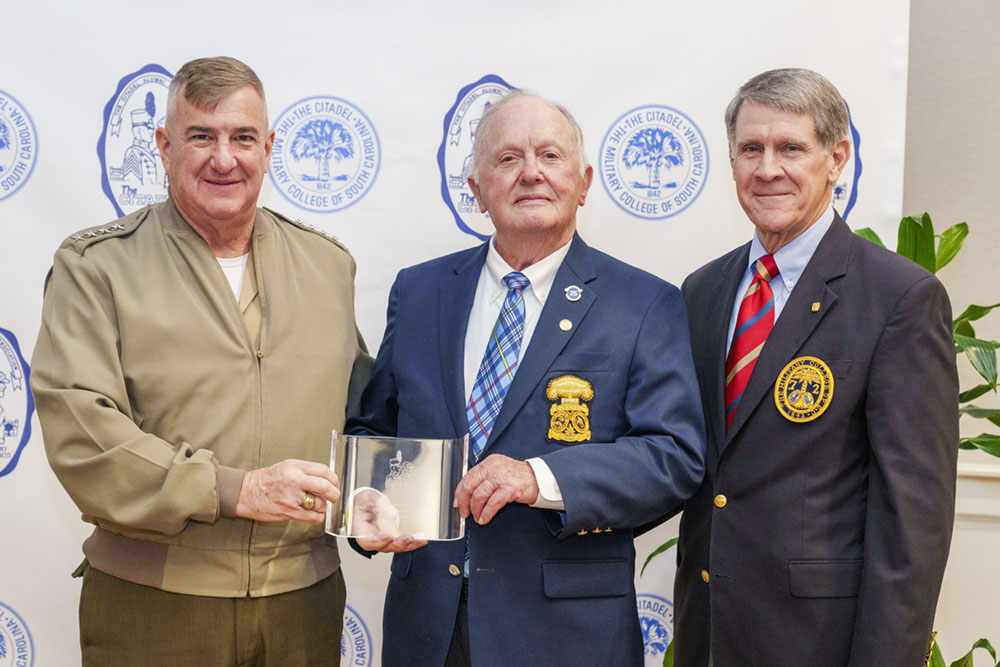 John L. Rasberry is being recognized for his consistent, significant and extraordinary support of The Citadel and The Citadel Alumni Association in the 66 years since he graduated as a member of the Class of 1957. He has organized class reunion events, encouraged classmates and friends to join him on many alumni travel program trips and is the first to sign up for the annual Gold Corps reunion.
Giving back to The Citadel has been a lifelong commitment for Rasberry. His willingness to assist where there is a need spans from funding band scholarships and support for their travel to Scotland to participate in the Royal Edinburgh Military Tattooto behind-the-scenes donations to cover infrastructure and equipment projects. Most recently, he has been involved in updating the sound system in Summerall Chapel. He has also covered the cost for medical care and insurance for cadets who were in need. Rasberry embodies the core values of The Citadel and provides an extraordinary amount of support in the most altruistic ways.
Honorary Life Member – Teresa Luhrs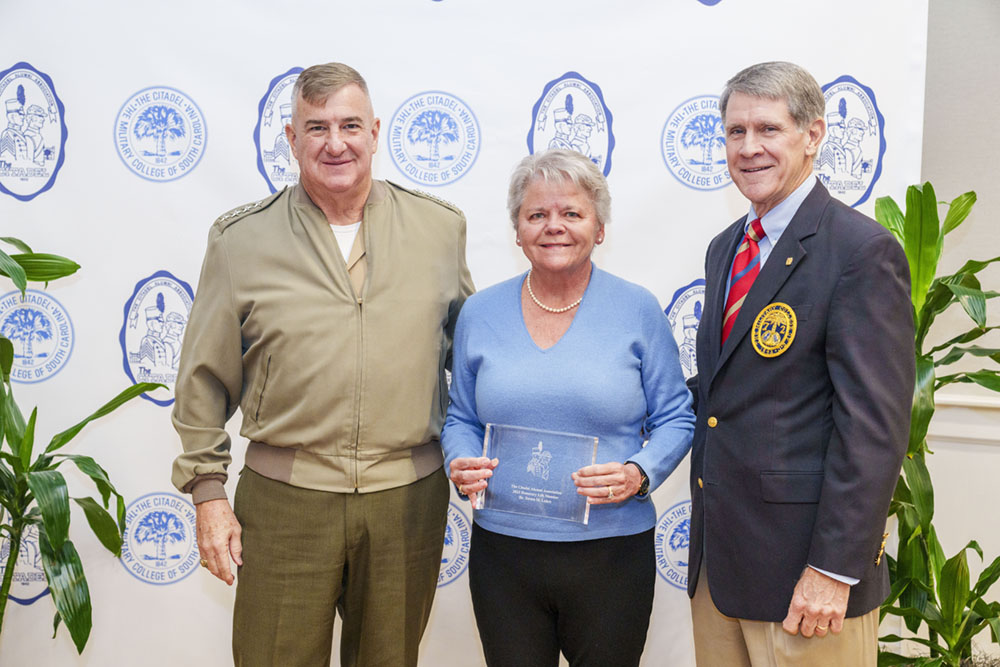 Dr. Teresa M. "Terri" Luhrs is being recognized for her unwavering life-long support of Citadel Athletics as well as her contributions to the Middle Georgia Citadel Club and The Citadel.
Following their move to Macon, Georgia, in 1988, Luhrs and her late husband, Gene Luhrs, '75, met Ned Sanders, '53, and formed the Middle Georgia Citadel Club. As unofficial ambassadors for the area, the couple hosted numerous alumni events at their home, fostering a strong network among local alumni for the next 15 years. The passing of Gene in 2005 only fueled Luhrs' resolve to continue supporting and nurturing The Citadel network.  When Mercer University joined the Southern Conference in 2016, she embarked on a new chapter of her support for The Citadel and began hosting alumni, friends and distinguished guests from the college at her home for a drop-in social event prior to the bi-annual Bulldog football games at Mercer. Luhrs is also the unofficial mom of the Middle Georgia Citadel Club. She volunteers to staff the sign-in table for events such as musters and cadet sendoffs, ensuring a warm welcome to all attendees. She is also an active recruiter of local alumni for the club, always on the lookout for Citadel rings during meetings at hospital and church functions and even scanning car windows for alumni stickers.
Luhrs' embodiment of The Citadel's core values extends through all aspects of her life. She has achieved a remarkable level of stature and distinction as an obstetrician in Macon over the last 30 years. During her career she has demonstrated a steadfast ethical compass to maintain the highest standards of moral character, integrity and honesty. She has consistently utilized her position of influence and leadership in the community and professional life to make a positive impact on the Middle Georgia area and society at large. She consistently promotes respect and fairness, further exemplifying the principles that The Citadel instills in its cadets.
Young Alumnus/a of the Year – Alison H. Anderson, '11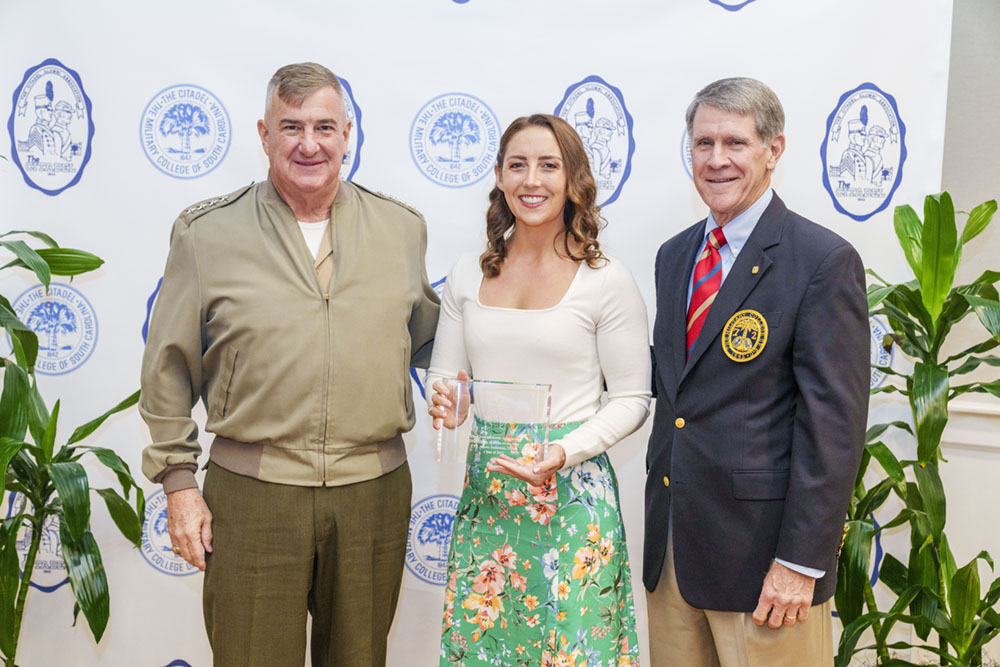 Alison Anderson (Hayes) is recognized for her service to The Citadel and the Fayetteville Sandhills Citadel Club and for her professional achievements. After graduating in 2011, Anderson accepted a commission into the U.S. Army. Since leaving the Army in 2017, Anderson has served as the Soldier and Family Readiness Group (SFRG) Coordinator at Fort Bragg for Bravo Company and 1st Psychological Operations Battalion and as a homemaker and educational advocate — all while serving as the first vice president for family support of the Fayetteville Sandhills Citadel Club. Anderson played a very critical leadership role in the club's resurrection in 2022 and accepted the title as vice president for family support at that time. She prodded, motivated and persuaded with grace and enthusiasm to get the club moving in a direction that proved valuable, fun and successful. As a result of her contributions, Anderson increased pre-cadet and family participation at the club's sendoff event, improved club communications and spearheaded the local recruiting efforts resulting in 19 possible contacts accepted by The Citadel.
District Director of the Year – Col. W. Christopher Cook, USAF, Ret., '74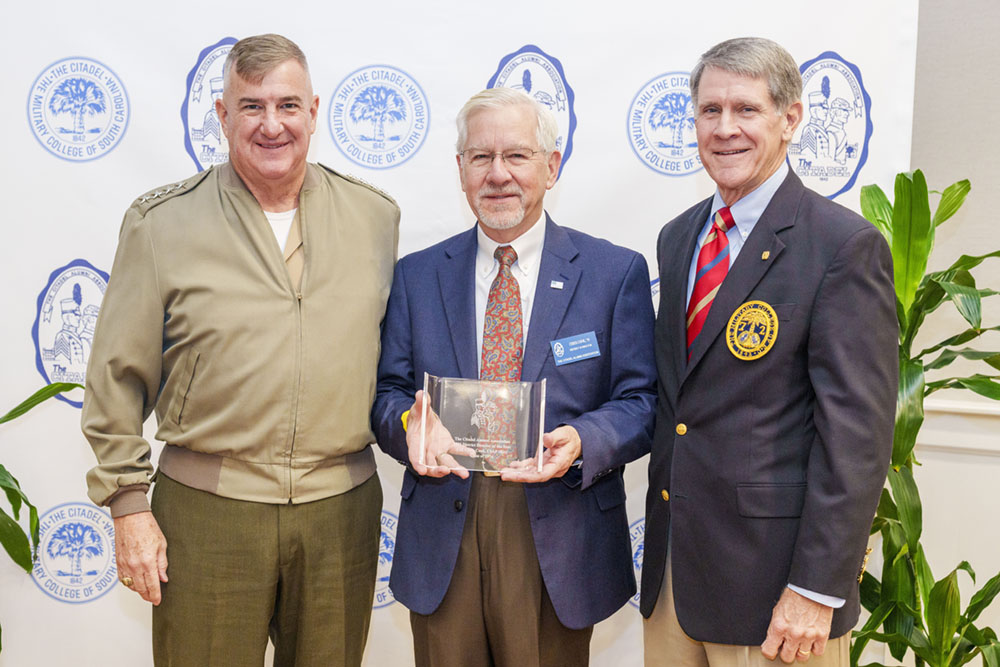 Chris Cook's love of The Citadel is evident in actions he has taken as the District 18 director and chair of the Association's Network Committee. A member of the San Antonio Citadel Club, Cook volunteered to fill the vacant District 18 director role in January 2022 and was re-elected for a two-year term later that year. Since that time, he has communicated regularly with members in his district with a quarterly newsletter and sought to close the gap between alumni and cadets by offering mentorship opportunities. After identifying a need to enhance the Association's career networking services, Cook stepped up to chair the CAA Networking Committee. The committee uses technology along with word of mouth to successfully help alumni find new careers while also assisting new graduates waiting to commission find temporary employment.