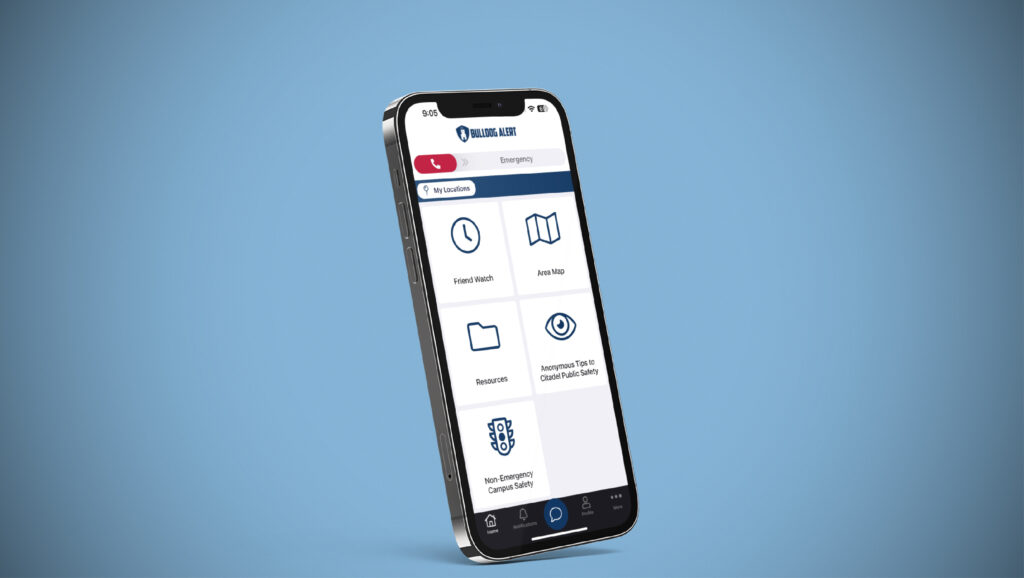 The Citadel is expanding and improving its campus safety notification system — Bulldog Alert — that is used to communicate important information to The Citadel Community in times of emergency. A primary feature of Bulldog Alert is a free mobile application that is available on both Apple and Google devices. Bulldog Alert also includes a desktop messaging and emergency alert function on all Citadel classroom, lab and office desktops, which is currently being installed on these devices.
These notification systems allow the college to communicate seamlessly with The Citadel community and allow those who are using the systems to communicate directly with the college's Department of Public Safety in the event of an emergency. Both the mobile application and desktop app may be used as 'panic buttons' to instantly summon help in any emergency.
Anyone in The Citadel community — including cadets, students, faculty, staff and family members — can download and use the mobile app. To receive Bulldog Alert texts and push notifications, users will need to download the app and select their applicable group.
Current and new users of Bulldog Alert should download the mobile app to access the full functionality, including push notifications, and to continue receiving text notifications.
"Our priority at The Citadel is to ensure the safety and well-being of our campus community. Through Bulldog Alert, we're taking a significant step forward in enhancing that safety and making sure our uniformed officers get emergency messages out immediately," said Michael Turner, '86, chief of police and director for The Citadel's Department of Public Safety. "The new app will let users communicate directly with Public Safety, allowing us to swiftly respond to any safety concerns or emergency situations."
The new mobile app can be found by searching "Bulldog Alert" on both the Apple store and Google Play store. Once the user downloads the app, they will be prompted to create an account and will be asked if they would like to share their location. The device location is shared only when the emergency feature is activated on campus. The app never shares location data with Public Safety unless an emergency notification is triggered by the user.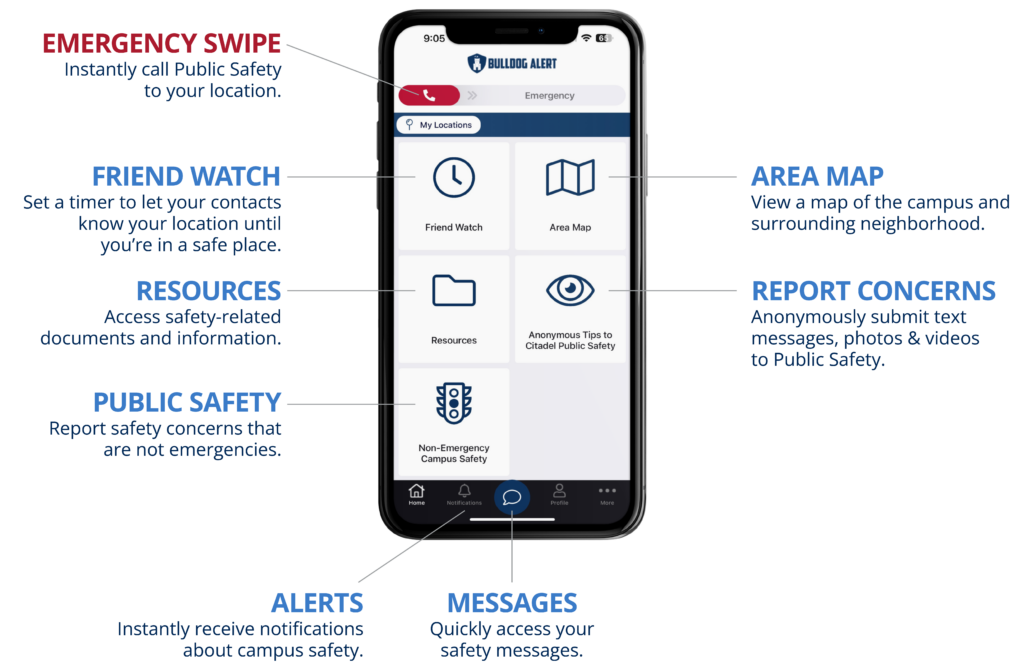 All campus users with citadel.edu email accounts are automatically registered for Bulldog Alert emails. The entire Citadel community is strongly encouraged to download the mobile app and select "For cadets, students, faculty and staff" in the "Notifications" menu to access all capabilities of the app, including text and app notifications. Users with non-Citadel emails should select "For family and friends" in the "Notifications" menu to receive alert notifications.
The app features an emergency button slider — in an emergency, the user can activate the app and silently alert Public Safety simply by moving the slider. The emergency slider includes a camera button option, allowing the device's camera to transmit images or video directly to Public Safety. Selecting the camera button can help Public Safety evaluate the situation. The user can also place a call from the emergency page to speak to Public Safety, allowing the app to share the user's location information with first responders. For those in emergency situations who have not shared their location, a prompt will appear requesting the user share their location.
If the slider is activated off campus, the app automatically routes an emergency call to local 911, to include overseas in most countries.
The mobile app also features a pathway to anonymously report safety concerns or "tips" to Public Safety, and a one-touch link to call Public Safety in a non-emergency situation.
"The Bulldog Alert app brings a plethora of essential safety features to the fingertips of The Citadel community — the app is designed to empower users in any situation. By consolidating emergency messaging, procedures and campus resources into one convenient location, the app becomes a comprehensive safety hub," said Cmdr. William Lind, U.S. Navy (Ret.), '91, chief of staff at The Citadel. "We are excited about the desktop version and allowing seamless communication between users and Public Safety. Bulldog Alert sets a new standard for safety and convenience technology."
Additional features of the app include:
Panic button slider which connects directly to Public Safety. If activated off campus, the app automatically routes an emergency call to 911.
Anonymous tips send a tip with text, photos and videos to Public Safety with anonymous sending and two-way chat capability.
Friend watch allows a user to select contacts to receive notifications when the user either activates the feature, arrives in their location or if the set time passes without any user check-in.
Campus resources compiles emergency procedures and other campus resources all in one convenient location.
Chat services will allow a user to chat with emergency and non-emergency services at any time.
Area map is an interactive map that shows the user's exact location and the surrounding areas.
The desktop version features a panic button to silently alert Public Safety to the user's specific area in the event of an emergency. Public Safety can also transmit messages to each desktop throughout campus. ITS will ensure the desktop app is downloaded in classrooms, labs and public-use computers over the coming days. Once the software is added to individual computers on campus, users will be prompted to enter their building, floor and room number or area description at setup.
For a more detailed list of the app's features and for more information, please visit the Bulldog Alert website.