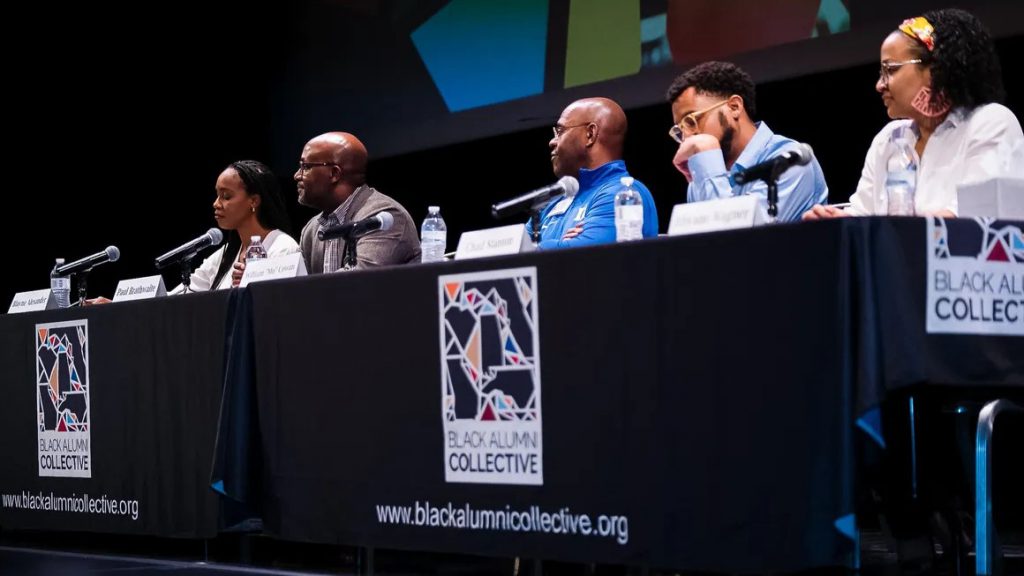 Photo: Speakers at the 2022 Black Alumni Collective National Leadership Symposium.
The Citadel and the College of Charleston will host the Black Alumni Collective National Leadership Symposium, scheduled for March 9 – 12. The event, which will take place on the two colleges' campuses, will feature a range of topics, such as African American student recruitment and retention as well as African American alumni leadership development and succession planning. During the symposium, more than 100 higher education administrators and African American alumni volunteers from colleges and universities across the country will have the opportunity to network, share ideas and collaborate.
The Black Alumni Collective was created in 2018 after African American leaders across more than 10 different schools agreed that having a collective voice is essential in moving universities, alumni and local communities forward. Each year the BAC's conference, alumni volunteers and higher education administrators collaborate to further their mission through civic engagement, economics and advocacy.
The Citadel African American Alumni Association, or CA4, will be a large participant as well, with Dr. Larry Ferguson, '73, and Norman Seabrooks, '73, serving as honorary co-hosts for this year's National Leadership Symposium.
"This upcoming symposium will give us an opportunity to showcase The Citadel's values, as well as to discuss all the work the CA4 does to support the institution," said Tony DeWitt, president of the CA4. "It's a great time to build on this synergy to get more of our alumni engaged in supporting The Citadel, and to learn from what other African American alumni associations are doing for their alma maters."
During last year's annual BAC Symposium, held at Duke University, the CA4 was recognized and received the Black Alumni Excellence Award.
The CA4 consists of nearly 700 members, with their biggest mission being providing mentorship to cadets and actively recruiting members to ensure every incoming African American cadet has a mentor at The Citadel. This mentorship is vital to helping young men and women reach their potential during their Citadel experience, and mentors are encouraged to have two hours of engagement per month with their mentee. The CA4 also provides a discretionary fund to provide urgent financial support to African American cadets, as well as three fully endowed scholarships which are awarded annually.
The Citadel campus will host their portion of the event on Friday, March 10 and Saturday, March 11. In-person registration as well as virtual registration is still open to those interested in participating.