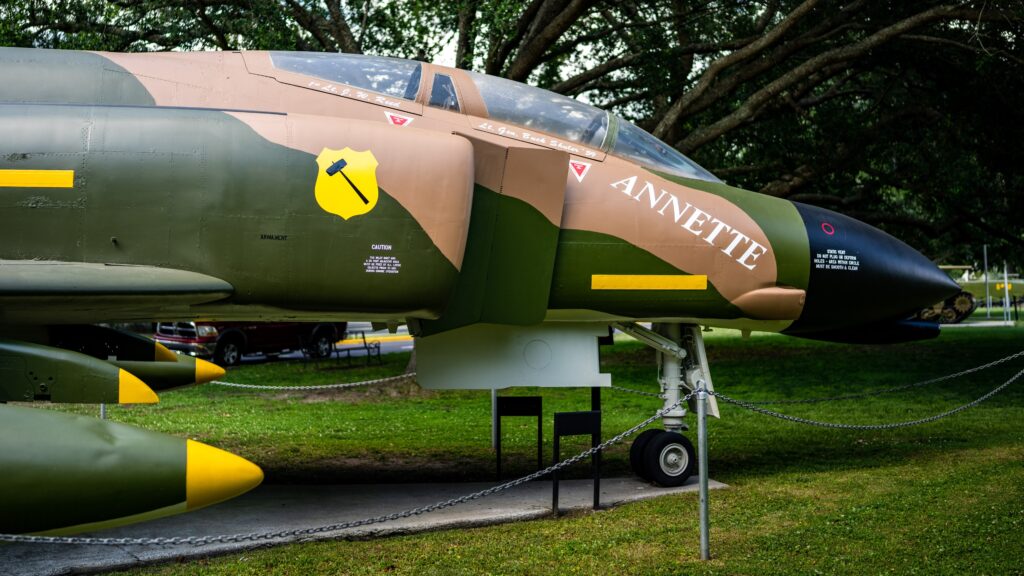 By The Citadel Chief of Staff Cmdr. William Lind, USN (Ret.), '91
Summerall Field is the heart of The Citadel campus and a focus for cadets, alumni and visitors. On the field are multiple military displays, which The Citadel recently upgraded after years in the Charleston sun and the salty air.
The project was directed by the President's Office with The Citadel's Office of Facilities and Engineering, and it was exhaustively researched to link these vehicles to Citadel alumni who personify the college's mission to produce principled leaders.
First up for repainting was the F-4C Phantom II. The F-4 is property of the Air Force and is overseen by The Citadel Air Force ROTC Detachment, which successfully petitioned its higher command to have the jet repainted. The aircraft is an actual combat veteran, flown by Lt. Gen. Buck Shuler, USAF (Ret.), '59, who also flew the jet to Charleston on its last flight. It is marked as his aircraft in colors of the 558 TFS based at Cam Ranh Bay during the Vietnam War.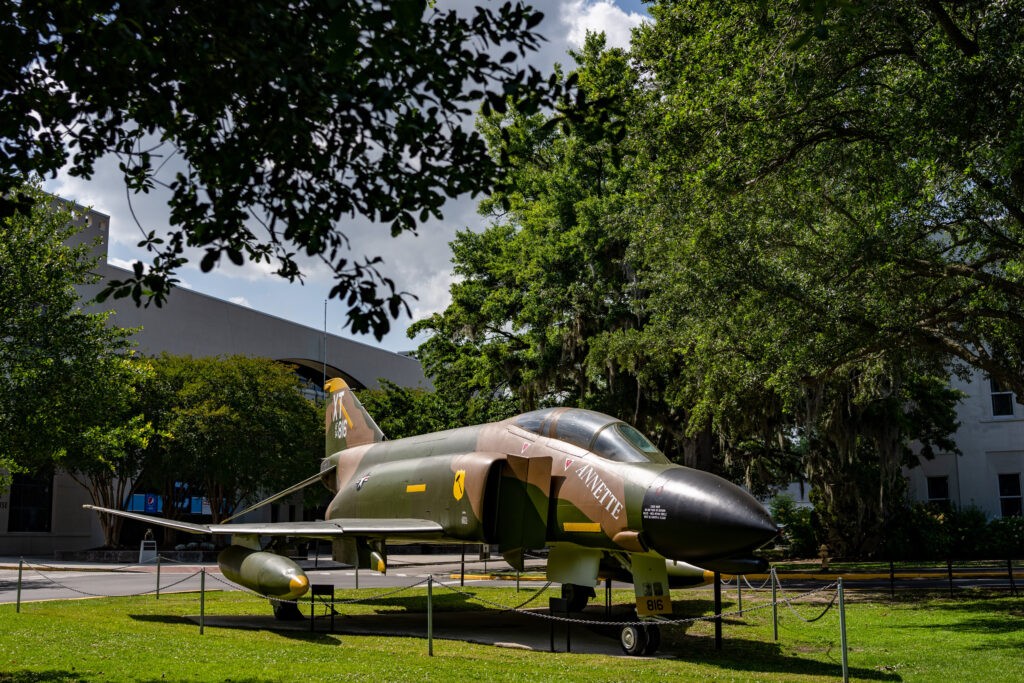 The AH-1T/P Cobra, M4A1/3 Sherman and Marine LVTH-6 Amphibious Tractor are managed by The Citadel, and their repainting was contracted as a package.
During North Vietnam's "Easter Offensive" in 1972, then-Maj. Larry McKay, '58, became the first rotary-wing aviator to destroy a tank from a helicopter, an action for which he was awarded the Silver Star. The Citadel's Cobra is now outfitted as McKay's aircraft of Battery F, 79th Aerial Rocket Artillery, 1st Cavalry Division, a unit known as "The Blue Max." It is a unique scheme: An aircraft with Artillery Branch markings and colors, along with a stylized "Blue Max" insignia. McKay's exact aircraft number was unclear, so side number 58 adorns the Cobra for his class year. He was later a longtime Citadel staff member, mentor to many cadets and a noted philanthropist in Charleston. Lt. Col. McKay passed away in 2013.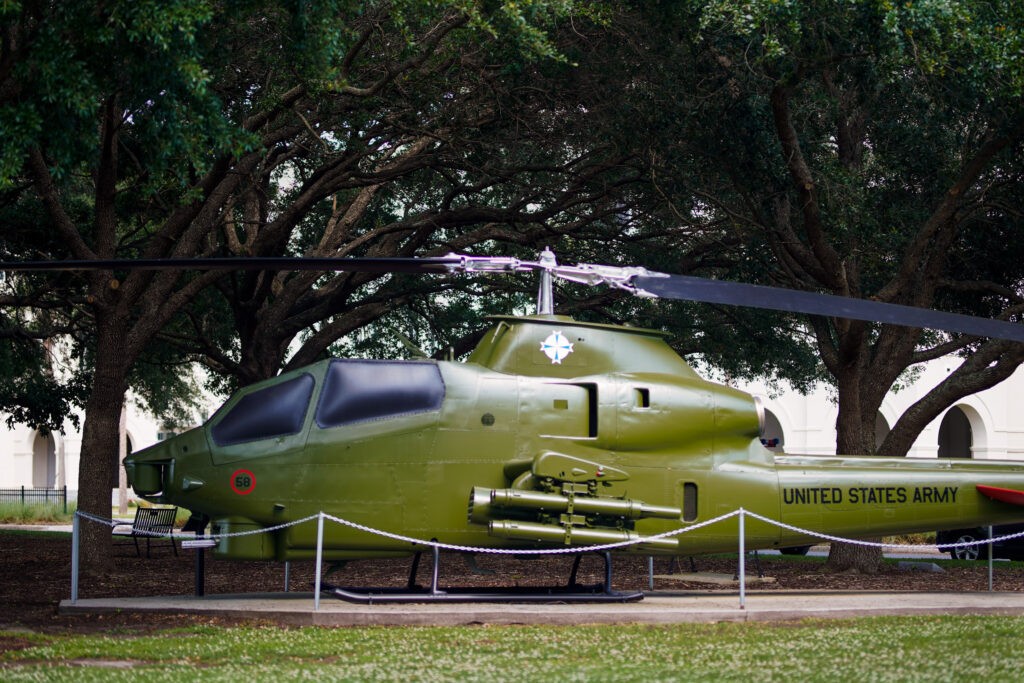 Cpt. John Thornton, '40, was an Armor Officer whose "Duplex Drive" amphibious Sherman tank sank on D-Day, where he was subsequently wounded. He maintained command of B Company, 741st Armor Battalion, attached to the 1st Infantry Division as it fought across France and into Germany. Thornton was killed leading his company in September 1944 after his Sherman was struck by at least three antitank shells. The Citadel's Sherman is now marked as his vehicle, its serial number including 1940 for his class year and Thornton's sacrifice for our nation.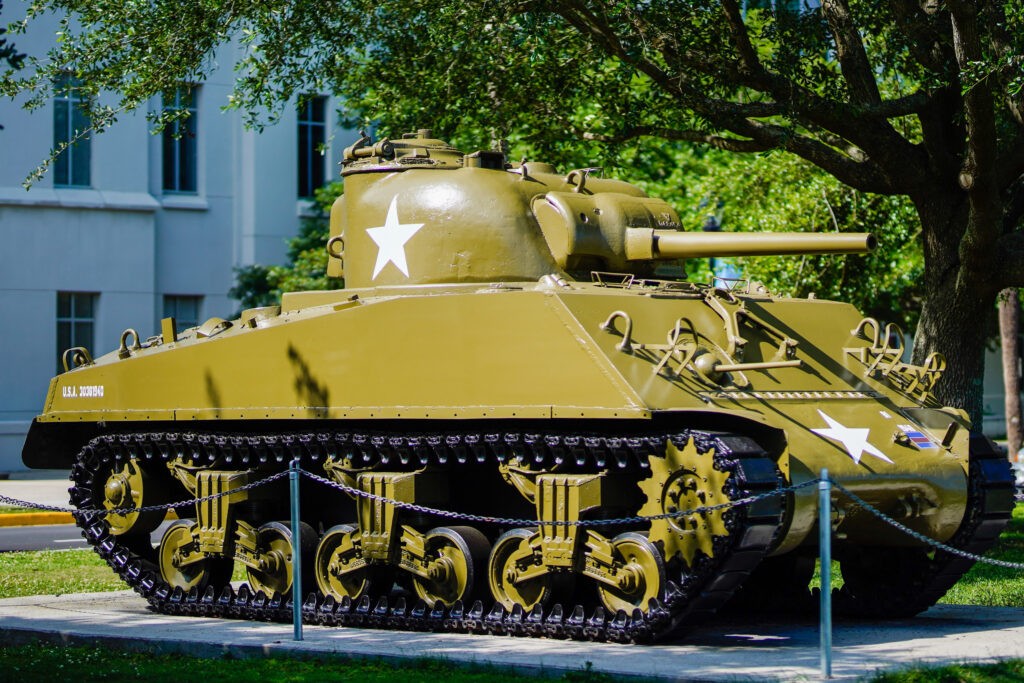 The LVT series of amphibious tractors were common sights to all Marines during Vietnam. The LVTH-6 was a variant mounting a turreted 105MM cannon. While former Citadel Board of Visitors Chair Col. Myron Harrington, USMC (Ret.), '60, was an Infantryman, he served alongside such vehicles. The Citadel's LVTH-6 is now marked as a track with 3rd Amphibian Tractor Battalion, attached to the 1st Marine Division circa 1968-1970, the same Division and period where Harrington served. He received the Navy Cross and Silver Star for actions at the Battle of Hue. The vehicle's serial numbers reflect his class year, 1960, honoring Harrington's peerless service to America and The Citadel.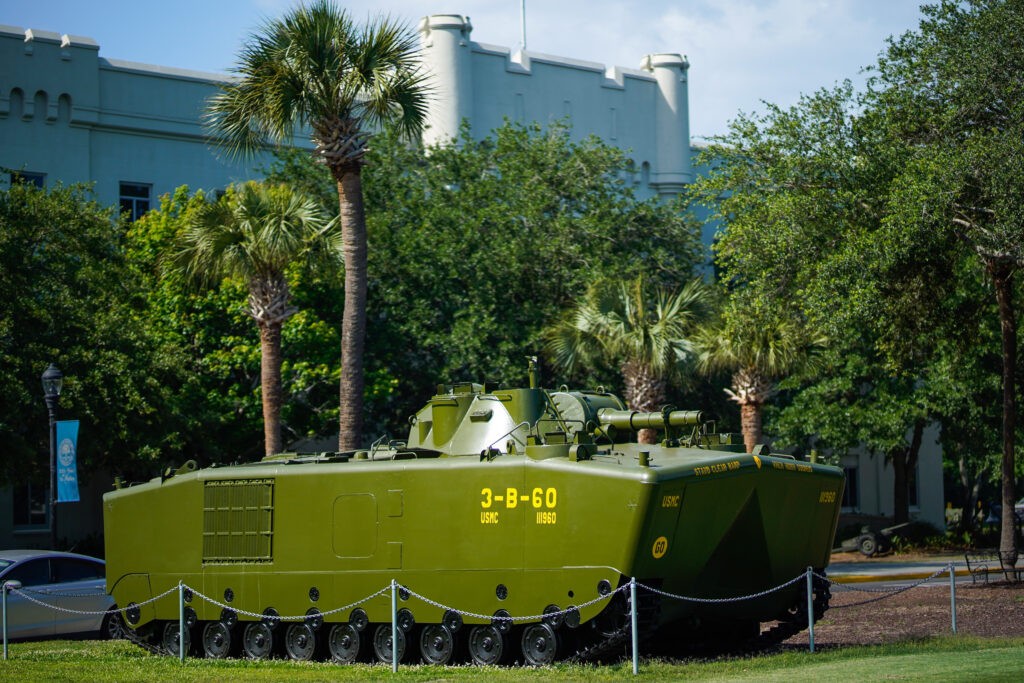 Other improvements to the parade ground include the repaving of perimeter roads, upgrades to displayed cannons near Jenkins Hall and rehab of the USS CORAL SEA (CV-43) anchor. Permanent locations and rehabilitation for the retired 75MM "Lizzie" and "Betsy" salute guns are being determined.