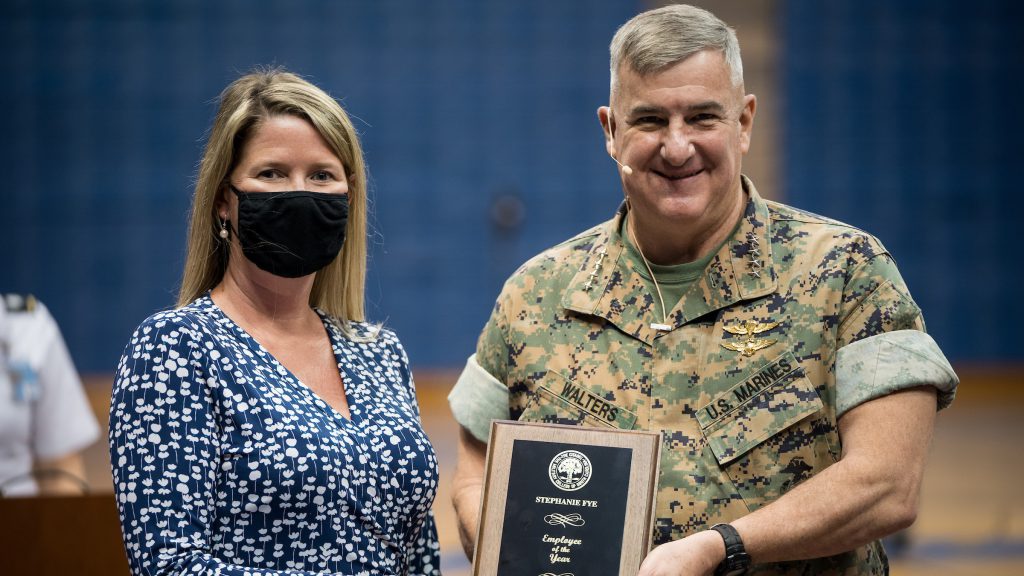 Photo: Citadel President Gen. Glenn Walters, USMC (Ret.), '79, presents Stephanie Fye with the Employee of the Year Award during a town hall meeting with faculty and staff in McAlister Field House on Wednesday, April 15, 2021.
Each year The Citadel rewards one employee and one team for their superior performance and contributions
The Citadel is proud to recognize more than a dozen people who helped ensure cadet success, both daily as well as through the COVID crisis.
The 2021 Team of the Year – going to members of the Commandant's Department who were most instrumental in supporting the South Carolina Corps of Cadets in the COVID crisis – includes Sgt. Maj. Andrew Yagle, Lt. Col. Pam Barton, Shelton Milner, Chief Master Sgt. Jennifer Kersey, Maj. Tyler Evans, Suzanne Bufano, Ph.D., Jenni Garrott, Bryan Dukes, Cliff Jakes, Sgt. 1st Class Arthur Rich, Carey Capell, D.O., MPH, and Andy Clawson.
Stephanie Anne Fye, from the Department of Civil and Environmental Engineering is the Employee of the Year for 2021.
Here's a look at what sets these employees apart:
Stephanie Fye, 2021 Employee of the Year
Stephanie Fye is the Student Services Program Coordinator for Civil, Environmental and Construction Engineering at The Citadel. In her role, she encourages cadets and students while facilitating their successes. She also plays a vital role in the ExCEL scholarship program.
The nomination letters read in part:
Stephanie goes well beyond the Call of Duty, as her exceptional student services and academic support achievements constitute a full-time position, despite comprising only 35% of her official job duties. In her three short years, Stephanie has transformed our department's academic environment into one that is extraordinarily welcoming, supportive and empowering for all student groups – cadets, evening students, active duty, and veterans – regardless of their prior level of college preparedness.
Stephanie led creation of an advising program for at-risk engineering students. She started by personally identifying civil and construction engineering freshmen who were performing poorly in their math courses. Typically, math is the most significant barrier course to our engineering students, and poor performance in the first math course often leads to attrition. Stephanie met at least weekly with 17 freshmen to discuss time management, study habits, and other salient skills or challenges. After one semester of personalized, consistent academic support from Stephanie, students' GPAs increased significantly from 2.07 to 2.49
Commandant's Department, 2021 Team of the Year
The Commandant's Department is responsible for the development and oversight of the 2,300 members of the South Carolina Corps of Cadets. During the last academic year, the department created the conditions necessary for cadets to continue the residential experience that is critical to The Citadel's mission and core identity.
The nomination letters read in part:
By word and deed, by example, by commitment and compliance, by communication and over-communication, by every little thing, the Commandant's Department created conditions that allowed the cadets to lead themselves to success.
The Citadel's overall response to the COVID crisis has been exemplary and highlighting the excellence of one group is not intended to diminish the contributions of others. Nonetheless, it probably is not too much to say that had the Commandant's Department not done what it did, The Citadel would not have been able to deliver an on-campus experience this year. Developing the plan to make that experience possible was no small task, but the execution of that plan was tested every day and it was only by constant diligence and can-do attitude that success was achieved. In many ways, the residential aspect of the SCCC did not just survive the COVID experience, but it thrived.
Employees of The Citadel can nominate coworkers for this award annually. The nominations are reviewed by the Employee Recognition Committee, which makes selections based on exceptional contributions to The Citadel, fellow employees and the community in the following areas:
Service and quality of work in performing "beyond the call of duty"
Impact of professionalism and dedication to excellence
Initiative and reliability beyond required assignments and expectations
Uniqueness of contributions