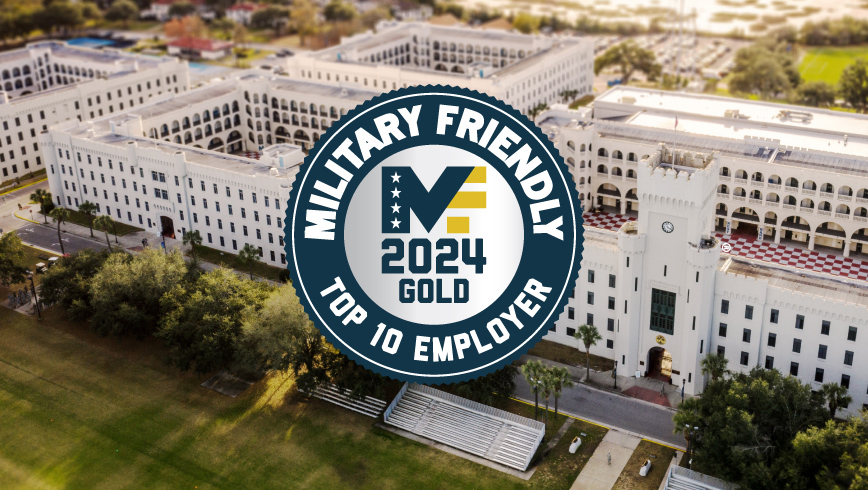 The Citadel, the Military College of South Carolina, is the only higher education institution to be ranked as a Top 10 Military Friendly® Employer for 2024.
The rankings, which were released Nov. 10, position The Citadel in 8th place among organizations making less than $500,000,000 a year.
"The Citadel could not be more committed to supporting members of the Armed Forces before, during and after their service. We are proud to see this recognition of our efforts to employ and support our veterans," said The Citadel President Gen. Glenn Walters, USMC (Ret.), '79. "Hiring more veterans also benefits our cadets, as it allows those who will serve after graduation to learn from those who served before them."
Institutions earning the Military Friendly® Employer designation were evaluated using both public data sources and survey responses. More than 1,200 companies participated in the 2024 Military Friendly® survey.
"The Citadel's core values of honor, duty and respect set us apart from other employers," said Leah Schonfeld, assistant vice president for The Citadel Office of Human Resources. "Our campus culture, heavily inspired by that of the military, provides an ideal and comfortable environment for veterans, no matter how recently they ended their service. We are so pleased to be recognized as a Top 10 employer for veterans."
The Citadel actively recruits and engages all military members, veterans and their families; for more information on career opportunities, current openings are listed at this link.
"Organizations earning the Military Friendly Employers designation have wholeheartedly invested in comprehensive and impactful initiatives that bring about positive, life-changing results for our valued service members, dedicated military spouses and esteemed veterans within their ranks," said Kayla Lopez, Senior Director of Military Partnerships at Military Friendly®. "We salute these exemplary employers who raise the bar and understand that hiring military personnel is not merely an act of goodwill but a testament to a standard that truly embodies sound business wisdom."
The Citadel will be featured as a 2024 Military Friendly® Employers in the winter issue of "G.I. Jobs®" magazine and on MilitaryFriendly.com.
About Military Friendly®
Military Friendly® is the standard that measures an organization's commitment, effort, and success in creating sustainable and meaningful benefits for the military community. Over 1,500 organizations compete annually for Military Friendly® designation. Military Friendly® ratings are owned by Viqtory, Inc., a service-disabled, veteran-owned small business. Viqtory is not affiliated with or endorsed by the U.S. Department of Defense or the federal government. Results are produced via a rules-based algorithm. The data-driven Military Friendly® lists and methodology can be found at https://www.militaryfriendly.com/mfcguide/.