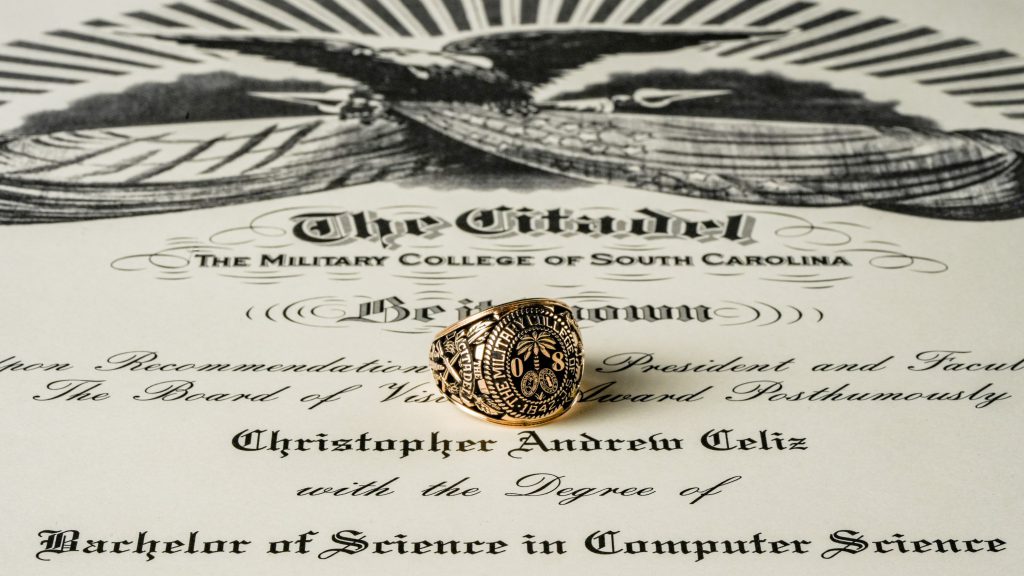 "It was said Chris never met a stranger, and if you made a connection with him, it was forever."
On Veterans Day 2022, The Citadel officially welcomed a national hero into the Long Gray Line of alumni.
The Military College of South Carolina presented a posthumous degree and class ring to the family of Sgt. 1st Class Christopher Celiz, a member of the Class of 2008.
Celiz, a native of Summerville, South Carolina, attended The Citadel from 2004-2006, leaving the college in good standing to join the Army in 2007.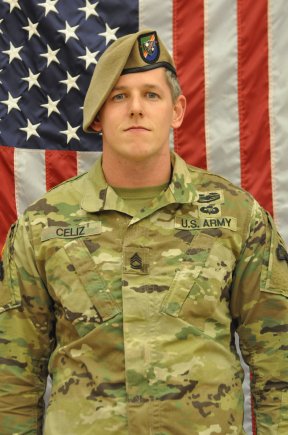 "Chris was the guy who made everyone part of the team," said The Citadel President Gen. Glenn Walters, USMC (Ret.), '79, during the presentation. "His classmates wondered if he slept. All Citadel alumni knew 'go-to' guys in their company they could always count on — Chris was one of these in spades. He and his family took out-of-town cadets under their wing and made them feel like they were home. He was, by all accounts, everything you wanted in a comrade and classmate."
Celiz was selected to serve with the 75th Ranger Regiment as a combat engineer in 2013. At the time of his death, Celiz was serving as the battalion mortar platoon sergeant and was in the process of reclassifying to the infantry branch. He was killed during combat operations in Afghanistan on July 12, 2018, making the ultimate sacrifice to guarantee the safety of those around him.
For his heroism and selflessness, he was posthumously awarded the Medal of Honor in 2021. His name was also added to The Citadel War Memorial in 2018, along with the other Citadel alumni who were killed in action before him.
This is the second posthumous degree to ever be presented by The Citadel. The first was presented in September of this year to the family of Lt. Col. George McMillan, USAAF, '38, after a change in college policy allowed posthumous degrees to be presented to cadets and students who left the college in good standing.