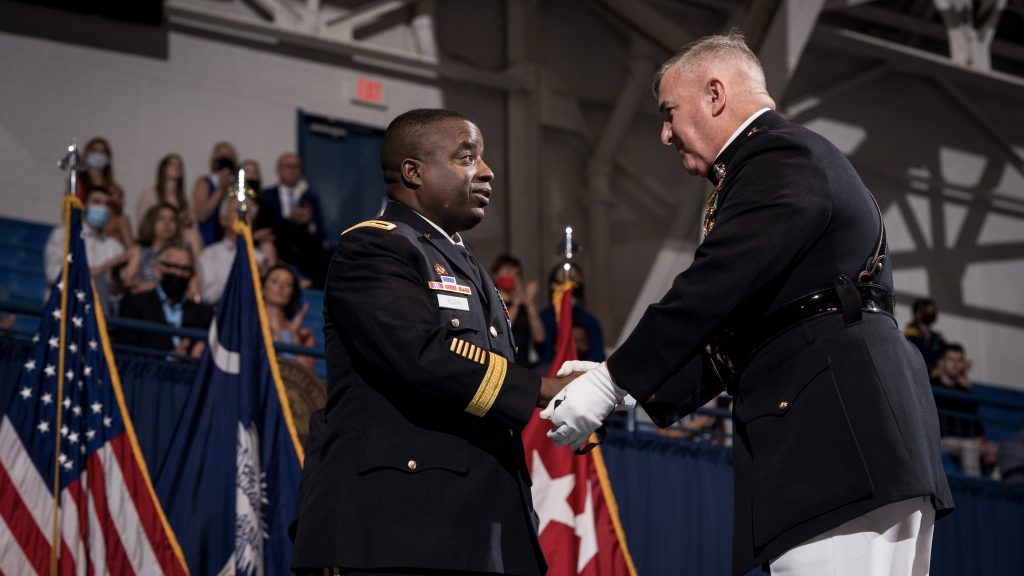 Photo: Maj. Gen. David Wilson, '91, and President of The Citadel Gen. Glenn Walters during the Saturday afternoon commencement ceremony.
The Citadel Board of Visitors presented honorary degrees to the five recipients from 2021, as well as honoring two recipients of honorary degrees from 2020.
The honors were spread out across both morning and afternoon ceremonies for the South Carolina Corps of Cadets on Saturday, May 8, and for The Citadel Graduate College on Sunday, May 9.
Honorary degrees are awarded to the speakers for the commencement ceremonies for The South Carolina Corps of Cadets and The Citadel Graduate College, as well as those who have demonstrated exceptional commitment to the college during their lifetime.
The 2021 honorary degree recipients are:
Former Sheriff J. Al Cannon Jr.
Former Charleston County Sheriff J. Al Cannon Jr. is a leader, a visionary and a public servant who ushered in the modern era of law enforcement in Charleston County.
During the height of the Cold War, Cannon served in the U.S. Air Force in Berlin as a Russian translator. His return home marked the beginning of his career in law enforcement. Sheriff Cannon earned a law degree, served in the U.S. Air Force Reserves and joined the North Charleston Police Department, where he rose to the rank of police chief. In February 1988, he was elected sheriff of Charleston County, a position he held for 32 years. As sheriff, he fought for modernization, training and resources, and under his leadership, the Charleston County Police Department and the Charleston County Sheriff's Office successfully merged. His legacy of overcoming challenges and being a force of change is enduring.
In recognition of a lifetime of service to his nation, to the state of South Carolina, and to his local community, The Citadel Board of Visitors is proud to award Sheriff Al Cannon the honorary Doctor of Public Administration degree.
William W. Gaffney Jr.
William W. Gaffney Jr. is an insightful businessman and a loyal and devoted alumnus.
In 1973, Gaffney graduated from The Citadel with a degree in Business Administration. Like his father and grandfather before him, Mr. Gaffney went to work in the death care industry. He served as general manager and president of Woodlawn Memorial Park in Greenville, the largest cemetery in South Carolina. In the 1990s, the Greenville native became part owner and manager of Gorham Bronze Company, a leading supplier in the cemetery and funeral home industry. In 2001, he became president of Citadel Management, a real estate management company operating ten funeral homes and 27 cemeteries.
As a business owner and an alumnus, Gaffney is committed to The Citadel's core values — honor, duty and respect. In 2016, he was inducted into the Tommy and Victoria Baker School of Business Hall of Fame. He is also a member of The Citadel Foundation Board of Directors as well as the Society of 1842.
In recognition of his principled leadership and his unwavering devotion to his alma mater, The Citadel Board of Visitors is proud to award William Gaffney the honorary Doctor of Commerce degree.
Capt. Eugene Francis Paluso II, USN (Ret.), '89
Captain Eugene Francis Paluso II is a retired U.S. Navy SEAL and the current commandant of the 2,300-member Corps of Cadets.
A native of Washington, Pennsylvania, Captain Paluso graduated from The Citadel in 1989 with a Bachelor of Arts degree in Mathematics before being commissioned in the Navy. During his 25-year military career, Paluso held leadership roles and commanded special operation forces in the Balkans, Iraq and Afghanistan, leading men and women in combat at all levels.
After retiring from the Navy in 2014, Captain Paluso returned to his alma mater, where he has served with distinction. His tenure as commandant has been marked by tremendous growth and effective reform. In this role, he oversaw the development of yearly experiential training courses for all classes, which have had a demonstrated impact on The Citadel's leader development program. As commandant, he has made difficult decisions that effected positive changes. He has set new standards, revised policies, and created new programming. He is a revered leader whose steady and confident influence on the Corps of Cadets has enabled the college to navigate and successfully emerge from difficult times.
For his service to his nation and to his alma mater, The Citadel Board of Visitors is proud to award Captain Eugene Paluso the honorary Doctor of Leadership Studies degree.
Norman Seabrooks, '73
Norman Seabrooks is an accomplished athlete, an astute businessman and a trailblazer who serves as an example to all students about the value of fortitude, determination and ethics.
Seabrooks attended Pahokee High School in the 1960s, in a small South Florida farming community on the eastern shore of Lake Okeechobee. He lettered in football, baseball, and track and field, and he became the first African American student at Pahokee High to earn a college athletic scholarship when he was invited to matriculate as the first African American scholar athlete in the history of The Citadel. During his cadet career, he was a three-year starter at defensive tackle and the first African American co-captain of The Citadel football team. As a senior in 1972, he was named the South Carolina Player of the Year and starting tackle on the Southern Conference all-conference team. A dean's list student, Seabrooks graduated in 1973 with a Bachelor of Arts degree in History, and in 1994, he was inducted into The Citadel Athletic Hall of Fame.
After graduation, Seabrooks joined Aetna, where he served with distinction for 47 years. At the time of his retirement in June 2020, he was the only African American market president of the 300,000-employee Fortune 500 Company. Seabrooks has previously served on the board of the Washington Athletic Club and the Washington Vaccine Association, and he currently serves on the board of the University of Washington Graduate Program in Health Services Administration.
For his legacy of ethical leadership, sportsmanship and service to his community, The Citadel Board of Visitors is proud to award Norman Seabrooks the honorary Doctor of Leadership and Ethics in Commerce degree.
Maj. Gen. David Wilson, '91
Maj. Gen. David Wilson is a Citadel graduate and a highly decorated U.S. Army officer whose servant leadership makes him an inspiration and a role model to both cadets and alumni.
The highest-ranking African American graduate of the South Carolina Corps of Cadets, Wilson is currently the commander of the 8th Theater Sustainment Command at Fort Shafter in Hawaii. Upon graduating from The Citadel in 1991, he was named a Distinguished Military Graduate by the U.S. Army Cadet Command, a distinction awarded to the top five percent of ROTC graduates. Throughout his illustrious 30-year career in the Army, General Wilson has completed several combat tours, and he has been recognized for his outstanding service with a number of awards, including the Distinguished Service Medal.
As an alumnus, Wilson is a loyal supporter of the college through recruiting and mentoring cadets and helping to keep alive the memory of Charles A. Foster, The Citadel's first African American cadet. In all that he does, General Wilson illustrates the importance of hard work and perseverance.
For his service to his nation and to his alma mater, The Citadel Board of Visitors is proud to award General David Wilson the honorary Doctor of Military Science degree.
The 2020 honorary degree recipients are:
James Martin Hayes Jr., M.D., '60
S.C. Rep. James H. "Jay" Lucas