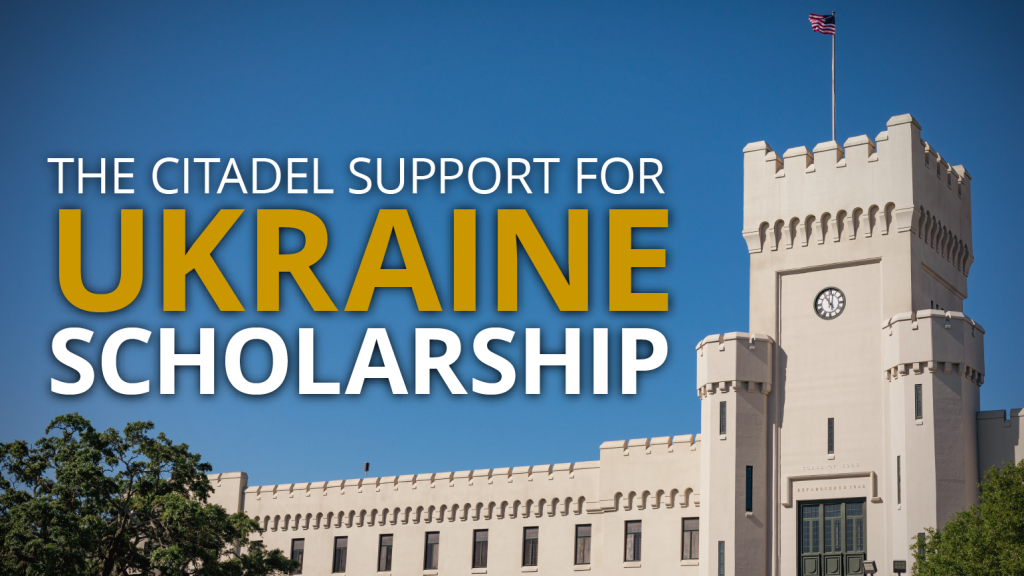 As some parts of the world celebrate Victory Day, The Citadel community remains committed to supporting the pillars of democracy across the globe.
In less than one week, The Citadel is more than 80% of the way to funding the $200,000 which will be used to provide Citadel educations to two Ukrainian citizens affected by the Russian invasion — and there is still time to give.
"As Russia celebrates Victory Day, we here at The Citadel are looking forward to celebrating our own victory day very soon," said Gen. Glenn Walters, USMC (Ret.), '79. "Through the generous donations from members and friends of The Citadel Family, we have nearly completed the challenge of raising $100,000. Once met, that number will be doubled and invested in the future leaders of Ukraine."
Walters announced an anonymous donor's matching gift to The Citadel Support for Ukraine Scholarship on May 3 — The Citadel Foundation's fifth annual Giving Day.
Since then, donors have stepped forward to pledge more than $80,000 towards that effort.
"It will be an important day when we reach our fundraising goal," Walters continued. "But what will be an even more important day is August 13, when two Ukrainian citizens step foot on campus to join the South Carolina Corps of Cadets. Coincidentally, these two Ukrainian cadets will also celebrate their nation's independence day on August 24, just 11 days after beginning their education at The Citadel."
In April, the college announced that it would offer two scholarships — covering full tuition, room, board and fees — to Ukrainian citizens affected by the Russian invasion.
Ukrainian citizens interested in applying for the scholarship should contact Dr. Kelly Brennan, associate provost of enrollment management, by email at admissions@citadel.edu.
The Citadel has committed to funding these scholarships. However, gifting is available to anyone wishing to support the effort or potentially allow for the scholarship to be expanded.
To make a gift to The Citadel Support for Ukraine Scholarship through The Citadel Foundation, click here.