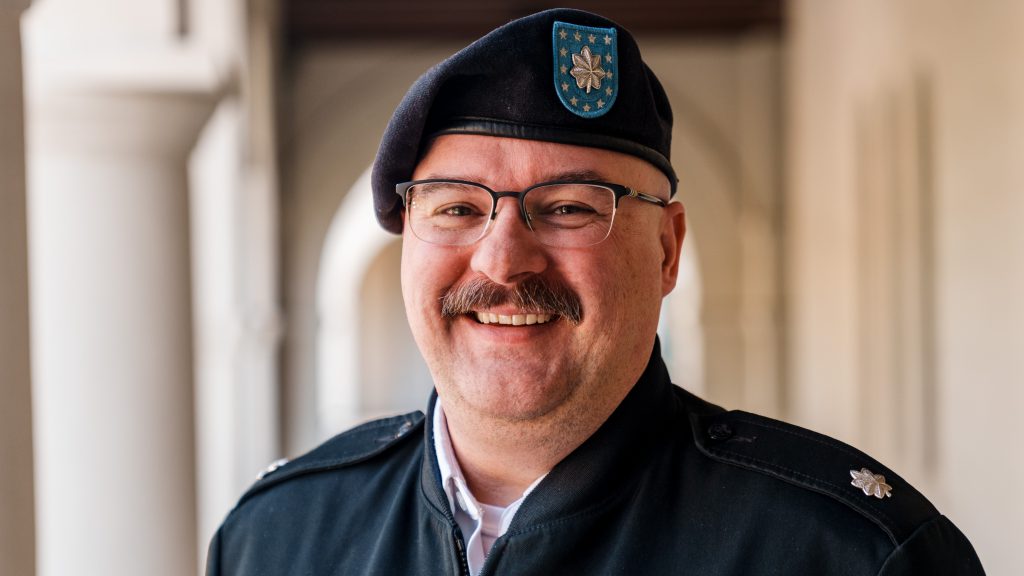 One of the four pillars of a Citadel education is academics, and the faculty are the foundation for scholastics on campus.
One especially prominent member of The Citadel faculty is English professor Michael Livingston, Ph.D., who was recently appointed as the first-ever Citadel Distinguished Professor. Livingston joined The Citadel in 2006 and is an internationally known scholar whose research focuses on the military history of Europe in the early middle ages.
"The Citadel Distinguished Professor position is intended to honor our exceptional scholars and support their research and publications activities," said Provost Sally Selden, Ph.D., SPHR. "We are excited to celebrate Dr. Livingston's remarkable scholarly achievements and teaching excellence. No question he has made major contributions to his discipline and to the educational experiences of our cadets and students," she added.
The Citadel Distinguished Professor position comes with an annual stipend and a research budget, and it is the first designation of this kind at The Citadel. Selden hopes to name more members of the faculty as Citadel Distinguished Professors – which are different from the endowed chair positions that already exist on campus – in the future.
Livingston's most recent book is "Origins of The Wheel of Time: The Legends and Mythologies that Inspired Robert Jordan," which focuses on the epic fantasy novels by Robert Jordan, the pen name for James Rigney Jr., '74. The book was perfectly timed to release just as the first season of Rigney's "Wheel of Time" debuted as a TV show on Amazon Prime. Additionally, Livingston maintains his connection with Rigney by keeping his old desk and chair in his office, as well as other personal items and the full collection of his books.
Livingston is one of The Citadel's most prolific scholars, producing new works on nonfiction and fiction almost yearly. In recent years, Livingston has written "Crecy: Battle of the Five Kings," "Never Greater Slaughter: Brunanburh and the Birth of England" and "1066: A Guide to the Battles and Campaigns." Livingston's "Battle of Crécy: A Casebook" and "Medieval Warfare: A Reader" have won Distinguished Book Prizes from the Society for Military History. His current project is a book-length study titled "Agincourt: Battle of the Scarred King" set to be published in October 2023. Livingston is also the author of several works of fiction, including the three volume "Shards of Heaven" series based on the history of the Roman Empire.
Livingston currently serves as the Secretary-General to the United States Commission on Military History and sits on the Board of the South Carolina Academy of Authors. Livingston has appeared in numerous documentary television programs and specials, media interviews and podcasts episodes. To keep up with his upcoming appearances or learn more about him, click here.