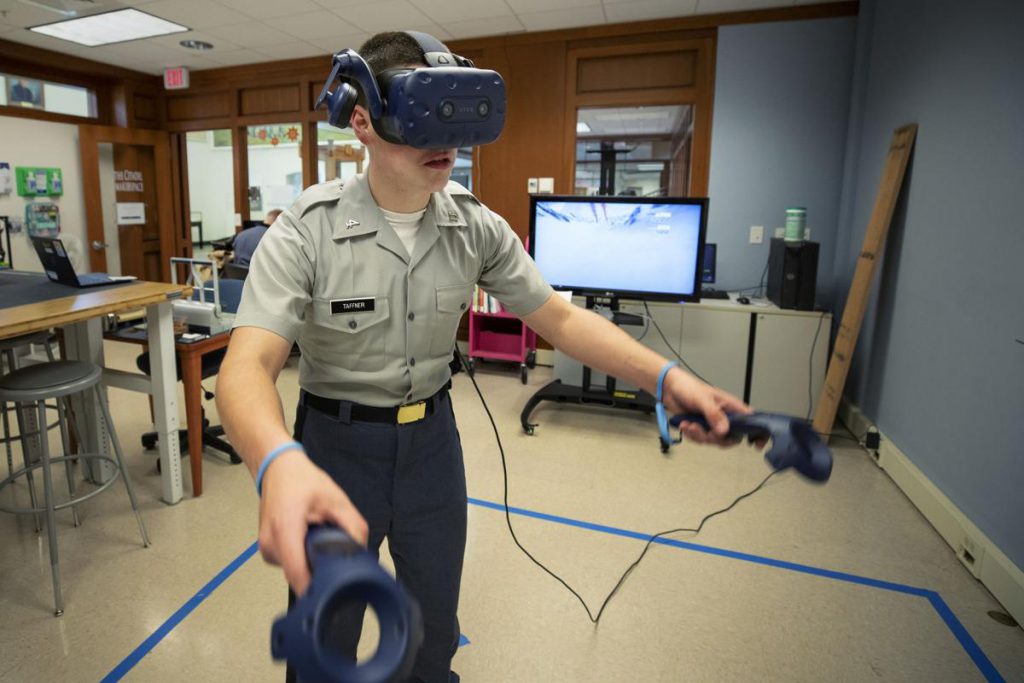 Joseph Taffner, treasurer of the Maker Space Club, goes virtual reality skiing in the Daniel Library. Photo courtesy of The Post and Courier, by Lauren Petracca
Citadel freshman Joseph Taffner straps on a pair of virtual-reality goggles that make him look like an alien wearing headphones. He chooses a ski run from the digital menu and is off, carving his way down the mountain with no fear of face planting.
At the end of the run, there's no trudge to the lift line. Taffner is in The Citadel's "Makerspace" in Daniel Library, an emerging technologies lab and one of the military school's features that helped its recent recognition from US News and World Report.
The Makerspace lab includes 3-D printers, a milling machine, a large format printer and other technologies, including the VR goggles, computer-assisted design software and lessons in hologram making. Virtual-reality skiing provides Taffner and other cadets a welcome break during finals week.
"I'm in here a lot, probably three or four times a day," said Taffner, a mathematics major from upstate New York. "You can come here to not be in the barracks. I can make whatever I want on the printers, and it's very relaxing."
The Makerspace also is important in providing cadets with the hands-on experience that can pay off in the job market.
"It's vital, because these are the skills that people will need," said Dan Hawkins, the academic technology librarian at The Citadel. "Employers are looking for people with the ability to solve problems, for people with practical experience in working with their hands, and people with digital skills. The stuff you can learn here in Makerspace is exactly that."
Hawkins said cadets from foreign-language classes to art classes and the business school have found applications for the 3-D printers, for example.
"The purpose of the space is to give students some skills that will help them in whatever discipline they are in," he said. "If you look at industry hiring now, there is a big gap between engineers and unskilled labor; the real need is somewhere in between."
Other examples of innovation at The Citadel include:
• The Swain Dept. of Nursing Human's Simulation Lab allows cadets and students to practice inserting needles, checking vital signs and responding to heart attack or stroke symptoms on adult and pediatric mannequins.
• The Innovation and Entrepreneurship Speaker Series brings successful entrepreneurs to speak to cadets each semester at the Tommy and Victoria Baker School of Business.
• Since 2011, seniors in the Dept. of Electrical and Computer Engineering have developed self-driving vehicles to compete in an international competition that promotes innovation in the application of numerous technologies to self-driving vehicles.
• The Center for Excellence and Innovation in Teaching, Learning and Distance Education provides leadership and support for innovation in teaching both in the classroom and online. The center recently announced a Teaching, Learning and Technology Lab, which houses a wide range of technologies and applications to support future educators.
• The Sustainability Project teaches cadets how to grow crops in a controlled, indoor farm setting, helping to produce healthy, organic produce regardless of unpredictable weather or crop disease.
Other examples include the business schools' annual Business Bowl competition; a recent grant to develop campus guidebooks on racial understanding and equity; and a class taught by former Charleston Mayor Joe Riley on the making of the International African American Museum.