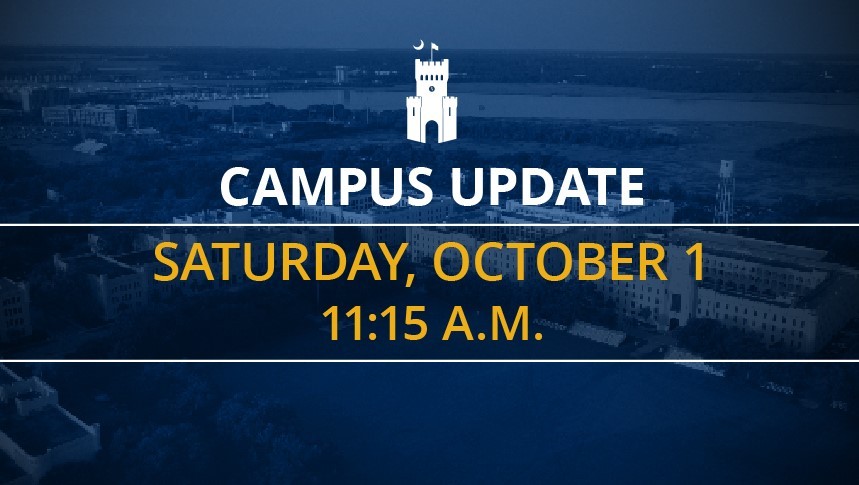 October 1, 11:15 a.m.
The Citadel has returned to normal operations following Hurricane Ian.
In-person classes will resume on Monday, Oct. 3, as planned.
Services that are normally available on weekends – to include the mess hall, Daniel Library, Deas Hall, Chick-fil-A and Starbucks – are open.
There was minimal damage to a few trees and a residential building on campus. Employees from The Citadel's Facilities and Engineering department will be working throughout the weekend to both remove storm debris and ensure all buildings are fully operational.
Cadets have been granted general leave, though many are volunteering to help clean up both the campus and the community.
September 28, 6:20 p.m.
Ahead of inclement weather from Hurricane Ian, The Citadel will cancel in-person classes for both Thursday, Sept. 29, and Friday, Sept. 30.
Classes will be held asynchronously – rather than reporting to class during their allotted class times, cadets and students should log onto Canvas for specific instructions from their professors.
All administrative offices will be closed on those days as well.
Essential personnel should check with their supervisors regarding requirements for the remainder of the week and weekend. All other employees are asked to work from home.
Locations on campus that will be open include:
Mess Hall
Chick-fil-A
Starbucks
Mark Clark Hall convenience store
Daniel Library
Infirmary
Deas Hall
The mess hall will maintain normal hours. Other facilities' may vary depending on staffing availability.
Other services, available virtually, include:
Academic Support Services
Counseling Center
Center for Excellence and Innovation in Teaching, Learning and Distance Education
Athletic matches scheduled for Thursday and Friday are also canceled.
The Corps of Cadets will remain on campus. Leave policy for cadets will be determined and announced by the Commandant of Cadets.
Campus emergency response personnel will continue to monitor the situation and issue updates as necessary.
September 28, 12 p.m.
The Citadel continues to monitor Hurricane Ian and potential effects on the region. Parts of South Carolina are under a Tropical Storm Warning.
For more information on Hurricane Ian's projected track, click here.
Daily operations and classes remain as scheduled. The Citadel is also preparing for tropical storm conditions and monitoring local effects to include flooding and bridge access.
In the event The Citadel cancels classes or holds classes online, faculty, staff, cadets and students will be notified as soon as a decision is made. The college administration will evaluate and announce any changes to Thursday evening's class schedule by noon Thursday.
Some changes to campus activities include:
Friday's parade is cancelled.
Soccer matches this weekend are rescheduled to Thursday at 3 p.m. versus WCU, and with ETSU 4 p.m. Monday, both on WLI Field. The volleyball match against Western Carolina has been moved to Sunday at 5 p.m.
Other changes to game schedules will be posted here and on the Athletics website.
Changes to schedules or operations will be added to the top of this webpage, and will also be communicated via email, social media and BulldogAlerts.
The Citadel's hurricane planning processes and resources
The safety of cadets, students, faculty and staff is always the college's primary concern.
During inclement weather, The Citadel takes all actions necessary to ensure the well-being of the campus community and to protect facilities and resources.
The Office of the President, emergency response leaders and the Department of Public Safety monitor weather effects to campus 24 hours a day. Citadel Public Safety routinely notifies campus when inclement weather may impact campus, to include flooding caused by heavy rains and/or high tides.
As tropical systems develop, the college's Crisis Management Team coordinates operational plans in conjunction with South Carolina and Charleston County emergency management officials.
As a storm or hurricane approaches, the campus community is notified well in advance of potential impacts. Updates are provided as situations develop.
If classes or campus events must be canceled, campus closes or an evacuation is ordered, The Citadel BulldogAlert system sends emergency messages via phone call, text message and email to subscribers as each development occurs. BulldogAlerts are also posted on this public page. All faculty, staff, cadets and students are strongly encouraged to subscribe to the BulldogAlert system. For information on how to subscribe, click here. Families are also welcome to subscribe.
Emergency notifications are also posted on The Citadel Today newsroom and on the college's Facebook and Twitter pages as required.
Procedures while preparing for a hurricane
If the Governor of South Carolina or Charleston County Emergency Response Officials direct government offices to close or issue an evacuation order for the area, The Citadel will comply. The Citadel's leadership team will keep cadets, students, faculty and staff informed of any closures or operational impacts on campus.
The Office of the Commandant of Cadets has plans in place for safe, orderly evacuation of cadets if directed.
If a decision is made to evacuate, the Commandant's staff and cadet leadership execute procedures, including securing personal belongings, turning in rifles and an accountability system ensuring every cadet has transportation to a safe location. Plans and instructions for a rapid return once campus is safe and able to support the Corps are also passed to the campus community.
Cadets are responsible for keeping their families apprised of their whereabouts.
Faculty, staff and non-cadet students will have ample time to prepare for a storm and evacuate the region as required.
Following an evacuation, return to work and reconstitution schedules will be communicated through the channels listed above.
The Citadel's general hurricane and inclement weather procedural and policy information is here.
Continuity of Instruction if classes are canceled
In the event classes are canceled, The Citadel has a Continuity of Instruction (COI) plan.
If classes are canceled for five days or less, the college will make up those classes throughout the rest of the semester by teaching asynchronously. After more than five days, The Citadel will begin to teach synchronously as outlined in the COI.
Cadets and students should watch for specific information regarding canceled labs or specialty classes.
If an evacuation is necessary, in-person classes will resume on the first school day following the reconstitution of the South Carolina Corps of Cadets.
For more information on the COI, click here.