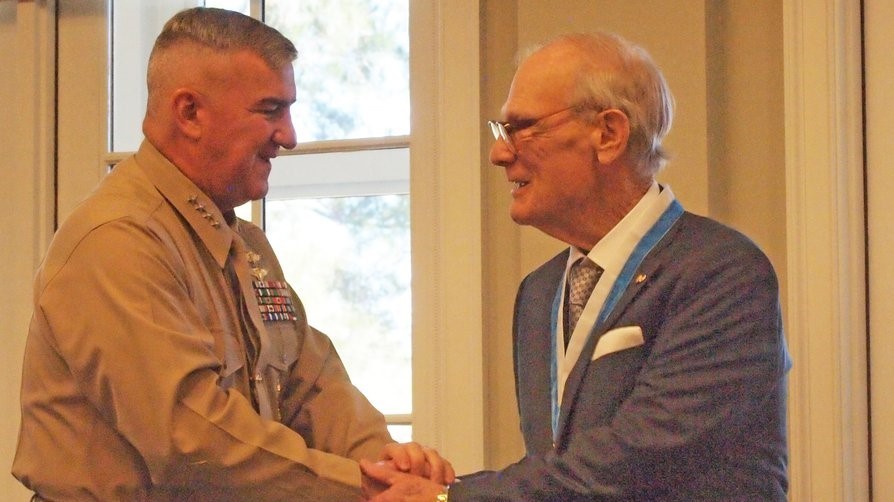 Photo: U.S. Marine Corps Gen. Glenn Walters, left, with Bob Mock at a special called meeting of the Richmond HIll Exchange Club. (Courtesy: Jeff Whitten)

This is what in newspaper language is called a follow-up.
It's the second part of a story in which the hero is an unassuming 83-year-old South Bryan man who didn't want his name used in a story last week because he didn't want people to look at him differently for donating millions of dollars to various good causes.
Read the original story titled South Bryan Man using donations to have lasting impact.
That man, Bob Mock, was honored Friday by The Citadel, one of the recipients of his desire to leave some of his wealth behind to help others. Here, perhaps it's worth noting Richmond Hill Exchange Club meetings don't regularly see so many stars on one collar.
In this case, they belonged to four-star U.S. Marine Corps Gen. Glenn Walters, there at the Richmond Hill City Center on Friday to hang a medal around Mock's neck in recognition of his gift to The Citadel. Both men are alumni of that particular military college in Charleston, S.C. Walters, a 1979 graduate, spent 34 years in the Marines and rose to the rank of assistant commandant of the Marine Corps before becoming president of The Citadel.
Mock, a Florida native and a member of The Citadel's Class of 1958, spent time after graduation in the Army as a private – "learning humility," he said – before getting out and embarking on a business career that led from sales to his becoming owner of Savannah-based Power Brake and Wheel with his wife, Charlotte, and an early retirement down on the marsh.
By accounts Mock has never forgot the humility part, and seemed somewhat surprised to learn his anonymity in this newspaper would be short lived – yet nowhere near as short as his speech to fellow Exchange Club members after his being honored by The Citadel luminaries ranging from Bill Yeager, the head of the school's legacy giving foundation to Dr. Michael Weeks, the dean of the school's business school.
That speech weighed in at about three-to-five minutes, just like he learned in Toastmasters, Mock said.
In it, he offered up gratitude to his fellow Exchange Club members for moving the club's meeting from Wednesday to Friday.
He thanked Laura Evans, another former club president, for handling his investments and making his giving possible.
He acknowledged Walters, and Yeager, and others from The Citadel, and then his friends Mike and Terry Duncan from Toastmasters, and Dan and Carol Cramer from his church, St. Elizabeth's Episcopal Church; and Vernon and Tish Lawless, who like Mock are involved in the local Marine Rescue Squadron and also are members of St. Elizabeth's.
And he thanked his wife of 58 years, Charlotte. "That's why she's not here today," he joked.
Mock then explained why he is giving so much back to The Citadel. It started in 1954 in a Florida backyard while his dad cooked on a grill and his brothers wrestled, when Mock said he told his mother he didn't want to spend the rest of his life driving a dump truck. "I said I wish I had chosen a small college instead of the University of Florida," and his mother said she had just the place for him.
"I should have known I was in trouble when I saw those cadets on either side of Lesesne Gate as we drove in, and remember I didn't even know it was a military school. Especially when I watched my parents drive away and I was all alone. The next day was hard.
The next week was even harder, but the whole year was really tough."
He made it through four years, and that time at The Citadel gave Mock everything, he said.
"When I went there, I couldn't do anything. I was not a good student, I had no discipline, and four years later I had it all. Thank you, it's been an honor and that's my story."
Walters, who spoke about the common bond the school's 28,000 graduates have with one another, said the school, one of six senior military colleges in the U.S., depends on graduates like Mock to continue to move forward.
"We don't do it without standing on the shoulders of giants, and that's who we're here to honor today," he said.
Yeager said the Mocks were inducted into the school's Tartan Society in 2016 for 25 years of contributions. Friday, they were named to the The Citadel's Society of 1842 for giving between $1 million and $5 million, and The Citadel Legacy Society.
Mock's gift will be used to establish an entrepreneurship lab at the school's business college, Yeager said.
The Citadel is one of four things Mock put on a list to give to, and his donations so far have exceeded $3 million.
The others include his church, animals and the homeless.