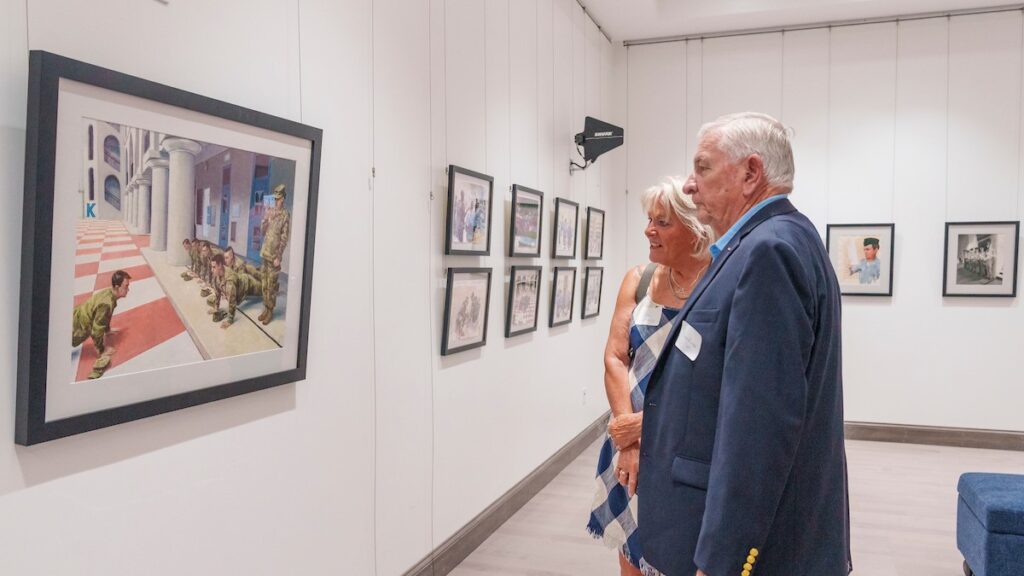 Photo: Attendees of the Capers Hall ribbon-cutting ceremony explore the art gallery located inside the building.
In ordered rows of regulation gray, a class of cadets at The Citadel is focused intently on the task at hand.
Black caps dotting new desks, they lean in, weighing well the instruction of the professor in front of them, in rapt gravity, as he explains how the brain can trick you. But for a visual clue or two, one might conclude they are prepping for some covert military operation.
But this formation is painstakingly drawing shapes, measuring and eyeballing to get them down exactly right. Hunched over sketch pads, they deploy pencils to paper, rendering squares of various sizes, informed by a front-of-class projection of a bucolic painting of a timeworn barn.
The topic that so holds their focus is perspective, and on my recent visit to The Citadel's new Capers Hall, they look nothing less than duty bound.
A bona fide building
The Citadel has just snipped the ceremonial blue ribbon to open the new Capers Hall, which houses the School of Humanities and Social Sciences. The previous building of the same name was demolished in 2021 to make way for the new one, which was designed by the architectural firm Woolpert.
It's far more than just a freshly minted, fortress-like façade. It's a 97,500-square-foot, state-of-the-art testament to the Military College of South Carolina's mission-driven commitment to the humanities and fine arts.
First, there's its location. On its high-profile terrain near the campus entrance, it is situated steps from an iconic bronze likeness of the heralded, hard-won Citadel class ring. On the other side, it spills onto Hagood Avenue near the stadium.
Inside, 39 smart classrooms offer an intriguing amalgam of courses, spanning criminal justice; intelligence and security studies; English, fine arts and communications; history; modern languages; literatures and cultures; political science and psychology.
There are other spaces, too. Along with a slew of offices and gathering rooms, a glass-framed gallery space will mount art exhibitions that are open to the public. A fetching new auditorium seats 250, adding considerably to the constellation of Charleston arts venues.
If that isn't a tell of how serious The Citadel is taking its humanities and fine arts curriculum, there is also the $67 million total cost, with $6 million donated by alumni and supporters, along with institutional and state support.
Tour of beauty
On a recent September morning, I am guided by Tiffany Silverman, The Citadel's first director of fine arts and fulltime faculty member. Her excited smile beams up from her military-style attire, her shiny black heels clicking as she whisks me through hallways dressed with nods to classical columns, which punctuate Citadel blue-hued walls, into classroom with state-of-the-art digital equipment.
She credits faculty collaboration with devising the thoroughly modern facility that matches the equally modern curriculum of the fine arts program, which now offers students a minor degree conceived to work in lockstep with all manner of majors. It draws students of all skill levels who first come to fulfill an elective and then get hooked, often taking one class, then accelerating to earn the minor. The program reaches about 25 percent of the student body and continues to grow.