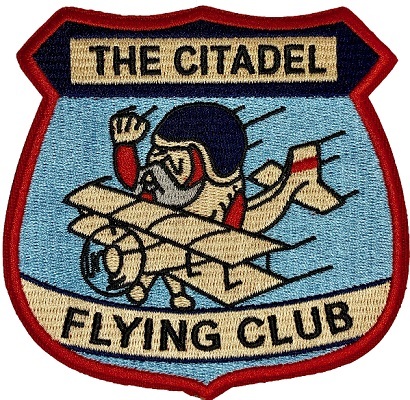 As seen in The Brigadier, by Cadet Kirk Faris, Regimental Staff, Mechanical Engineering Major
The Citadel Flying Club is one of the oldest, as well as the newest clubs on campus. Formerly known as The Citadel's Aero Club, the club was started in 1939 by Cadet Robert George David, Class of 1940. Throughout the years, the Aero Club rapidly grew and consisted of over 70 cadets who had either obtained their solo license or were receiving instruction towards this license.
At the time it was organized, the club elected Bob David as president. He paved the way for future generations to accomplish their dream flights. Under his leadership and the contributions of many others, the club possessed multiple aircraft including a Piper Cub which routinely landed in the middle of campus on Summerall Field. The small plane conducted regular takeoffs and landings for the entire South Carolina Corps of Cadets to witness. (Scroll down for a video).
Unfortunately, the club began to fade away in the 1970s following the sale of the clubs aircraft. The organization transformed into the Flying Enthusiasts Club, with the last club meeting recorded in 1978.
In the spring semester of 2018, the club was revamped. Cadet officers were elected and the club has quickly grown to become one of the largest on campus with more than 200 members. Then in September, The Citadel Flying Club began their first fundraiser to help cadet pay for flight training. The $15,000 goal was reached within the first 48 hours, after an extremely generous donation of $18,000  was provided by a Class of 1983 graduate. The fundraising goal has been increased to $25,000.
The Citadel Flying Club is a very active club on campus now. At this time, four cadets on scholarship through the club are participating in flight training every weekend. The goal of the scholarships is to get each cadet the opportunity to fly their first solo, building hours and experience toward a future in aviation.
On October 27, the club will fly over Johnson Hagood Stadium during the National Anthem before the football game.
The club's first fundraising effort will conclude on November 11th. The funds raised will go right to cadets as the club shares the cost of flight training for its members. The aviation opportunities are endless and the club is seeking assistance to build further upon this promising foundation to extend its reach to even more cadets.
The Citadel Flying Club practicing on Summerall Field in the 1950s