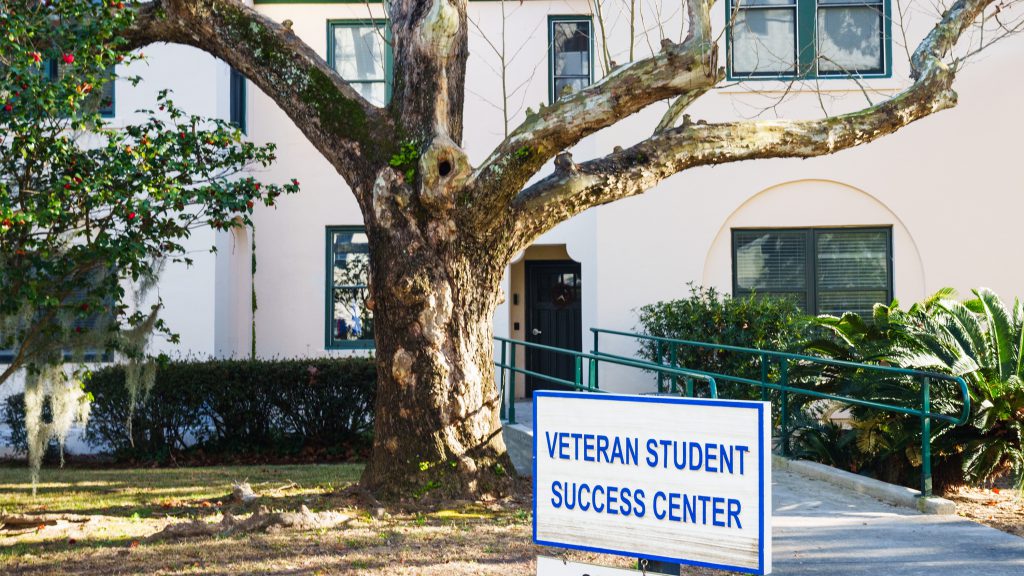 Since it was founded in 1842, veterans have been an integral part of the Military College of South Carolina. Veteran students at The Citadel have the opportunity to earn their degrees through the day program, evening program and graduate college.
Now, to boost the veteran services already provided by the college, the Veteran Student Success Center is one of 14 recipients of a federal grant from the U.S. Department of Education.
This grant, for more than $600,000, is designed to support veteran student success and formally establishes The Citadel as one of the federal government's Centers of Excellence for Veteran Student Success, along with creating a sustainable model for these types of support services across the nation.
"This grant is a fantastic opportunity for the Veteran Student Success Center to continue and expand the great work they are doing for our veteran students," said The Citadel President Gen. Glenn Walters, USMC (Ret.), '79. "For the last five years in a row, The Citadel has been named the best college in the south for veterans. This grant will help us build even more on our previous successes and provide more benefits to those veterans who choose to study at The Citadel."
The Center of Excellence for Veteran Student Success grant will expand the institution's efforts to support veteran students by increasing student services and expanding the VSSC's staff. A portion of the grant will go towards creating a leadership team – comprised of an academic coach, career coach and resiliency coach – which will provide a support team to each veteran student to ensure they succeed during their time at The Citadel.
The Citadel first admitted veterans as students in 1945, and there are currently more than 250 veterans currently studying at The Citadel as either undergraduate or graduate students.
"It's an honor to help veteran and military-connected students at The Citadel," said Sally Levitt, director of the VSSC. "Being able to establish these new services for them – such as an academic support team similar to those available to cadets, as well as orientation and transition programs – is what makes this all worth it. I'm so proud of our veteran and active-duty students, and we're all so thankful for the opportunities this grant will provide."
The Veteran Student Success Center will use part of the grant to focus on increasing veteran student enrollment and retention through academic, career and financial support services. To implement this, the VSSC will establish an orientation and transition program to enhance veteran students' onboarding process by ensuring each student is aware of the available support services. This program will also help veteran students have a smooth transition from military life into academic life. Along with this program, the center will be able to provide a multitude of resources to veteran students such as tutoring, academic skill-building instruction, academic advising, educational planning, career services, professional development and personal counseling.
To foster a sense of belonging among veteran students, the grant will help expand veteran student group events and provide networking opportunities. To further the veteran-friendly culture on campus, faculty and staff will be provided professional development opportunities on best practices in working with veteran students. Another portion of this grant will go towards establishing a mentorship program that will help veteran students partner with local businesses and other former service members.
An instrumental person in making this grant possible was Tara Hornor, Ph.D., professor in the Zucker Family School of Education.
"This grant will provide a multitude of opportunities for the Center. Being recognized on a federal level like this will bring so many new benefits for our veteran students here at The Citadel, and I look forward to seeing the VSSC serve as a sustainable national model for supporting veteran student success," said Hornor.
This grant will support the college's mission, core values and the Our Mighty Citadel 2026 strategic plan that aims to enhance and enrich recruitment of and student support services for veteran students. Those wishing to support veteran students and the VSSC can do so through The Citadel Foundation by clicking here.
U.S. News & World Report has named The Citadel #1 Best College for Veterans in the South for five consecutive years.